Pro-Lifers Praise California Gov. for Vetoing Bill to Give College Girls Abortion Drugs on Campus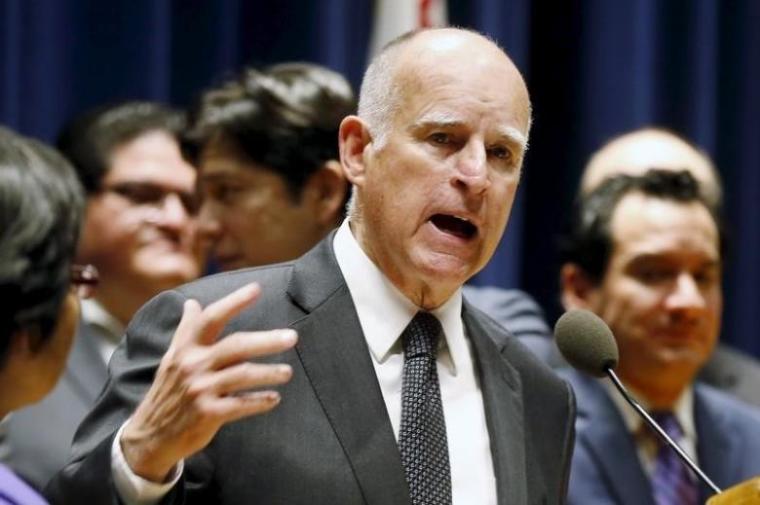 Christian conservatives and pro-life advocates are praising California's Democrat Gov. Jerry Brown for his veto of a bill that would have required all state universities to provide access to abortion-inducing drugs.
Brown vetoed SB 320, also known as the "College Student Right to Access Act," on Sunday. The bill would have required health centers at the 34 University of California or California State University campuses to offer abortion pills (RU-486) to students so they could terminate their pregnancies in their dorm rooms, and abortion clinics wouldn't have to incur the cost of bio-hazard waste disposal following the student's abortion. 
If enacted, the bill would have taken effect in 2020. Although the bill passed the Senate in January, Brown reasoned that such a requirement is not needed.
"Access to reproductive health services, including abortion, is a long-protected right in California," Brown wrote in his veto notice. "According to a study sponsored by supporters of this legislation, the average distance to abortion providers in campus communities varies from 5 to 7 miles, not an unreasonable distance."
Brown said the legislation is "not necessary" because the services this bill requires are "widely available off-campus."
Longtime pro-life leader Chuck Donovan, president of the Charlotte Lozier Institute, the education arm of the leading pro-life advocacy group Susan B. Anthony List, called the legislation a "reckless push to turn college campuses into dispensaries for dangerous abortion drugs."
Donovan, who also previously served as a leader at the Washington, D.C.-based social conservative advocacy group the Family Research Council, praised Brown's decision in a statement. Donovan argued that a requirement that each campus health center provide abortion-inducing drugs might have been a "bridge too far" even for the pro-choice Democrat governor.
"It's encouraging that even in one of the nation's most extreme pro-abortion states, common sense can prevail over the human indifference of the abortion lobby," Dovan wrote.
Donovan contends that the bill, introduced by Democrat Sen. Connie Leyva, is part of the abortion industry's attempt to "expand abortion into family homes, apartments, and dorm rooms, where a woman may endure painful, harrowing, potentially life-threatening complications without anyone present to help her."
"Not only that, she becomes a direct witness to the lost life of her child," Donovan stressed. "No woman deserves to suffer such a trauma and indignity, especially at the hands of those entrusted with her care and education."
Leyva argues that Brown's explanation for his veto misses the point of her bill.
"I think it's yet just another example of old white guys thinking they know what women need," Leyva was quoted as saying by the The Daily Californian. "For him to say he doesn't think [the commute is] inconvenient, he just completely missed the whole point of the bill."
The pro-abortion group Students United for Reproductive Justice sent a petition signed by over 15,000 to Brown's office last month.
"[Brown] ignored so many different stories of women and students who shared experiences of what they have to endure when going off campus," SURJ founder Adiba Khan told the Daily Californian. "He's repeated he's pro-choice, but when he has the chance to expand rights, he chooses to deny them."
Although supporters of the bill claim the veto will impact students' access to abortion, Family Research Council Director of Life, Culture and Women's Advocacy, Patrina Mosley, points out that California has more than 500 abortion providers.
Mosley adds that abortion is also covered through students' health insurance plans and the state's medical assistance program.
College health centers, Mosley contends, do not have the necessary ultrasound equipment to determine the baby's gestational age or determine the possibility of an ectopic pregnancy.
"This poses the very real danger of young women self-administering the abortion pill too late in the pregnancy, thereby increasing their chance of experiencing physically hazardous complications," Mosley said.
Mosley also asserts that student health centers are not equipped to handle liability associated with providing abortions on campus.
"SB 320 does little to resolve the liability concerns for universities, who will be forced to be directly involved in providing abortions," Mosley wrote in a blog post. "Potential complications that can arise from taking the abortion pill range from excessive bleeding and infection to an incomplete abortion requiring surgery and even death. Also not addressed in the bill are admitting privileges to nearby hospitals or emergency assistance in case the young women experience a complication."
While pro-choice activists tout how safe medical abortions are, the Life Legal Defense Fund pointed out in a mass email to supporters this week that a 2009 peer-reviewed study published by Obstetrics & Gynecology found that about 20 percent of women experienced adverse side effects from taking the pill.
Additionally, pro-life activists have argued over the years that taking an abortion pill can actually be more traumatizing that that a surgical abortion.
LLDF President Alexandra Snyder wrote in the email that SB 320 included funding for telehealth services and could have been used to push chemical abortion through telemedicine.
"No one expected Gov. Brown to veto SB 320," Snyder wrote. "Planned Parenthood paraded hundreds of young women before legislators to testify in favor of chemical abortion on demand. I can only attribute this victory to pro-lifers who have prayed faithfully for the defeat of this dangerous bill."
Although most states require drugs to be taken under the supervision of a healthcare provider or licensed physician, Snyder wrote that the nation's largest abortion provider, Planned Parenthood, is working to expand chemical abortions through video conferencing.
Planned Parenthood is assisting with a pilot study called "TelAbortion" that provides chemical abortion drugs over the internet. The study is active in Hawaii, Oregon, Washington, New York and Maine.