David Daleiden: US Gov't Sending 'Unconscionable' Message That 'Babies Worth More Dead Than Alive'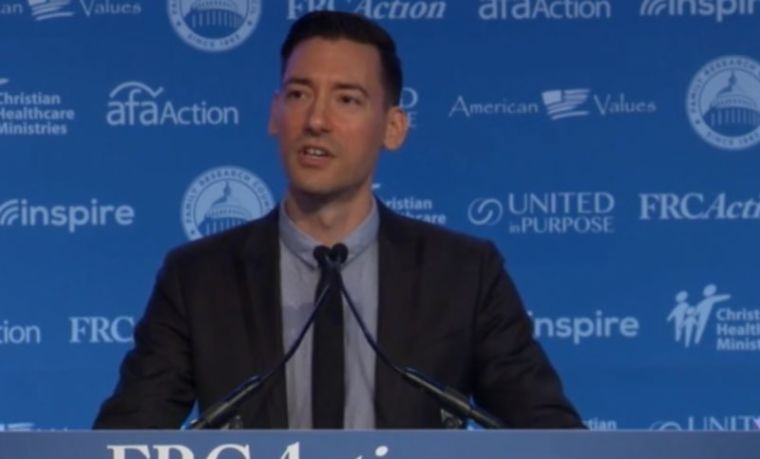 Pro-life activist David Daleiden has denounced a recent decision by the Food & Drug Administration to renew a contract allowing for the acquisition of "fresh" aborted baby body parts for scientific research.
Daleiden became a major pro-life public figure in 2015 when he and his team of undercover investigators at the Center for Medical Progress began releasing a series of undercover videos that showed Planned Parenthood staff and other abortion providers discussing the harvesting and selling of aborted babies' hearts, lungs, livers, tissue and limbs. 
Speaking at the Values Voter Summit in Washington, D.C. Friday, Daleiden called the FDA's decision "unconscionable."
"It's unconscionable that the United States government would be sending a message with taxpayer dollars that these children are worth more to the U.S. government dead than alive," said Daleiden.
"It's imperative that all of us make sure that our voices on that issue are heard. It's imperative that the videos continue to be shared, continue to be viewed, and that policymakers and your elected representatives know that you don't want taxpayer dollars to be going to fund the commodification of our unborn brothers and sisters like widgets on an assembly line."
Daleiden also provided updates on CMP's efforts, noting that the undercover videos they released have been viewed 13 million times.
"Because of these videos, we are now one vote away from defunding Planned Parenthood nationally of their $500 million in taxpayer funds," declared Daleiden, receiving loud applause. "We are one vote away from that in the U.S. Senate."
"The pro-life Trump administration has begun the process of defunding Planned Parenthood by strictly enforcing existing law against taxpayer funds being used to prop up big abortion businesses like Planned Parenthood ... through the Health and Human Services Department."
The FDA recently made a $15,900 contract with Advanced Bioscience Resources that runs from July 15, 2018, to July 14, 2019, to procure aborted baby parts for experiments on mice.
News of the contract garnered outrage from pro-life groups, as well as a letter signed by 85 members of Congress directed to FDA commissioner Dr. Scott Gottlieb.
The letter expressed concern over the FDA's dealings with ABR, which in 2016 was investigated for violating federal law in selling aborted babies' tissue.
"In light of the serious unresolved questions uncovered by the investigative work of both the House and Senate panels, we are alarmed that the FDA has continued to award contracts to ABR for the procurement of human fetal tissue," read the letter.
"Unborn children are not commodities to be bought and sold. The practice of conducting research using the body parts of children whose lives have been violently ended by abortion is abhorrent."
Rep. Vicki Hartzler, R-Mo., a signatory of the letter, said in a statement that "ABR has a checkered history of purchasing the remains of aborted children and reselling the babies."
"I know this first-hand as I participated in the House's investigation and criminal referral of this company two years ago," said Hartzler.
"I find it deeply disturbing that the federal government continues to contract with companies that facilitate the trafficking of human fetal remains. This practice must stop."
Daleiden's remarks were part of the annual Values Voter Summit, which was held this year at the Omni Shoreham Hotel in Washington, D.C. from Sept. 21–23.
A large gathering of social conservatives, this year's notable speakers include Vice President Mike Pence, Secretary of State Mike Pompeo, and evangelist Will Graham.