Planned Parenthood Won't Help Pregnant Women, Live Action Says as New Pres. Touts Abortion Biz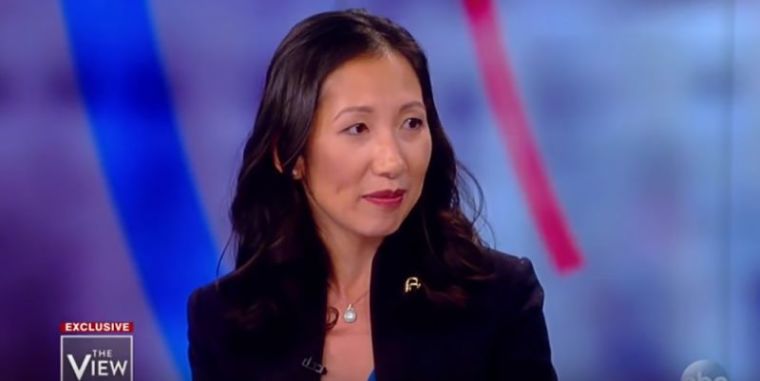 Planned Parenthood's new President Dr. Leana Wen spoke positively this week about the family planning services its clinics provide, but didn't explain that pregnant women seeking prenatal care are turned away, a leading pro-life group has said.
The national chain, which performs over 300,000 abortions every year, "lies about the services it claims to provide, including prenatal care and mammograms," Lila Rose, founder and president of the pro-life group Live Action, said in a statement to The Christian Post Thursday.
In 2016, CP reported that Planned Parenthood clinics weren't providing health care services to pregnant women who want to carry their baby to term. Planned Parenthood staff at several clinics informed CP that the only service some clinics might provide to pregnant women is a packet of prenatal vitamins, but nothing else.
Live Action, in an investigative report released in 2017, found that among 97 Planned Parenthood clinics nationwide, 92 said they didn't provide services to pregnant women, unless they wanted an abortion. An employee at one clinic recommended a pro-life pregnancy centers to a patient seeking prenatal health care.
Five clinics, however, said they do provide prenatal services to pregnant women. Rose told CP that they were giving those clinics the benefit of the doubt, but believed the services they provide are minimal.
In a video Planned Parenthood sent to The Christian Post and its supporters Wednesday introducing Wen — an immigrant from China who said she, her sister, and parents all depended on Planned Parenthood for their health care — highlighted the services offered to women, specifically poor women, such as annual pap exams, STD testing, birth control and abortions, which she described as "mainstream health care."
Wen, who's the first doctor to be president of Planned Parenthood in nearly 50 years, added, "The single biggest public health catastrophe of our time is the threat to women's health and the health of our most vulnerable communities."
As the Health Commissioner for the city if Baltimore, Maryland, Wen joined others, including Planned Parenthood, in suing the Trump administration over cuts in funding for the Teen Pregnancy Prevention Program, which began under the Obama administration and awards federal grants to teen-pregnancy prevention programs that emphasize using contraceptives rather than abstinence education.
CP contacted Planned Parenthood requesting an interview with Wen. This article will be updated when a response is received. 
On Thursday, during an interview with "The View" co-hosts, Wen also mentioned breast cancer screenings, but didn't clarify that Planned Parenthood has never provided mammograms despite previously accepting annual donations from the Susan G. Koman Breast Cancer Foundation, such as $677,287 it received in 2013 for that purpose.
"While it has focused on growing its abortion numbers by 11 percent over the last 10 years, its breast exams have decreased by 62 percent, its cervical cancer screenings by 74 percent, and its contraception services by 32 percent," Rose added.
A Planned Parenthood clinic employee told CP it might be possible for a breast self-exam to be performed at their office but it would cost $100, which might or might not be refunded. The staffer also said the breast self-exam wasn't a service they were used to providing.
Breast self-exams, which women can do in the privacy of their home at no cost, is not recommended by either the American Cancer Society or the Susan G. Komen Breast Cancer Foundation as the preferred method of examination. Instead, both organizations advise women to have an annual mammogram.
Although mammograms are not available at Planned Parenthood clinics, women can receive free annual mammograms at local churches, hospitals, or community health centers that provide free screenings every year during the month of October.
Rose also noted that Planned Parenthood staff have failed to report rapes and sexual abuse of young girls.
A Life Dynamics report from 2014 revealed that in over 60 court cases girls as young as 10 were taken to Planned Parenthood facilities and other clinics for abortions and birth control by their sexual abusers. But because staff failed to report the crimes, the girls were subjected to ongoing sexual abuse.
Staff at abortion clinics are supposed to report suspected cases of abuse when an adult brings in a child who's under the age of consent for an abortion. They're also required to report any suspected sexual abuse when minors go into clinics for birth control or treatment for an STD.
In a 2014 undercover video filmed at a Planned Parenthood workshop in Michigan, an abortion provider giving a presentation argued against helping young victims of rape and sexual assault by asserting that because clinic workers are not state employees, they shouldn't be required to report suspected cases of child abuse to authorities.
"Wen takes the helm of a business riddled with scandals and potential criminal activity," Rose continued. "And it is currently under federal investigation after employees were caught on camera haggling over prices for the body parts of babies they aborted."
Rose was referring to a series of undercover videos released in 2015 by the Center for Medical Progress as part of a three-year investigation into what it called "illegal" practices by Planned Parenthood in harvesting and selling of babies' organs, tissue and limbs for research purposes.
Deborah Nucatola, Planned Parenthood's senior director of medical services who performs abortions up to 24 week gestation in Los Angeles, is seen one video describing how some doctors perform partial birth abortions to secure fetal body parts.
Wen said in her role as president of Planned Parenthood, health care — which she insisted includes reproductive services and abortion — is a human right that shouldn't be politicized, and she's going to "fight for that every day."