Pro-Lifers Praise Donald Trump's Supreme Court Nominee List, but Some Remain Cautious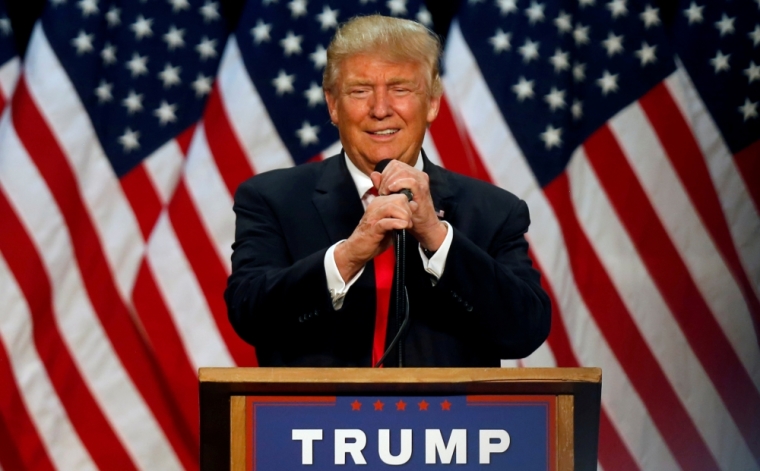 Some prominent pro-life conservatives are still cautious of Republican presidential frontrunner Donald Trump even after praising his list of potential Supreme Court nominees as being an exceptionally strong list of pro-life judges.
On Wednesday, Trump, the presumptive GOP presidential nominee, released a list of 11 jurists that he plans to use "as a guide to nominate our next United States Supreme Court justices" if he is elected president.
With the balance of the Supreme Court likely up for grabs in the 2016 election, many leading conservatives have been wary of Trump's new found pro-life stance because he used to claim that he was "very pro-choice."
With many conservatives thinking about voting third-party and joining the #NeverTrump movement, Trump said last week on Fox News that he is pro-life and that he will protect the sanctity of life through the Supreme Court if he is elected president, but wouldn't go as far to confirm that he would pick justices who would overturn Roe v. Wade.
In what might be viewed as a politically calculated attempt to unify conservatives, Trump released a his list of potential Supreme Court nominees that includes conservative, pro-life jurists.
The list includes: Steven Colloton of Iowa, Allison Eid of Colorado, Raymond Gruender of Missouri, Thomas Hardiman of Pennsylvania, Raymond Kethledge of Michigan, Joan Larsen of Michigan, Thomas Lee of Utah (brother of Sen. Mike Lee, R-Utah,) William Pryor of Alabama, David Stras of Minnesota, Diane Sykes of Wisconsin and Don Willett of Texas.
"This list was compiled, first and foremost, based on constitutional principles, with input from highly respected conservatives and Republican party leadership," Trump's campaign said.
Soon after the release, the list was praised by one of the most prominent pro-life advocates in Washington, D.C. — Marjorie Dannenfelser, the president the nonprofit pro-life organization Susan B. Anthony List.
"This is an exceptionally strong list of jurists with immense respect for our founding documents. We are encouraged by Mr. Trump's repeated pledges to appoint constitutionalists, which stands in sharp contrast to [likely Democratic nominee] Hillary Clinton's position," Dannenfelser said in a statement shared with The Christian Post. "There is no question Clinton would only nominate judges who stand in lock-step with the abortion lobby and would strike down even the most modest abortion limits."
"The battle lines have been drawn and the two sides are now clear," Dannenfelser added. "SBA List is already working to make the case to pro-life voters that the Court matters and must be protected. This is not an election for pro-lifers to sit out."
Jonah Goldberg, a conservative columnist for the National Review, told Fox News that Trump reached out to the National Review for assistance in compiling the list. Although Goldberg thinks that many conservatives will view Trump's list as a "negotiating ploy," he believes the list was a smart thing for the Trump campaign to release.
"I think this will only help him," Goldberg said.
John Yoo, a law professor at the University of California at Berkeley and a visiting scholar at the American Enterprise Institute, wrote in an op-ed published by the National Review that "Trump clearly turned to the Federalist Society and the Heritage Foundation for advice."
"These names are a Federalist Society all-star list of conservative jurisprudence," Yoo wrote.
Yoo points out that several names on the list are former clerks for pro-life Supreme Court Justices Antonin Scalia (Colloton and Larsen) and Clarence Thomas (Lee, Eid and Stras).
"I am thrilled by this list. But that being said, I cannot trust Trump to keep his word," Yoo writes. "He has already flip-flopped on so many issues, before, during, and after the primary campaign. How do we know he would not start wheeling and dealing on judicial appointments if he were to win the Oval Office?"
#Nevertrump conservative and columnist Quin Hillyer also issued a similar warning about Trump's list in an interview with the Daily Caller.
"It is a very strong list, especially Bill Pryor and Diane Sykes," Hillyer said. "Trump should be applauded for releasing it, but I trust this list as far as I can throw a rhinoceros."
Ilyse Hogue, the president of NARAL Pro-Choice America, an abortion activist organization, bashed the list and relied on "war on women" rhetoric to claim that his nominees would be a "woman's worst nightmare."
"Their records reveal a lineup of individuals who would likely overturn Roe v. Wade if given the chance, gutting what's left of abortion access in this country ...," Hogue said.
The media arm of the pro-life group Live Action provides a rundown of where the jurists on Trump's list have sided in abortion cases and also provided detail on their judicial philosophies.