Prominent Chinese Pastor Sentenced to 12 Years in Prison; Lawyer Claims Accusation Set-Up By Gov't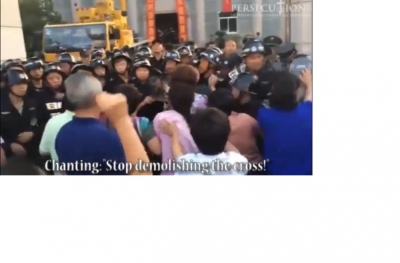 Zhang Shaojie, a prominent church leader from central China, has been sentenced to 12 years in prison for gathering crowds to "disturb public order." A U.S. campaign group has said that the decision constitutes religious persecution and the Chinese government's attempt to hold back the growth of Christianity.
"This case shows the Chinese government continues to cover up religious persecution with fabricated criminal charges against an innocent church leader," said Bob Fu, the head of China Aid, according to The Telegraph.
Liu Weiguo, a rights lawyer who has worked with the pastor in the past, said that he was shocked at the severity of the sentence.
"I strongly believe Zhang Shaojie is innocent. This is a total set-up by the local government," the lawyer said.
The Associated Press noted that Zhang, who led the Nanle County Christian Church in Henan province, was convicted of fraud and of gathering crowds to disturb public order.
Although the church is officially sanctioned by the Communist government, it has reportedly been involved in land disputes for a new building with local authorities.
The church leader was first detained in November along with 23 other church members following a dispute with local Communist Party officials.
The Chinese government has recently engaged in a number of controversial disputes with Christian churches. Earlier in June, dozens of Chinese Christians in Wenzhou City pushed back against police forces and tried to save a church cross from being seized.
In another incident, Sanjiang Christian Church, part of Youngjia County parish, was forcibly demolished on April 28 despite major protests. The incident drew international attention.
China Aid's Bob Fu said the demolition was part of a "well-orchestrated campaign in order to contain the rapid growth of Christianity."
He added: "The deliberate wounds will take years to heal and the remaining little trust between the Chinese government and Chinese religious communities is gone."
Persecution watchdog groups like International Christian Concern have also said that such instances are an example of the Chinese government looking to persecute Christians.
"Today we received clear evidence that local and provincial authorities in Zhejiang Province continue to wage an all-out war against Christians and Christian places of worship. More than 100 churches have been demolished or targeted in the past two months," ICC Regional Manager for Southeast Asia Sooyoung Kim said at the time. "We call on President Xi Jinping directly to step in and put an immediate end to what is a clear violation of China's constitutional commitment to religious freedom."
Liu added that economic issues are also involved in these incidents, and said regarding pastor Zhang's case that authorities were determined to take control of the land belonging the church.
"I can't figure out how the alleged crimes could add up to this heavy sentence," Liu said.
Zhang Xuezhong, an outspoken human rights lawyer, also argued that the Communist Party is cracking down on groups it sees as an ideological threat, which includes the Christian faith.
The lawyer added that "President Xi Jinping is not a strong leader," and said that church demolitions and recent arrests of human rights lawyers and anti-corruption activists are all signs of a weak government that is desperately trying to assert its authority.