Promise Keepers to relaunch men's ministry with first stadium rally in 20 years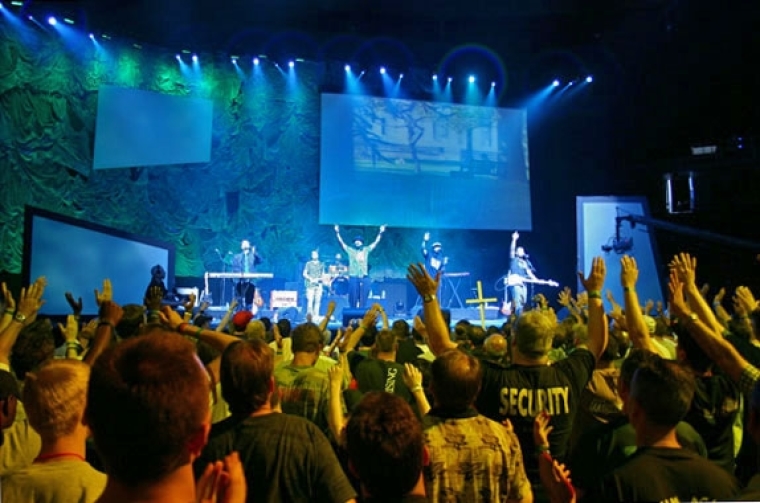 After years of fading and stagnation, the once popular evangelical men's ministry Promise Keepers is ushering in a "new era" with plans to host its first national stadium event in over two decades next summer in Texas.
On July 31, 2020, Promise Keepers aims to convene 80,000 people at AT&T Stadium in Arlington, Texas, for the official relaunch of the national men's gathering, which once saw hundreds of thousands from various denominational backgrounds gathered at its 1997 "Stand in the Gap" rally in Washington, D.C.
"Promise Keepers struggled. It really needed a new board and fusion of energy, a new vision," Promise Keepers Chairman Ken Harrison told The Christian Post. "It has all those things now. Promise Keepers had to get back to the basics of what it was. … For Promise Keepers, we had to realize what is its brand and identity."
For Promise Keepers, Harrison said, its identity is really as an "NFL stadium event with the greatest speakers in Christiandom coming together."
However, he said, the organization hasn't held a stadium event since 1998.
"[I]t went down to arenas for a while. And then it went down to churches," Harrison explained. "Quite frankly, for the last four or five years, it's done almost nothing."
Over the last few years, the organization has undergone a restructuring. The ministry's founder, Bill McCartney, passed the mantle of the ministry over to Harrison in April 2018.
"The one thing I've heard so many times from literally hundreds of men is there's nothing like the sound of 70,000 men singing 'Amazing Grace' together," said Harrison. "Guys are just completely raw and real for two days. So you can't recreate that anywhere else besides in an NFL Stadium. What we had to do is get back to who we are and do the NFL stadium event."
In addition to the event in Texas in 2020, Harrison says Promise Keepers plans to host annual gatherings on the last weekend in July in a different city every year.
Along with the reigniting of the Promise Keeper's brand, the ministry will incorporate advancements in technology to modernize the ministry and help it sustain impact in the lives and families of men who attend the rallies.
According to Harrison, "it's the difference between analog and digital." He said Promise Keepers looks to get men "digitally integrated" — a reality that was not possible during Promise Keepers' peak in the 1990s.
"What about when men leave the stadium and go home?" Harrison asked. "Many things were tried, but it just wasn't possible to effectively network, encourage and strengthen men at home."
Harrison said that one of the areas where Promise Keepers needed improve was on "follow-up."
"So when these guys leave this mountaintop experience, we've got to be able to connect them," he stressed. "So we're actually right now building an app and a computer platform."
Harrison said that the platform could be used on any device. It will allow users to find "promise keepers" in their local area. The platform aims to be a resource to allow community members to plan Bible studies, fellowship gatherings, mentorships and other relationships.
"The friendless American male is a major problem in America today," Harrison explained. "Very few men have friends that are really true friends."
Promise Keepers promotes a complementarian view of marriage and the family, a view that is often criticized because it holds that the Bible calls for wives to "submit" to their husbands while the husbands are called to lead the family and put his wife before himself in Christ-like sacrificial love.
Promise Keepers furthers the idea that men should be servants of God who act with a sense of biblical "masculinity" — whether by laying down their lives for their wife and kids or by offering help to distressed strangers in need.
At a time when some health experts argue that traditional masculinity can be "psychologically harmful," Harrison believes that men today are confused about what masculinity even means and how they are supposed to act. He believes that the "generations are at war with each other."
"When I was younger, masculinity was sort of depicted by James Bond — a promiscuous man who drank a lot, didn't have any feelings. He would just kill somebody and make a witty comment and walk away," Harrison said.
"I think the world saw the disgustingness of that depiction of masculinity. And so now its way to the other side. It's really feminism. It's taken away all the attributes that make a man a man. Satan doesn't care. He's gonna push this whichever way he can as long as you don't know what true masculinity is."
Harrison authored the recent book The Rise of the Servant Kings: What the Bible Says About Being a Man.
"We [Promise Keepers] tell guys that it is our responsibility to take care of those who are within our sphere of influence. So a promise keeper's job is to be loyal to his wife and to care for her needs," Harrison told CP, pointing to the call in Ephesians 5 for husbands to love their wives like Christ loved the church.
"Christ loved the church. He laid down his life for the church. He was tortured to death for her."