Protest Against Obama Admin Deportations Ends in a Dozen Arrests Outside White House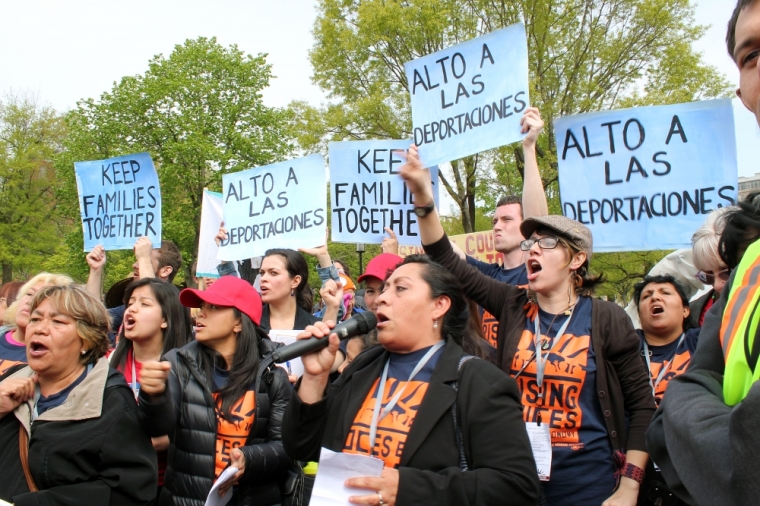 WASHINGTON — A protest led by immigration-reform activists ended in 12 arrests Monday as undocumented immigrants gathered in front of the White House to protest the nearly two million people who have been deported under President Barack Obama's administration.
Over 1,000 supporters held signs that said "Keep Families Together" and "Stop Deportations" as they chanted hymns and watched the dozen get arrested in an act of civil disobedience for family unity.
"[President Obama] has deported more people than any president in U.S. history and he has the power to move some kind of deferred action for millions of undocumented immigrants in this country … That is why we have 1,100 people here to signify the 1,100 who are deported every single day …," George Goehl, executive director of the National People's Action, told The Christian Post.
The protest, organized by NPA along with the National Domestic Workers Alliance, was part of a slew of demonstrations that have taken place throughout the country during the last few weeks to add pressure on President Obama to take action.
Although the Democratic-controlled Senate passed immigration-reform last June, the Republican-led House of Representatives has yet to pass any legislation.
However, some activists believe President Obama can take executive action to curb deportations while others hope that immigration reform will be able to pass this year.
"… We don't want any more deportations or more families destroyed. We just want President Obama's promises fulfilled," Daisy Vegas, a volunteer with the National People's Action, told CP.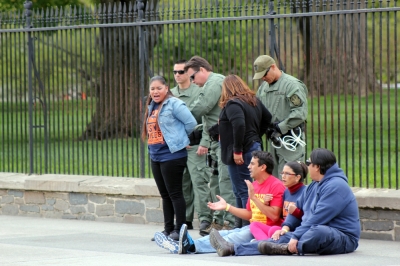 Individuals whose relatives are currently undocumented, as well as those currently facing deportation proceedings, were also in attendance and shared their stories of how they are struggling to remain united with their families.
"I've seen how people suffer without their moms or dads and I want to stop that," Ely Vargas, 10, whose mother is undocumented, told CP. "[My mom] can't get a job for the reason that she is undocumented and she has to take care of me and my sister … [I hope] President Obama will stop deportations and give us a chance just to try to get jobs and live in a better place where no one is deported from your family or your home."
Ai-jen Poo, director of the National Domestic Workers Alliance, shared the same sentiment and told CP that she is also hopeful a new immigration system will acknowledge everyone who contributes to the U.S. economy.
"The immigration system we need in this country is one that treats women fairly, one that recognizes all the kind of work that people are doing to contribute to this economy and offers the ability for people to improve their lives and get training to be able to travel and be reunited with their families … we also need more legal channels for people to come here legally," Poo said.
Currently, Homeland Security Secretary Jeh Johnson is considering whether undocumented immigrants who don't have serious criminal records should be allowed to stay in the U.S. The change could result in fewer deportations. However, there is no indication that the administration will ultimately make any changes to its deportation policies.