Protesters Destroy Red 'Lucifer' Statue in Greece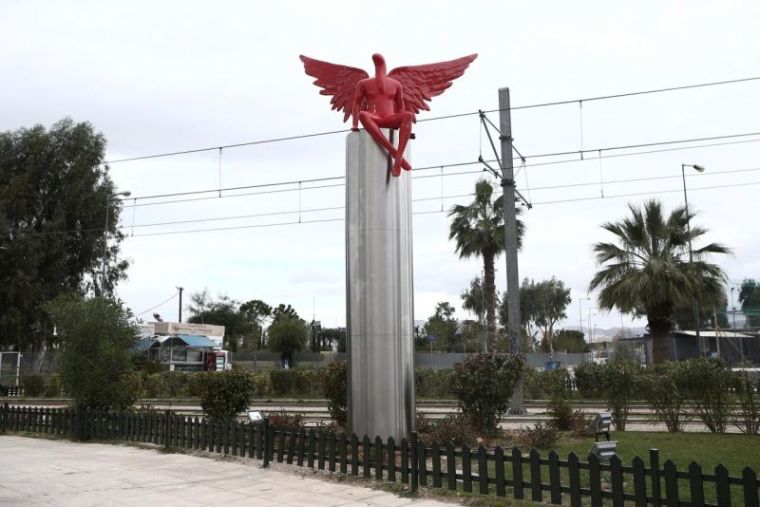 ATHENS — Black-clad protesters in southern Athens have torn down a red sculpture that many likened to Satan.
Protests against the 8-metre high sculpture called Phylax, which in Greek means "guardian" have ranged from throwing white paint and spitting at it to attempting to exorcise it with a Greek priest sprinkling holy water.
It was displayed in early December in a busy area in the coastal suburb of Palaio Faliro. Protesters have included some residents, religious conservatives and political activists.
On Jan. 17, a group of 10-15 hooded persons tied it to the back of a truck and drove away, pulling it down, Mayor of Palaio Faliro Dionysis Hatzidakis told Real FM.
"Its wings are now broken," said Hatzidakis who has filed a lawsuit. "It has been severely damaged."
"So if we don't like something we destroy it ... for political purposes?" Hatzidakis said.
If the sculpture can be repaired it will be reinstalled, a spokesman for the mayor told Reuters.
Earlier this month, over 100 Christian residents led by their priest in Athens marched to the site of the controversial sculpture, demanding its removal.
The protesters held Greek flags, icons and sang hymns near the sculpture, according to Greek Reporter.
The sculpture was created by well-known Greek artist Kostis Georgiou who has exhibited both at home and in other countries. He told Enikos.gr that Phylax was transferred to a safe place and that he hopes "the evil shall not prevail."
"All this violence against the sculpture since the first moment it was installed has left me speechless," he told Reuters. "It should remain down on the ground as a memorial of the irrational rationale."
What may have caused concerns among the Christians is that the Palaio Faliro Municipality named the statue "guardian-angel" of the South Athens suburb.
Hatzidakis, however, claimed the Phylax does not refer to the guardian angel as depicted in Christian faith.
Local parish priest Patapios Argyros says that's not true.
"The sculpture is a demon and a soldier of Satan that, instead of being honored, must be despised as blasphemous to the Holy Trinity," he wrote in an open letter to the mayor. "It is an affront to Orthodoxy and the Christian faith," he continued.
The artist disagrees.
"Who says that the colour of Satan is red?" Georgiou asked. "There are angels with red wings and red hair," Georgiou told Greek Channel Skai TV the criticism is led by "a hate-preacher," he claimed. "It is supposed that the opponents are Christians but their soul is anti-Christian," the artist said.