Public School Nurse Accused of Denying Treatment to Student Who Refused to Stand for Pledge of Allegiance
Public School Nurse Accused of Denying Treatment to Student Who Refused to Stand for Pledge of Allegiance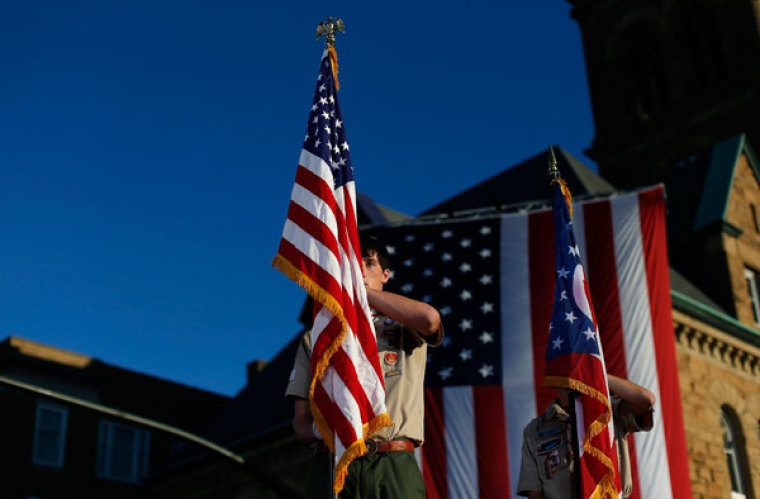 A nurse at a public school in Pennsylvania has been accused of denying treatment to a sick student after the youth refused to stand for the Pledge of Allegiance.
"To say that the actions of school district staff in this situation have inflicted trauma upon this child would be an understatement," wrote Monica Miller of the American Humanist Association, in a letter sent last week to Carlisle Area School District Superintendent John W. Friend and Principal Colleen Friend regarding the allegation, which was said to have taken place at Wilson Middle School.
"She was bullied and subjected to public embarrassment for doing nothing more than harmlessly exercising her constitutional rights."
Dubbing the actions of the nurse "indefensible," Miller went on to demand that the school clarify to faculty that students are not obligated to say the pledge.
"We also demand a public, written apology from the school district for the mistreatment of this child," added Miller.
"The student here does not deserve to be disciplined merely because she chooses to exercise her constitutional rights."
For its part, the AHA recently launched a "Boycott the Pledge" movement due to the secular organization's opposition to the phrase "under God" being in the recited text.
While U.S. courts have upheld the constitutionality of the phrase, they have also recognized that participation in the pledge should be voluntary.
In response to the attention the alleged incident has garnered, Carlisle Area School District released a statement wherein they said an investigation into the incident was underway.
"The Carlisle Area School District is aware of reports that the district allegedly violated a student's right to opt out of the Pledge of Allegiance. The district is investigating the matter at this time," reads the statement.
"The district has and will continue to protect the rights of all students and staff. Under the Federal Educational Rights and Privacy Act and other applicable laws, the district is not permitted to disclose details of its own investigation or to otherwise comment on situations involving specific students or staff."
In their letter from last week, the AHA said that they desire an official response to their concerns from the school district within seven days.