Rachel Laser, Fmr. Planned Parenthood Lawyer, to Lead Americans United for Separation of Church and State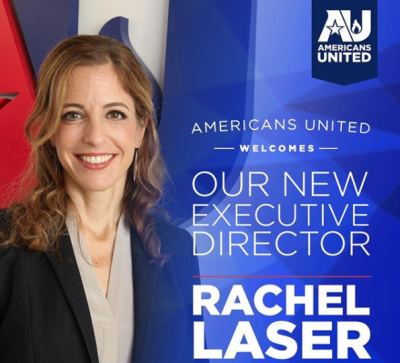 Rachel Laser, an attorney who worked for Planned Parenthood and is known for advocating for abortion, LGBT issues and fighting against racial discrimination, has been named as the first non-Christian to lead Americans United for Separation of Church and State in the 71-year history of the organization.
The AU, which was last led by the Rev. Barry W. Lynn, is a "nonpartisan educational and advocacy organization dedicated to advancing the constitutional principle of church-state separation as the only way to ensure freedom of religion, including the right to believe or not believe, for all Americans."
In an interview with The Christian Post in October, Lynn said the biggest misconception people have about the organization, perhaps mostly by critics, is that it's comprised of all atheists. 
"I think one of the great strengths of Americans United is that it has such diversity," Lynn said. "That it has not only people who have no religious belief, but lots of people who do and who take that belief very seriously. And I think that provides us with a great opportunity to talk about the separation of church and state. ... [W]e don't have, you might say, a theology. We just have a commitment to the Constitution."
In a statement on Wednesday, Laser, who is Jewish, said: "This is an exciting and critical time to assume the leadership of Americans United. The separation of religion and government is under sustained attack. Yet I'm confident that we can protect all Americans' freedom of conscience if we educate the country about the principles behind church-state separation and continue to appeal to and bring together the diversity of populations we have the potential to reach."
In addition to her work with Planned Parenthood, the nation's largest abortion business, Laser has worked for the National Women's Law Center, Third Way, and the Religious Action Center of Reform Judaism.
During an interview with Church & State magazine, she said she was inspired to work for Americans United in part because of the organization's diverse membership.
"One of the very reasons I want to work at Americans United is its diverse membership and the importance of separation of religion and government to all of us. It means our Jewish members can't be forced to join a Christian prayer at their kid's high school graduation; our Baptist members can feel assured that the government will not interfere with the integrity of their church; and our atheist members can reject all forms of religion," she said.
She also explained that her appreciation for her Jewish heritage is something that drives her to protect religious freedom.
"My appreciation for my own religion makes me a fierce advocate for protecting the religious freedom of others. All Americans should have the right to believe or not believe and no American, religious or non-religious, should have religion imposed on them — especially not by the government. No one should feel as though they must adhere to a certain set of religious beliefs in order to be treated fairly by their government or welcome in their community. Separation of religion and government is fundamental to protecting freedom of conscience for everyone," she said.
Laser was praised as a "visionary" Wednesday by the Rev. Neal Jones, president of the Board of Trustees for Americans United.
"During my conversations with her, it quickly became apparent that Rachel is the dynamic and visionary leader that Americans United needs right now," Jones said in a statement. "She's committed to this cause, she's smart, she knows how to work with diverse audiences and form partnerships with like-minded groups and, most importantly, she's a fighter. I'm especially impressed with her collaborative, team-spirit style of leadership, and I believe her guidance will take Americans United into an exciting, successful future."
In an interview with The Washington Post, Jones who is a Unitarian Universalist pastor, argued that the religious right has been abusing religious freedom to violate the rights of others.
"In my lifetime, I don't think I've experienced such an overall assault on the freedom of religion and conscience as I have since the election of Donald Trump," Jones said. "It seems the ploy by the religious right these days is to use freedom of religion — in quotes — as an excuse to violate people's civil rights. We were looking for a leader who is up to the fight, understands the issues and has a real fire in the belly to carry on the banner of separation."
Laser, 48, who is a graduate of Harvard and the University of Chicago Law School, said the challenge right now is to reintroduce church-state separation as a nonpartisan issue.
"We need to awaken that awareness; we need to awaken the notion that religious liberty undergirds the separation of church and state. The two cannot only coexist but are tied at the waist," she said.