Rallies, Prayer Vigils Mark 100 Days Since Over 200 Nigerian Schoolgirls Kidnapped by Boko Haram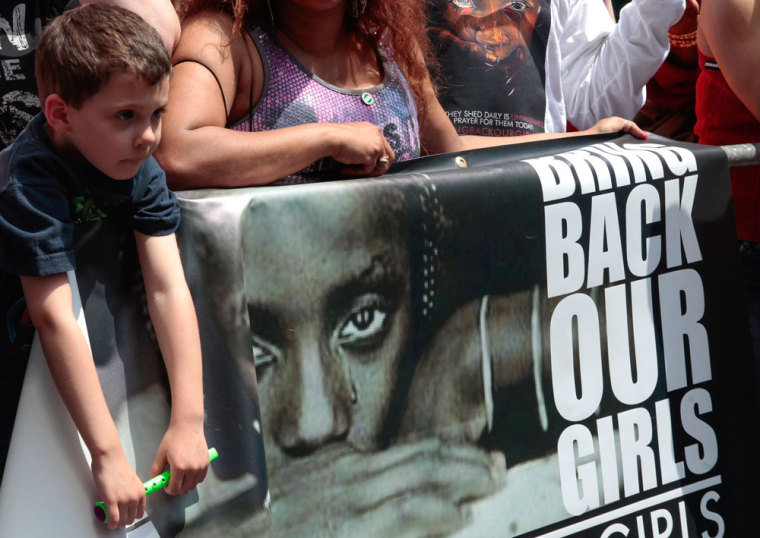 Rallies and prayer vigils worldwide are marking 100 days since more than 200 schoolgirls from northeastern Nigeria were abducted by the militant Islamist group Boko Haram, with most of the girls still missing.
A rally is planned for Thursday at the Embassy of Nigeria in Washington, D.C., hosted by the Institute on Religion & Democracy, Jubilee Campaign and The Working Group on Nigeria.
"The intentions of Boko Haram to forcibly Islamize Nigeria through horrific violence are a very serious threat both to U.S. security and to the citizens of Nigeria," said IRD Religious Liberty Program Director Faith J. H. McDonnell in a statement released Wednesday.
On Tuesday, 99 days after the abduction, Nigerian President Goodluck Jonathan met parents and survivors of the Boko Haram attack for the first time. Families affected by the kidnapping have become more vocal in their anger at government officials for their failure to recover the girls and have aided in intensifying the political pressure on the government to act.
Most of the girls taken from a school in Chibok on April 14 are believed to be held in the Sambisa Forest – an area of some 30,000 square-miles that includes dense jungle and open savannah. Officials say 219 girls are still missing, but there are reports that the number could be higher because some parents may have withheld their daughters' names out of fear.
When the abduction occured, word of the girls' plight spread quickly through social media using the #bringbackourgirls hashtag.
Several dozen girls were able to escape their captors, and revealed accounts of forced conversions to Islam and forced marriages. Boko Haram's leader, Abubakar Shekau, threatened to sell the girls "in the market" and referred to them as "slaves" soon after the kidnapping, according to several media reports.
Also, 11 parents of the kidnapped Chibok schoolgirls have died, AP reports. Locals have revealed that seven of the 51 people killed during an attack on Kautakari village earlier this month were fathers of the girls abducted from school on April 14.
At least four more parents have died of stress-related illnesses such as heart failure and high blood pressure, which have been attributed to the trauma of losing their children.
"The State Department continues to downplay Boko Haram's Islamist nature, preferring to see the terrorist murderers as victims of poverty and marginalization, even though they have been designated as a Foreign Terrorist Organization. Moral equivalency is not the way to handle Boko Haram," McDonnell said.
She added, "Boko Haram has been relentless in its attacks against Christians and their places of worship. Although this rally is about the Chibok girls, it is also to call attention to all of the Nigerians who have been killed, left widowed or orphaned, and/or displaced from their homes and communities by these jihadists."