Rand Paul Sees Role for Federal Government in Restoring Ex-Felon Voting Rights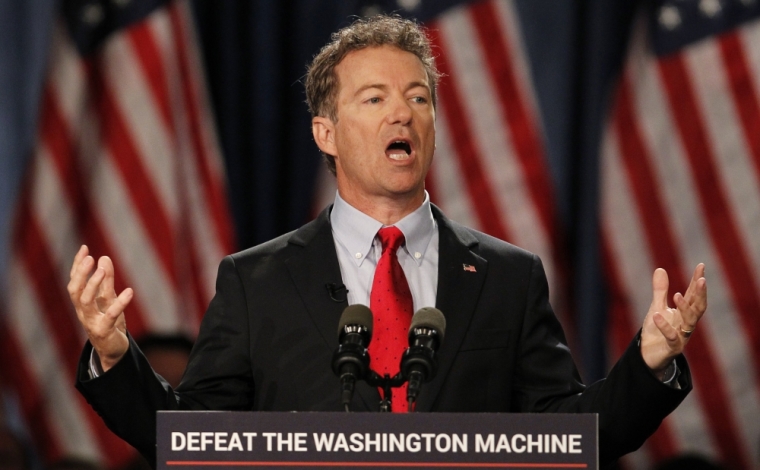 Republican Senator from Kentucky, presidential candidate and noted state's rights proponent Rand Paul expressed support for the federal government playing a role in restoring voting rights for former felons.
Senator Paul, a candidate for the Republican nomination for the 2016 president election, told a bipartisan group of justice system advocates Wednesday morning about a bill he supports to help restore voting rights to ex-felons.
"Now some have objected to this and said 'well states control voting rights.' It's a little bit complicated actually. The [Supreme Court] has looked at this question," said Paul.
"In Arizona the Court said the Arizona state legislature can regulate voting rights for state office, but that there is a role for the federal government for federal office."
Paul added that "we actually think that you could restore federal voting rights through federal legislation. So we have legislation that would do that."
Paul also explained to those gathered some of the other legislative efforts on criminal justice reform that he was working on with those across the political aisle, especially Senator Cory Booker of New Jersey.
"I have something, a bill with Cory Booker that would also try to expunge records and also end solitary confinement for young offenders. That was actually Cory's idea," continued Paul.
Paul's remarks came as part of a gathering centered on criminal justice reform known as the Bipartisan Summit on Fair Justice.
Held at the Hall of the States in Washington, D.C. and organized by the Coalition for Public Safety, the Summit centered on advancing solutions to various problems within the American criminal justice system.
"Given President Obama's support for an overhaul of the justice system, and a commitment from leading, bipartisan congressional voices to advance comprehensive reforms, the Summit will build on that momentum and put words into actions to achieve reform this year," reads the event's description online.
Van Jones, CNN political commentator and president and co-founder of the prison reform group #Cut50, gave the opening remarks and emceed the Summit.
"In January when #cut50 had Cory Booker and Newt Gingrich on the same stage people thought that was shocking. That you would have two titans of the left and the right on the same stage talking about this," said Jones.
"The very next month, this coalition, the Coalition for Public Safety, probably the most powerful bipartisan coalition in memory, formed and announced that it too was going to take this issue across the finish line this year and get something meaningful done."
In addition to Paul, other speakers at the event included Democratic Senator Patrick Leahy, Republican Congressman Bob Goodlatte, and Democratic Congressman Bobby Scott.
Advocates in attendance included Ken Blackwell, senior fellow for Family Empowerment at the Family Research Council; Todd Cox, senior fellow at the Center for American Progress; Alison Holcomb, director of the American Civil Liberties Union Campaign for Smart Justice; and Pat Nolan, director of the American Conservative Union Foundation's Center for Criminal Justice Reform.