Rascal Flatts Member Says His Children Are Raised 'Knowing Jesus' as Their Foundation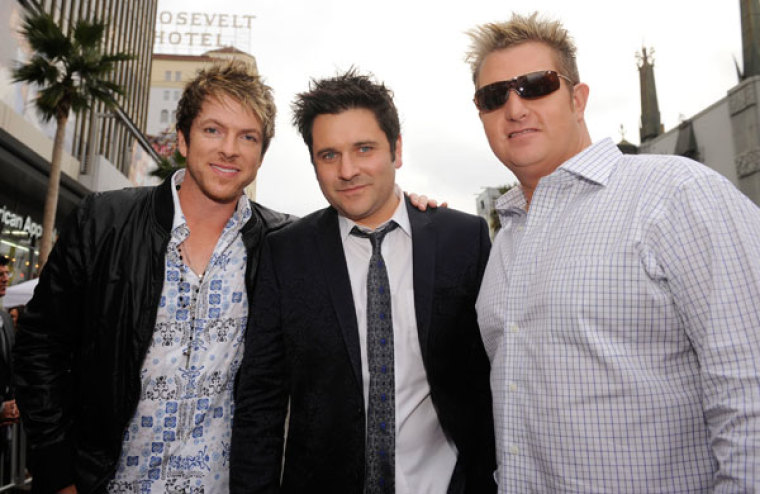 Rascal Flatts member Jay DeMarcus says he and his wife Allison are raising their children Christian because it's important to have a foundation in Jesus.
DeMarcus is a father of two Dylan, 6, and Madeline, 7½. Along with his wife, the musician is raising his family in Nashville, Tennessee, where he is hoping they will hold to traditional values.
"To live country is more of a state of mind, and not about cowboy hats and living on a farm," DeMarcus told PEOPLE in their latest issue. "It's about your core values, and your beliefs, and a way of life."
The Rascal Flatts bassist says he grew up attending church twice a week and was even a member of the choir's band. He considers faith an instrumental part of his life and wants the same for his children.
"We live in the Bible belt. I was born and raised in church," he continued "That's something that was really, really important to me, to build that foundation with our kids so they at least went to church.
"God knows Dylan's gonna need it later in life. I've actually started putting the handcuffs on him so he could get used to the feel of them," he joked. "We try to take him to church — try to let him know who Jesus is. It's really important for me that they're ingrained in a good church and have that good foundation to build upon. I think that's a core value system that you'll find anywhere you go in the South."
While raising the family Christian, the couple work hard to make sure both kids are well-mannered. The musician said as parents they try their best to make their life "magical" as it can be while not spoiling their kids.
"At the same time, you don't want them to be spoiled brats because that would be no fun to live with either," he added.
"I think our kids live an extraordinarily different life than what I lived growing up. Pretty much everything about their life is different than mine was," DeMarcus admitted.
"And you know what? I'm thrilled to be blessed enough to be able to do that for them. It really makes all the long miles and all the long hours away from home worth every bit of it."
In 2012, Rascal Flatts' bandmate Joe Don Rooney told the Chicago Sun-Times that Christianity is losing some of those southern traditions DeMarcus spoke of.
"I feel like we're losing the fabric of what made America America a little bit. It's slipping through our hands a little when it comes to the Christianity on which our forefathers founded this country — putting God first," Rooney said.
Rascal Flatts have been together for almost 20 years and have several No. 1 Billboard Country hits under their belt. While not considered a faith-based group, they all do profess to be Christians.
"We're not a band on a crusade," Rooney shared. "We're Christian men with families and children and with deep faith in God and country."
"I think we have been very open if people read our liner notes. We always thank God and the Lord Savior Jesus Christ," he maintained.