Ravi Zacharias Denies Accusations of Illicit Online Sexual Relationship, Credential Misrepresentation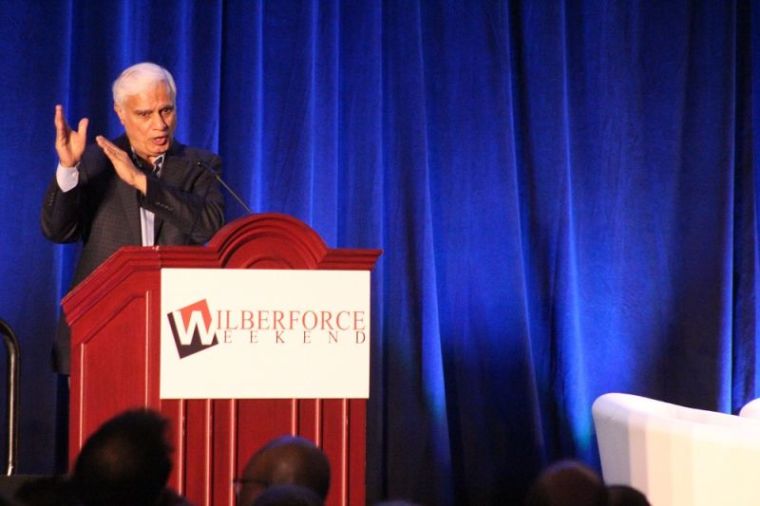 Author and apologist Ravi Zacharias is denying allegations that he had an inappropriate online sexual relationship with a woman who is not his wife and that he misrepresented his academic credentials.
"Let me state categorically that I never met this woman alone, publicly or privately," he said in a statement Sunday. "The question is not whether I solicited or sent any illicit photos or messages to another woman—I did not, and there is no evidence to the contrary—but rather, whether I should have been a willing participant in any extended communication with a woman not my wife.
"The answer, I can unequivocally say, is no, and I fully accept responsibility. In all my correspondence with thousands of people in 45 years of ministry, I have never been confronted with a situation such as this, and God and my family and close friends know how grieved I have been." 
The renowned Christian apologist recounted that in October 2014, he met a couple at a conference in Canada that he was speaking at. He did not mention the couple by name in the statement.
Zacharias noted that the wife "asked if I would reach out to her husband because he had questions about the Christian faith." So he said he followed up by sending an email and book to that husband.
He saw the couple again at another speaking engagement several months later, he stated, noting that was the last time he saw them.
According to Zacharias, the woman began emailing him and then last year, "she shockingly sent me extremely inappropriate pictures of herself unsolicited." 
"I clearly instructed her to stop contacting me in any form; I blocked her messages, and I resolved to terminate all contact with her," the apologist recounted.
"In late 2016 she sent an email informing me that she planned to tell her husband about the inappropriate pictures she had sent and to claim that I had solicited them," he continued, noting that the couple's attorney sent a letter demanding money a few months later.
According to that letter, sent April 2017 from Bryant Law Center, the couple accused Zacharias of "grooming" the woman and using his position as a spiritual authority to exercise "controlling influence over her." With Zacharias' "ongoing encouragement," the letter states, the woman was made to feel safe and opened up her life to him.
"Armed with that information and your excellent grooming skills, you chose to exploit her vulnerability to satisfy your own sexual desires," the letter continues. "Not only did you engage in sexually explicit online conversations, but you also solicited and ultimately received many indecent photos ..."
Claiming that "irreparable harm" was caused to the couple, the Bryant Law Center said it would pursue litigation unless Zacharias sent "a certified check in the amount of $5 million dollars."
Zacharias' attorneys filed a lawsuit in response to the letter under the Racketeer Influenced and Corrupt Organizations Act soon thereafter. The other side requested mediation instead of going to trial, which Zacharias' lawyers agreed to, and ultimately reached an agreement last month, ending the lawsuit.
In his Sunday statement, Zacharias said, "I have learned a difficult and painful lesson through this ordeal. As a husband, father, grandfather, and leader of a Christian ministry I should not have engaged in ongoing communication with a woman other than my wife. I failed to exercise wise caution and to protect myself from even the appearance of impropriety, and for that I am profoundly sorry. I have acknowledged this to my Lord, my wife, my children, our ministry board, and my colleagues."
He further stressed that he has never engaged in "any inappropriate behavior of any kind" during his 45-year marriage to his wife, Margie. As a sought-after speaker, Zacharias said he has exercised "extreme caution" in his daily life and travels and has a rule not to be alone with a woman who is not his wife or his daughters.
"Upon reflection, I now realize that the physical safeguards I have long practiced to protect my integrity should have extended to include digital communications safeguards," he added. "I believe—and indeed would counsel others—that the standards of personal conduct are necessarily higher for Christian leaders."
Many have come to Zacharias' defense on social media. But not everyone expressed support.
Julie Anne Smith, who blogs at Spiritual Sounding Board and has been in contact with the woman, published on Saturday images of emails that appear to be correspondence between Zacharias and the woman. Smith removed the images later that day, explaining in a subsequent blog post that she did so at the request of the woman, who is barred from speaking publicly about this due to the terms of the legal settlement. 
The emails, which "thousands" have now reportedly seen, some of which were screenshotted, show the woman telling Zacharias that she will reveal their relationship to her husband, noting she cannot continue to live with the "guilt." Zacharias subsequently  responds with a suicide threat, saying, "If you betray me here, I will have no option but to bid this world goodbye, I promise."
Smith tweeted on Monday, "There is a reason why Ravi Zacharias' lawsuit was settled out of court. This made it so there was no discovery & no public document trail w/proof of online sexual relationship. He was an active participant in this sexual relationship based on victim's notes I have." 
There is a a reason why Ravi Zacharias' lawsuit was settled out of court. This made it so there was no discovery & no public document trail w/proof of online sexual relationship. He was an active participant in this sexual relationship based on victim's notes I have.

— Julie Anne (@DefendTheSheep) December 4, 2017
She noted in a subsequent tweet that this was not just about her sending sexually explicit photos but that Zacharias did, in fact, solicit them, according to a 20-page narrative from the woman which describes her side of the story. The woman sent Smith her account of the events long before the lawsuit was filed in the event that she might one day be legally bound from speaking about it. Smith is under no such constraints. 
The Christian Post reached out to RZIM multiple times since last week but received no comment by press time.
Credentials
In a separate statement on Sunday, RZIM Public Relations Manager Ruth Malhotra addressed the issue of elements of Zacharias' biography that have been called into question.
"Neither Ravi Zacharias nor Ravi Zacharias International Ministries (RZIM) has ever knowingly misstated or misrepresented Ravi's credentials," the statement reads.
"When it has been brought to our attention that something was stated incorrectly with regard to Ravi's background, we have made every effort to correct it. Sometimes other entities—such as publishers or institutions where Ravi was speaking—have incorrectly presented aspects of his credentials. We were not aware of these errors when they were made; however, in some instances RZIM should have caught them and sought to have them corrected. We regret any and all errors, as well as any doubt or distraction they may have caused."
At present, 11 RZIM team members possess doctoral degrees though Zacharias does not and has never claimed to have earned one, Malhotra noted. The apologist holds a Masters of Divinity from Trinity Evangelical Divinity School in Deerfield, Illinois, and has been conferred 10 honorary doctorates.
The "Dr." prefix appeared before Zacharias' name on the RZIM website and in some of their materials in earlier years, "which is an appropriate and acceptable practice with honorary doctorates," the statement explained, but because it is "contentious in certain circles" they do not use it anymore.
"The nature of our work at RZIM can evoke criticism, sometimes fair—in which case we address it—but sometimes completely unfounded and without merit. For example, recently a couple of inquirers claimed to have information that Ravi was facing discipline from his denomination. This is simply false and has never been the case, and it serves as an example of why we choose not to address certain accusations that come our way."
Atheist writer Steve Baughman, who has been investigating Zacharias' background for a few years and believes that the "Christian Industrial Complex" is protecting him, had written an article last month, arguing that the apologist had "deceived" his followers with regard to his credentials.
RZIM rejected the "egregious" claims and "false assertions regarding the character, actions, and accomplishments of Ravi Zacharias," in a Facebook post.
Baughman said in an email to CP Monday that in the past two months, his videos critical of Zacharias have been mysteriously compromised. 
Baughman said his Nov. 26 YouTube video "The Case Against Ravi Zacharias" has disappeared entirely from the YouTube search field and users must now manually go to his YouTube channel in order to view it. CP entered "The Case Against Ravi Zacharias" into YouTube and Google on Monday and could not locate the video. When CP entered the same phrase into Yahoo and Bing search engines, Baughman's video appeared as the first or second entry.
Baughman added that he also knows a Christian YouTube critic of Zacharias, Reginald Jacob Block, who posted a video two nights ago that was critical of the apologist and found that it had disappeared from YouTube the following morning. Block reportedly appealed and was able to have it restored.