Ray Lewis Talks Agape Love, Isaiah 54:17 at Baltimore Ravens' Super Bowl Parade
Ray Lewis, the Christian Baltimore Ravens linebacker who recently ended his career with a Super Bowl ring, has spoken out about agape love and quoted scripture at the Super Bowl celebration parade that took place in Maryland on Tuesday.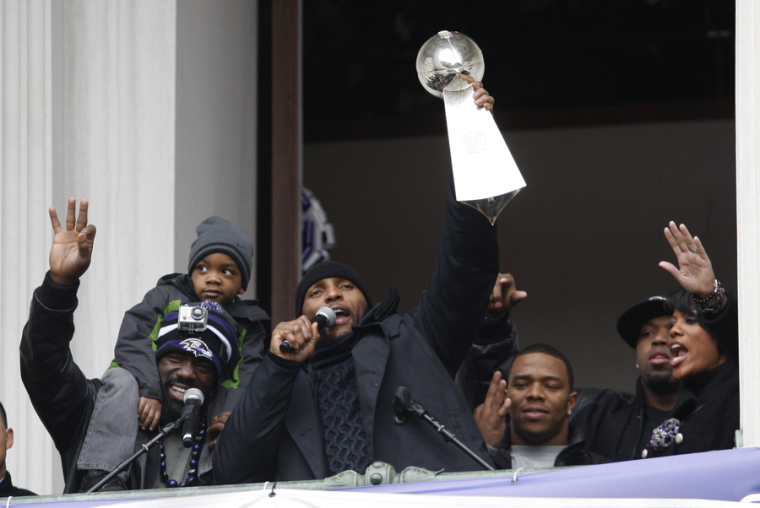 Lewis and his teammates rode through the streets of Baltimore, Md. before making their way to the Ravens' M&T Bank Stadium to speak to the proud residents of their city after winning Super Bowl XLVII Sunday. While holding the coveted Vince Lombardi Trophy given to the Super Bowl champions, Lewis spoke to the Baltimore fans on the heels of his last professional football game.
During his speech, the 13-time Pro Bowler quoted Isaiah 54:17 which states, "No weapon formed against you shall prosper."
"Baltimore! There is nothing in the world, there is no place on this earth, that is better than Baltimore. This city, this city, we believed in each other from Day One, from 1996 to now," Lewis told fans in the city where he spent his entire 17 year NFL career. "We believed in each other, Baltimore. If I had to describe our team in one phrase or one paragraph, you all know what it is: 'No weapon, no weapon, no weapon formed against us shall prosper.'"
Although Lewis recently announced that he would retire from the NFL, he spoke to the crowd of Baltimore fans about agape love, a term used by Christians to describe the love of Jesus Christ.
"This team was destined to go on and win the Super Bowl. I said this was my last ride, and every moment, every time I stepped in this stadium, what I received was pure love, Agape love," Lewis said in his victory speech at M&T Bank Stadium. "The only way on my last ride to pay Baltimore back for everything you did for me and all the support you gave to me, was to bring back the Lombardi Trophy to Baltimore one more time. I love you, Baltimore. Baltimore! Forever my city. I love you."
After Lewis and his team defeated the San Francisco 49ers in a 34-31 Super Bowl win, he took to the CBS podium last Sunday to describe ending his career as a champion by glorifying God.
"It's simple: when God is for you, who can be against you?" Lewis said after his big win last Sunday.