Ray Rice to Appeal Indefinite Suspension From NFL, Attends Football Game With Wife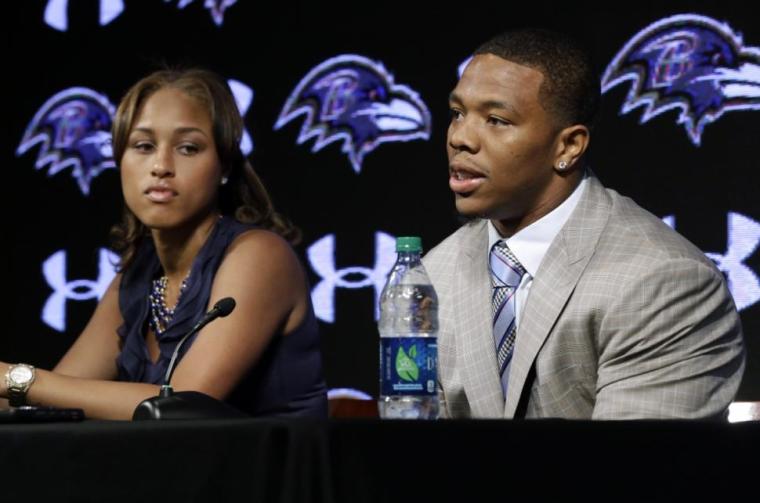 While planning his next move after being banned from the NFL, former Ravens running back Ray Rice visited his old stomping grounds with his wife, Janay, and their daughter Saturday.
Rice is beginning the process of appealing his indefinite suspension passed down by commissioner Roger Goddell after video surfaced of him knocking out his then fiancee in an casino elevator in Atlantic City last February, according to ESPN's Adam Schefter. Rice and the NFL Players Association have until 11:59 pm on Tuesday night to file the appeal. Each player who files an appeal with the league has three days to do so after the initial punishment is handed down.
Over the weekend Rice was in his hometown of New Rochelle, New York, with Janay and their daughter watching his former high school team the New Rochelle Huguenots play. Although the school took down all of Rice's paraphernalia from its walls and rafters, Rice was received with a warm reception. Several fans wore purple Ray Rice Ravens Jerseys in support of Rice. Ray and Janay (who is also from New York) were pictured smiling and laughing with former classmates and teammates.
The Player's union is mulling over how to go about appealing the indefinite suspension because of the black eye the NFL has received over the past two weeks. With Carolina Panther Greg Hardy and San Francisco 49er Ray McDonald's impending domestic violence cases, and recent child abuse case for Minnesota Vikings running back Adrian Peterson, the NFLPA is looking to make the right decision to gain back points in the court of public opinion.
The case can be made for double jeopardy for Rice because he was initially punished by a two game suspension by Goddell. Rice had already served one game of that suspension when Goddell overhauled the punishment and made it a mandatory six game ban for the first offense of domestic violence, and a lifetime ban for the second. After TMZ release the video of Ray striking Janay, Goddell suspended him indefinitely, even though the tape had been available for months. TMZ also reported that the NFL did have a copy of the video and Goddell should have seen it.
Earlier today the NFL hired three domestic violence experts to help advise the league in how to move forward and on the cases they have at hand. Goddell sent a memo to the teams saying he hired Lisa Friel, Jane Randel and Rita Smith, and they will "help lead and shape the NFL's policies and programs relating to domestic violence and sexual assault."
Friel was the head of the Sex Crimes Prosecution Unit in the New York County District Attorney's Office for more than a decade. Randel is the co-founder of No More, a campaign against domestic violence and sexual assault. Smith is the former executive director of the National Coalition Against Domestic Violence. Goddell also hired Anna Isaacson to be the NFL's vice president for social responsibility, which is a new position. Isaacson is also the vice president of community affairs and philanthropy.