Ray Rice, Wife Reportedly Became Born Again Christians After Incident; Blame Fight on Drinking as Fans Show Support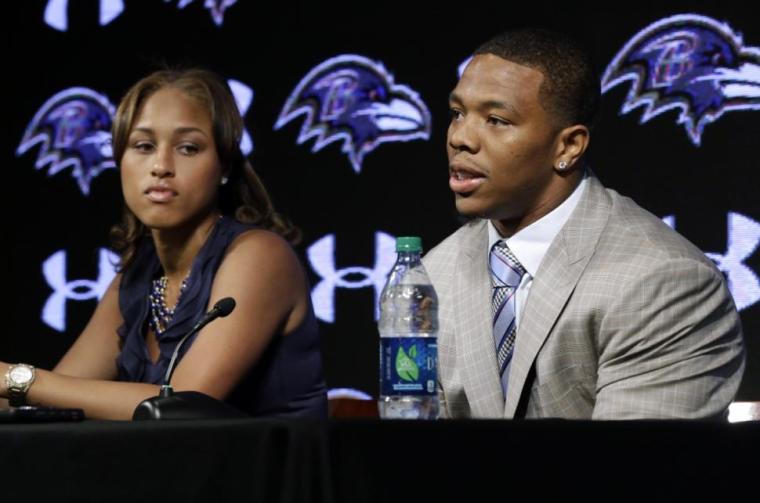 Embattled former Baltimore Ravens football player Ray Rice, 27, and his wife, Janay, reportedly became born-again Christians in March, shortly after he beat his then-fiancée unconscious inside a casino elevator. Rice is reportedly blaming their behavior on heavy drinking.
"Our sources say Ray and his wife have gotten deep into religion since the February incident, and they were both baptized in March when they decided to become born-again Christians," said a TMZ Sports report.
"We're also told they've also done religious mentoring with other couples ... including NFL players and their wives," it continued.
Rice, who was released from his contract with the Baltimore Ravens and suspended indefinitely from the NFL this week, is reportedly blaming his behavior in the elevator on hard liquor and says since the incident he has not indulged in that level of inebriation. He, however, still reportedly drinks wine.
"Ray Rice says hard liquor was the fuel that triggered his elevator rage and he hasn't touched the stuff in months," sources close to the player told TMZ Sports.
"Rice told the Baltimore Ravens he and Janay Palmer had been drinking HEAVILY before the altercation. Rice is telling friends he becomes a different person when he boozes it up ... so he's changed his life," the report noted.
The Raven's first game since Rice was released by the team came against the Pittsburgh Steelers at home on Thursday. Some fans said they felt the NFL and the Ravens overreacted in their treatment of Rice and showed their support for him by wearing their Ray Rice jerseys.
LaTonya Jones, who was at the game sporting her Ray Rice jersey, told USA Today Sports that she is a domestic violence survivor who walked out on her husband the first time he hit her. She, however, has no plans to give up her Ray Rice jersey because she feels he is being treated unfairly.
"I'm keeping my jersey," she said. "I'm not going to trade it in … I don't agree with how they went from a two-game suspension to ending this man's career," she said.
"This is someone's livelihood. He has a family. I don't condone fighting because I don't think anybody should punch anybody, but they should not have took that man's job away," she explained. "We shouldn't be involved in their personal life. I'm sure there are some players on that team today and they're still playing just because they weren't filmed, they can still play and he can't. It's not right."
Maria Pirovolikos, who doesn't own a Ray Rice jersey, told USA Today Sports that if she had one she would have worn it on Thursday too.
"I think whatever happened in that elevator happened in February and should have been done in February," Pirovolikos said. "I've met the guy. He's such a sweet guy. He never said no when I asked for pictures or an autograph or anything. … And it's their business. His wife obviously forgave him, why can't we?"
Pirovolikos also took issue with the NFL's indefinite suspension of Rice.
"They're both to blame," Pirovolikos said of Rice and his wife. "She put her hands on him. It's not OK for women to hit men, it's not OK for men to hit women. I don't think what he did was right, but you know what, it happens every day. They were drunk. They're both to blame.
"And I think what he should [have] gotten is like what everyone else got — a slap on the hand and six games," she ended.
Christina Burke, a Bel Air, Maryland, resident and Baltimore Ravens season-ticket holder told ESPN: "I just don't believe one action or mistake should define a person."
"People were so quick to hang him out to dry," she said. "People saw the video, but did they get new evidence?"
Sandra Mattocks, another Ravens season-ticket holder, told ESPN she believes Rice is being condemned and further punished only as a result of the public outcry caused by the video.
"I have a problem with that," said Mattocks, who lives in Essex. "They knew exactly what the facts were when they made [Rice's initial] punishment. I'm very disappointed with the NFL and the Ravens for their treatment of Ray Rice."
Rice, and his then-fiancée, Janay Palmer, were arrested in February and charged with assault after the elevator altercation at the Revel Casino in Atlantic City, New Jersey. Celebrity news website TMZ subsequently published a video showing Rice pulling her limp body from an elevator. Rice was charged with aggravated assault, which carries a maximum five year prison sentence, after the case was presented to a grand jury on March 27.
A day later on March 28 the couple got married. The NFL subsequently suspended Rice for the first two games of the 2014 NFL season as punishment for the altercation. After a more graphic video of the altercation was released by TMZ on Monday, the Raven's terminated Rice's contract and the NFL, which has come under fire for its handling of the case, suspended him indefinitely.
Potential 2016 presidential contender, renowned neurosurgeon and conservative star Dr. Ben Carson is one of the few voices that has urged caution in handling the situation with Rice.
"I'm hopeful that they will get some help for him. Obviously, anyone who would do something like that needs some help," Carson said Monday on "The Steve Malzberg Show" on Newsmax TV.
"Let's not all jump on the bandwagon of demonizing this guy. He obviously has some real problems. And his wife obviously knows that because she subsequently married him. So they both need some help," continued Carson. "Rather than just jumping on an impunitive bandwagon [of criticism], let's see if we can get some help for these people,"