White House Condemns Ray Rice's Assault; Don't Judge Janay Rice, Says Domestic Violence Expert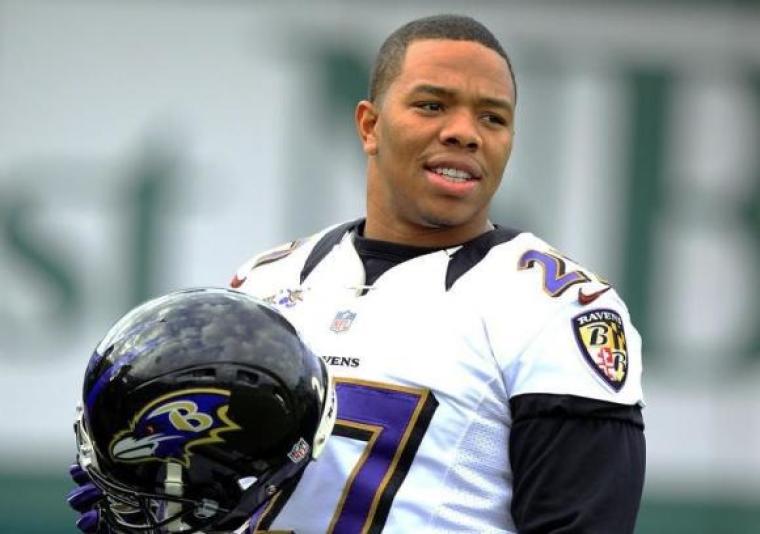 In response to a question about the shocking video of former Baltimore Ravens running back Ray Rice assaulting his wife, Janay Rice, in an elevator at the Revel Casino in Atlantic City, New Jersey, the White House vehemently condemned domestic violence in any case and encouraged men around the United States to take action to hold other men accountable.
Meanwhile, social media participants criticized Janay Rice, who is strongly supporting her husband despite the incriminating video, from every side.
Press Secretary Josh Earnest took a question about the incident moments after it had been reported that Rice had been cut by the Ravens and suspended indefinitely by the National Football League. "This administration and this president do believe strongly that the scourge of violence against women is something that needs to be aggressively combated," Earnest stated. "I don't want to comment on the individual decisions made, in this case, by an individual football team. But you have seen the president and the vice president make very forceful public comments in talking about how important it is for men in particular to step up and step forward and make clear that violence against women is something that is not and cannot be tolerated."
Social media and media outlets immediately began either asking "What Did She Do To Provoke Him" or "Why Did She Stay?"
Lauren C. Vaughan, executive director of My Sister's Place, a support organization for battered women, told The Christian Post this is not the way to help a victim.
Vaughan said the people ridiculing Janay on social media are only compounding the problem. "Even though people may feel one way on the outside, its different from the inside," Vaughan stated. "She has a lot of things to consider. And when she makes a move, no matter what move that is – to stay or to go – what we have to do as a society is support her in what works for her. We can not judge her or make her feel bad about the decisions she makes for herself."
The My Sister's Place spokeswoman wants people who see domestic violence happening around them to "see something and say something" because "too often victims are suffering in silence."
Vaughan witnessed domestic violence in her own home growing up and after becoming executive director of the battered woman advocacy group, she stated she had a "responsibility to use what God has given me for the greater good – and that includes the good, the bad and ugly experiences in my life."
Early Monday morning TMZ released a video of Ray and Janay stumbling to an elevator after leaving a nightclub in the Revel Casino in February. Then engaged at the time, the couple were captured on security cameras arguing, and upon entering the elevator Ray struck Janay, and as Janay charged him to retaliate, he hit her with such force she hit the rail on the sides and fell unconscious. As she laid there unresponsive, Ray dragged her body out of the elevator and authorities eventually came to the scene. The couple were both arrested and charged with assault, although the charges on Janay were dropped shortly after.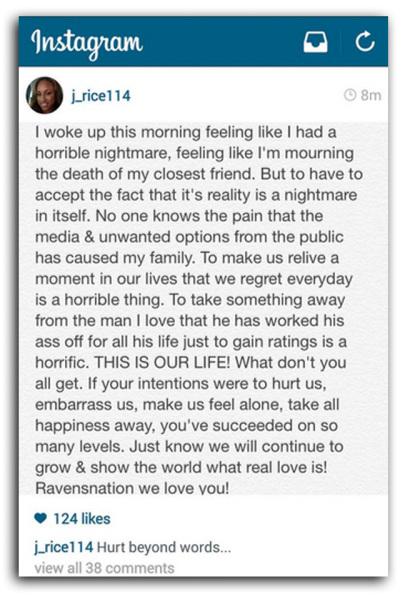 Earnest said he was unsure if President Barack Obama had seen the actual footage of the assault released by TMZ on Monday, but did assure that he was an "avid sports fan" and had been following the controversy.
Ray was charged with aggravated assault and instead of taking a plea deal that would have let him avoid jail time, he applied to a program for first time offenders to not be prosecuted if they stayed out of trouble and sought counseling for six months. The NFL handed Rice a meager two-game suspension, but Commissioner Roger Goddell later revised and instated a new domestic violence policy that bumped the penalty to 6 games for the first offense and a liftetime ban for a second.
What Janay Rice doesn't realize is that blow to her head caused severe brain damage. She has obviously lost her mind. #DVAwareness

— Jessica Singer (@Daily_Jess) September 9, 2014
After the video was released, the Raven's promptly cut ties with Rice and the NFL suspended him indefinitely. Janay Rice has since the incident stood by her now husband, saying that they both chose to work things out together and were working to become better people. Early Tuesday morning, she took to her Instagram account to address the situation. The post resulted in an immediate social media firestorm. Many argued that Janay was wrong to continue to support her husband.
Somebody get #JanayRice a ticket to Sweden, because she's got a textbook case of Stockholm Syndrome.

— Liz Stewart (@LizStewartComed) September 9, 2014
Another large point of contention on social media was the blaming of Janay by men who think she did something to provoke the attack. Co-founder of A Call To Men Tony Porter, took issue with these criticisms. He told CP that it is the burden of other men to keep those who participate in domestic violence accountable for their actions.
"In our organization," Porter proclaimed, "we're going to educate men about what the real deal is. And in that education we will also teach them about victim blaming and holding ourselves accountable for what we can be held accountable for. Not letting ourselves off the hook. Not re-victimizing her. She was already a victim of the violence, and not they're holding her accountable for the violence. Any dominant group will look for ways to hold that marginalized group accountable for what is happening to them instead of looking at their role in it."
"Our primary focus is on men who are not abusive," Porter said to CP in a phone interview. "To help understand that we have a role and a responsibility in ending violence against women." Porter knows that to combat the socialization of domestic violence, men must be harbingers on social media and educate violators as well.
Porter knows that this story is at the forefront of American minds because of who Ray Rice is, but he hopes good can come out of the situation. " I would ask that we use this situation for the betterment of man and womankind in general," Porter said. "There are thousands of domestic violence incidents that happen every year. I'm asking us to use this energy on what is being sensationalized on one end, to the opportunity to raise awareness of whats going on around the nation."