Recording Artist Carman Takes on First Album in 12 Years Amid Cancer Battle
Popular Christian Singer, Evangelist Rallies Support Using Kickstarter, Hopes for $200,000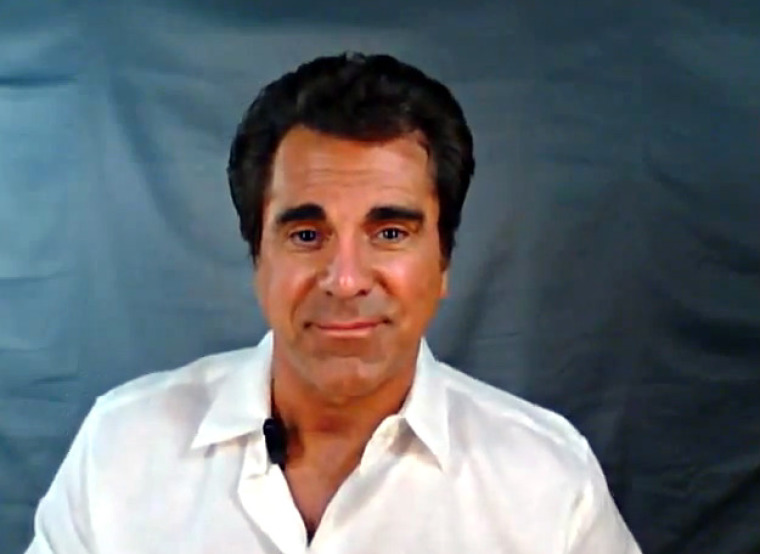 Christian recording artist and evangelist Carman Licciardello has announced that after more than a decade, he's headed back into the studio to record a new album, with the popular musician's media team suggesting that his "terminal cancer diagnosis (has) paradoxically revived Carman's creative spirit."
Carman, as he is known professionally, updated fans Thursday about his treatment for multiple myeloma cancer, and said he believes God is using his battle against the incurable disease to do "a work inside of me."
"I cannot begin to tell you how many people have given me an encouraging word, a prophetic word, and how many prayers have gone up. When I see things like that happen, it makes me realize that God is doing something that's much bigger than my life and a record. But for whatever reason, this is where it starts, this is the seed that is planted into the ground," he said.
Adding that he was excited about the new record and tour, Carman also thanked those who have been donating to his Kickstarter campaign to fund the project, which he said was also for "a whole new phase of ministry."
"I'm actually feeling better, I'm feeling stronger, not getting sick as much, so I'm like, 'I gotta take this and do something with it. Might as well write some songs and make some music.' And that's what this is all about, so you're literally kick-starting a ministry that's going to touch many lives so I want to thank you."
Carman revealed that he would be in Nashville, Tenn., this weekend to meet with producers and a booking agent to organize a future tour. "It's been a long time, but this is what God is doing. I'm going to believe that my health will continue to improve and continue to get better," he said, adding that he never thought he would be recording music again after 12 years.
Watch Carman's video message on his health and new music plans:
The Kickstarter campaign for a "new Carman album and music video" was launched April 19, 2013, and has managed to gather more than $173,000, purportedly in record time. Over 2,000 people have contributed to Carman's Kickstarter campaign, which is aimed at raising $200,000 by June 18.
The 14 donation levels range from a minimum of $1 to $10,000, an amount that two backers have pledged to contribute. As usual with the Kickstarter crowdfunding platform, supporters who donate across various levels can expect special gifts. In this case, some supporters can expect a personal phone call from Carman or a personal visit at their church on a Sunday where the popular artist will "minister, speak and even perform some of the new songs."
Supporters have also left dozens of comments on Carman's Kickstarter campaign page, offering words of support.
"Carman I am so glad you are encouraged! We love you so much! You have blessed many lives and may you be blessed and I pray that you meet the goal and that you have extra left over! Thanks for posting the wonderful Scriptures! Thanks for (serving) the Lord! I love your songs and I am very excited about this new project and that I can be apart and we all can be apart of! Awesome! God Bless ya and stay strong!" wrote Mary Joanna Chadwick.
"Carman, what the devil meant for harm, the LORD will use for your good and HIS glory," wrote Tony Walker, referencing Romans 8:28: "And we know that in all things God works for the good of those who love him, who have been called according to his purpose."
"Your latter ministry will be greater than the first!!!!" added Walker.
In February, Carman shared with fans that he had been diagnosed with multiple myeloma cancer and given a 3- to 5-year window of time.
"I write these things for a few reasons. First, I want to put an end to all the rumors. Second, I ask for your prayers. And [third], I want you all to know that I will continue to minister and win souls until I can't do it any longer. My life has always been about ministry. I have a call of God to touch lives with the gospel of Jesus Christ and that's what I will do until the Lord calls me home," he told supporters at the time.
The National Cancer Institute estimates that, in this year alone, more than 22,000 Americans will be diagnosed with the myeloma cancer, which affects bone marrow cells.
The 57-year-old recording artist and actor, who came to faith in Christ in his 20s, has sold over 10 million contemporary music albums and won several GMA Dove Awards for his popular work. Additionally, Carman has garnered at least three Grammy nominations throughout his long career, which began in 1982. He has also appeared on film, is a published author and writes and produces his own movies.
He has shared, however, that his passion remains evangelism, and he personally ministers to those who attend his concerts seeking prayer and counseling.
Watch the video promo for Carman's Kickstarter campaign to fund a new album and tour: