Fmr. Redskins Say Ex-Head Coach Jim Zorn Divided Team Over Christianity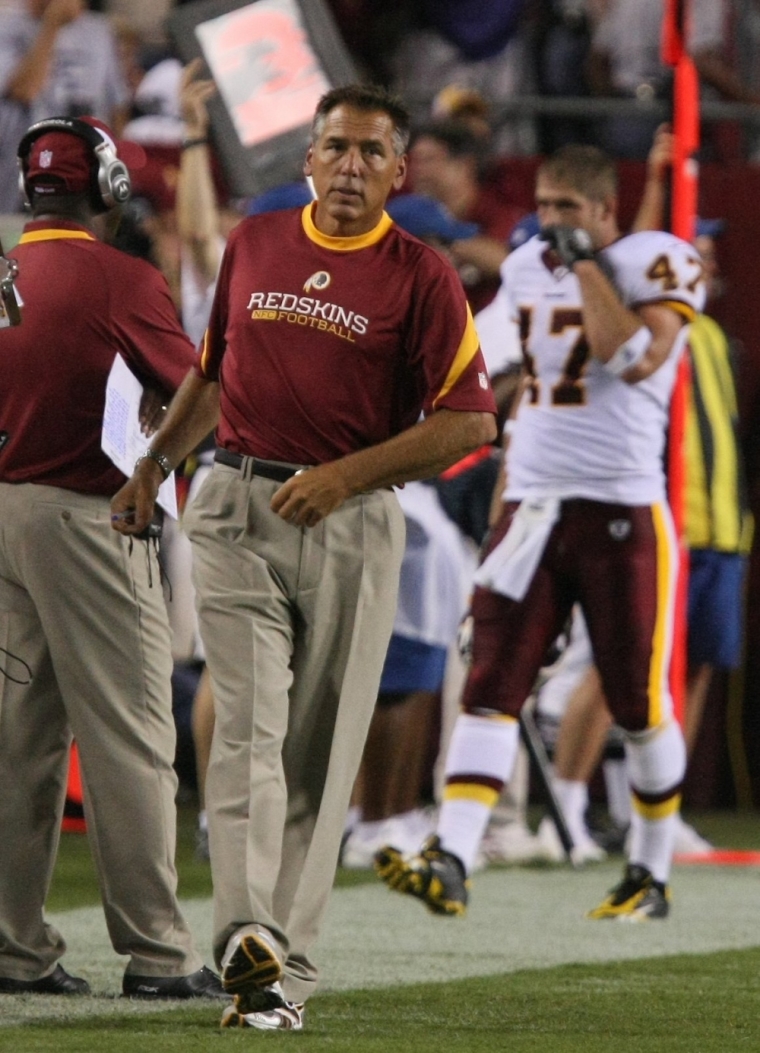 While recounting the struggles and highlights of their old NFL playing days on a Washington, D.C. ESPN sports talk radio show Tuesday evening, two former Washington Redskins fan favorites agreed that former head coach Jim Zorn "lost the locker room" because he criticized players who didn't pray and didn't live their lives the Christian way.
During his weekly visit on "The Drive" AM radio show with co-hosts Chris Cooley — a former Redskins tight end — Steve Czaban and Al Galdi, former Redskins running back Clinton Portis explained the difference between hall-of-fame head coach Joe Gibbs and the failed Zorn, who finished with a 12-20 record during his two seasons with the Redskins.
When asked if current Redskins head coach Jay Gruden is in danger of losing the confidence of his players after his first season with the franchise ended with a 4-12 record and his second season has begun with a 2-4 record, Portis responded with a resounding "no" because Gruden still has the support of his locker room.
"Now I know who did lose the locker room, and that was coach Zorn," Portis asserted. "Coach Zorn lost the locker room here."
Cooley agreed saying, "Coach Zorn might have lost the locker room Week 13 of season one [2008]."
Portis expanded on his assertion, saying that Zorn's mistake was dividing his locker room between players of faith and players with less or no faith.
"Coach Zorn lost the locker room because he split the locker room between Christians and ballplayers," Portis explained. "So if you didn't believe in what he believed in, if you weren't [Christian wide receiver] Antwaan Randle El — I'm saying it, I'm going to talk, I'm on the radio — if you weren't Antwaan Randle El, if you weren't the guys who sat and prayed with him and did everything the way they thought your life should be, you kind of got, 'Well, you're not doing right' speeches directed toward you."
Portis continued by saying that he and other players detested the way they were "preached" to by Zorn.
"I'm grown," Portis continued. "I can do what I want to do. I don't have a police record. If I don't get in no trouble, don't assume the way that I live my life, don't preach to me about what's right. Because you're not right, you're phony, you're sitting here in my face telling me one thing and then you go behind my back and say something else."
Cooley agreed with Portis but added that Zorn didn't come in with the intent of saying that he only wanted Christian players on his team.
"He's not wrong, and this is exactly what I was going to say," Cooley said of Portis' remarks. "[Zorn] didn't do it with intent though. Jim Zorn didn't come in with intent to say, 'I want Christians.' But he sold his pitch, his sales pitch was 'believe in and have faith in my program.' And it was basically a sales pitch to a Christian team. It wasn't, 'We're going to be smart, we're going to adapt, we're going to make sense.'"
Cooley added that then-offensive coordinator Sherman Smith would come in and preach every morning.
"Plus, Sherman Smith did come in and give a sermon every single morning. … We're all hyped about football, Sherman Smith would come in and say this is how we need to live our lives," Cooley said. "We're like, 'Whoa, I'm fine once I leave this building, bro. I want to talk about football.'"
"Literally any time there was anything that came up on offense that was 'Hmm, this doesn't make any sense, Jim, why are we doing this?' It was 'This was how Bill Walsh did it.' Much like saying, 'Go to the Bible and read it,'" Cooley added. "It was the West Coast Bible that he sold over and over and over again."
Czaban pointed out that Gibbs, who coached his second stint with the Redskins from 2004 to 2007 and is also the owner of NASCAR's Joe Gibbs Racing team, is also very outspoken when it comes to his Christian faith.
"But he didn't force that upon you," Portis responded. "Coach Gibbs gave you the opportunity. 'Listen, if you want to talk about it, you know I'm doing it the right way, come talk to me.'"
"Listen, with coach Gibbs, you were who you were, and that was okay," Portis continued. "He just wanted you to come and work hard, that's what he wanted, as long as you worked hard."
Cooley agreed.
"I'm fine with praying in moments of turmoil," Cooley added. "But the way Joe Gibbs sold his team was to football players and guys believing in each other, not [having faith] in a system and a coaching base with it. … [Zorn's system] was designed around the way a religion is designed: faith."