'God has been drawing Gen Z to Himself': Regent students' holding revival worship during spring break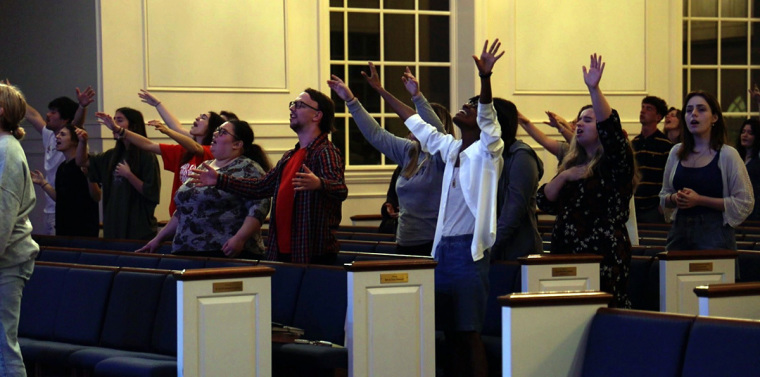 While many students are on vacation during spring break in Virginia, students at Regent University have been engaging in impromptu worship services that include the sharing of testimonies and exhortations from Scripture. 
Regent students and others began holding evening worship services last month after some went to Asbury University in Kentucky to participate in the revival there.
Jeff Gossmann, director of Campus Ministries at Regent, told The Christian Post that this week marks spring break for the university, but "students, faculty staff and the community continue to meet for spontaneous worship and prayer."
"Our Shaw Chapel on campus is open every day this week for unscripted prayer and praise," said Gossmann, "It feels like the same quality of spiritual renewal I experienced while at Asbury."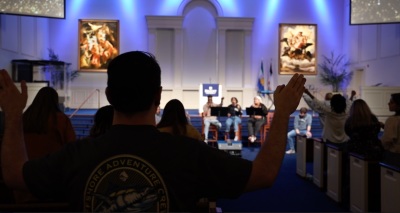 Gossmann traveled to Asbury last month along with a professor and two students to experience the revival gathering for themselves. 
"We came back excited about what God was doing, not just at Asbury University but at other universities too. We were convinced that the revival was the fruit of something God was doing that was larger than any one school," Gossmann told CP.
"It was clear that God has been drawing Gen Z to Himself. Gen Z has suffered so much loss from the pandemic. This revival is like a coming-of-age party for Gen Z. I believe that, through this revival, Jesus is saying to Gen Z, 'I see you. Welcome to the table.'"
According to Gossmann, after the small group from Regent returned, the campus community held a Monday evening worship service on Feb. 20, which began at 6 p.m. and continued until midnight.
The positive reception for that evening service led to other evening services being held the next few nights, with students coming and going as their class and midterm schedules allowed.
"Throughout the night, the student-led worship would crescendo into heavenly sounds of the worship before the throne. With lifted hands, they raised their voices to sing, often with tears in their eyes," Gossmann recounted, estimating that they had "about 200 people worshiping together continuously."
"Many students sat on the floor throughout the chapel with their Bibles open, writing in their journals. Each night at least 10 students approached me, asking permission to share a short exhortation from a Scripture the Holy Spirit highlighted during worship. Those words of encouragement were spread throughout the night, occurring every 20-30 minutes."
Regarding the longterm outflowing of the spontaneous services, Gossmann told CP that he believed that revival is not "an end in itself," but rather "a time when God sovereignly inspires His people by blowing on the embers of their faith."
"The result is a hotter fire and a passionate faith that fulfills the purpose God has already given the Church: to make disciples of all nations," he said. "We will do the things He has given us to do with greater zeal: we'll worship, minister the Word, serve, and evangelize with more passion and anointing from the Holy Spirit."
"We're not pursuing revival — we're pursuing Jesus Christ. He is reviving His Church on university campuses everywhere. We're merely letting down our sails and inviting His Holy Spirit to push us closer to His heavenward calling in Christ Jesus."
Last month, the campus of Asbury became the epicenter for a prayer and worship meeting that went nonstop for about 16 days and sparked similar impromptu services at other universities and secondary schools.