Relentless Church Pastor John Gray knocks 'pulpit pimps,' lets members in need take from offering baskets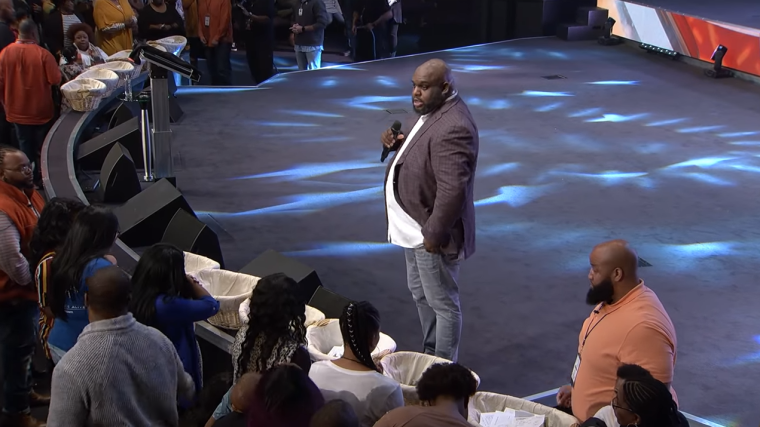 In an emotional service Sunday, Pastor John Gray of Relentless Church in Greenville, South Carolina, allowed members in need to take cash from the church's offering baskets while knocking "pulpit pimps" who only ask churchgoers to "give, give, give."
"For too long people have stood in a pulpit and told you to give, give, give. Very rarely have I seen churches stop and said 'leave the baskets out, let the people get what they need.' We've got too many pulpit pimps who want to get fat off people but don't want to meet the needs of the poor people. And Jesus said that's who you supposed to be taking care of. We got widows, we got orphans, we've got single moms in here. We might not be able to do everything but we can do something. I wish we could do more but it's the best we can do right now," Gray said near the end of his sermon titled "Leftovers."
Gray, who had asked his congregants to withhold their offering until they felt a connection to what was being preached that day, prefaced the invitation to his members in need to take from the church's offering baskets by reminding them of the church's role.
"The role of the church, elder, is not only to receive from the people of God but to meet the needs of the people of God. I asked you to hold your offering until something in your spirit connected with the Word. Did you all hear me when I said that? But the role of the church is also to meet the needs of the people in the house," he said.
"Are there any single mothers in here? You had an orange light in your gas tank when you pulled up, where are you? Come to the altar. Hurry. Single mothers. Are there any single fathers and you had less than a quarter tank of gas, where are you? Come to the altar, come to the altar," he said.
Scores of people streamed to the altar and he told them to stand before the offering baskets.
"Here's what I want you to do. There's some money in these baskets. You get what you need for you and the kids to eat and get some gas," he said to cheers from the congregation as a churchgoer approached him and stuck what appeared to be more cash offering in his hand.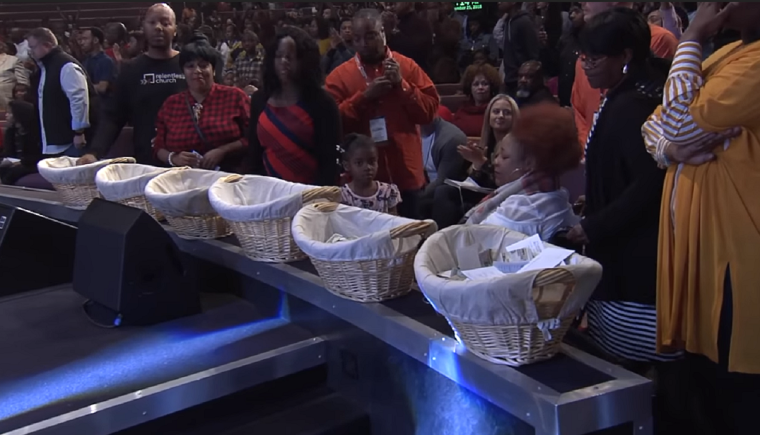 Several of the members receiving the help were visibly weeping.
"Are there any single fathers? You're raising your kids by yourself where are you, sir? You have primary custody of your kids," he continued.
Gray then called for widows and veterans. He then explained that even though his young church wasn't yet financially secure, he was simply following what God asked him to do.
"These people don't know what it took for me to do this. We are a six-month-old church with no savings account. We believe God every week but the Lord told me to do this because if I trust Him, whatever is left over would have to be enough," he said.
He then explained that as God blessed the church they will make it their mission to continue blessing those in need.
"Just know as the Lord keeps blessing us, we're going to do it more and more. We're going to start buying cars for women who are catching the bus. We're going to buy houses for people who've been renting. We're going to have more than what we need and God's going to raise up entrepreneurs and they're going to have so much that they're going to sow into the vision. And we won't have to worry about offering. Offering will be extra," he said.