Religious Freedom Expert: Roy Moore a Harmful 'Misguided Advocate'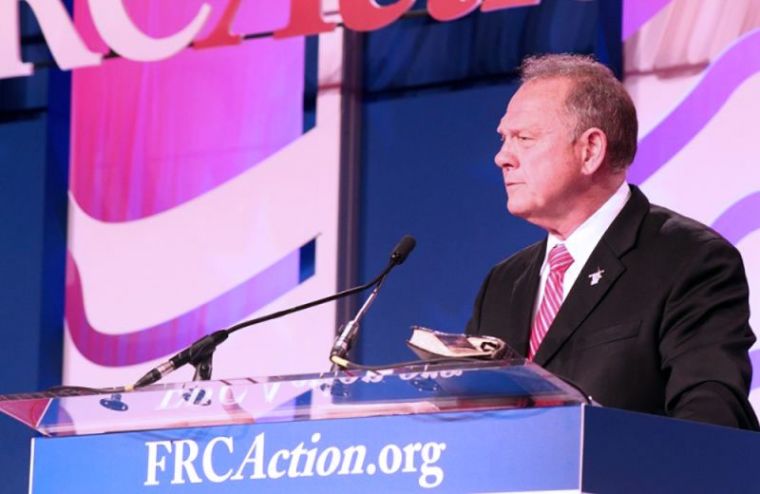 An expert on religious freedom issues has stated that Republican senatorial candidate and former Alabama Supreme Court Justice Roy Moore is a "misguided advocate" who would threaten religious liberty.
Tim Schultz, president of the Washington, DC-based 1st Amendment Partnership, penned a column for The Hill published Wednesday expressing his concerns about Moore.
A major contention Schultz had with Moore was the controversial Alabama judge's belief that elected officials should enforce God's law at the expense of man's law.
"Moore's mistake is not that he believes in a moral law that exists apart from the will of the majority. This is a view shared by the Founders," wrote Schultz.
"Moore's error lies in the fact that his view, taken to its logical conclusion, would leave citizens who wish to live in accordance with such a moral law subject to the whims of whoever happens to be in power at the time."
Schultz also argued that Moore's "rampant tribalism threatens to taint religious freedom for all as a front for special pleading by a certain category of Christians."
"The biggest threat to religious freedom is a big, bad, and ancient idea that has iterations on both the right and left: that religious freedom is subject to the whims of the majority," Schultz continued.
"Every religious belief is a minority in some part of America, which is why a majority-rules theory of religious freedom eventually means no religious freedom at all."
Known as the "Ten Commandments Judge" for his refusal in 2003 to remove a Decalogue display from an Alabama courthouse, Moore is running to fill the Senate seat vacated when Jeff Sessions became Attorney General.
Despite a widely publicized poll indicating a virtual tie between Moore and Democratic challenger Doug Jones, a newer poll has Moore with an expected large lead, 56 percent to 39 percent.
"The data collected shows that Moore is gaining support in the Republican Party despite a tense primary. 49% of the respondents saying they will 'definitely' vote for him," reported Huntsville-based WHNT on Tuesday.
"The study also found that Alabama voters are still focused on moral values and changing Washington, which were key issues in the 2016 election. This is also reflected in strong numbers for President Trump with a 57% approval rating among Alabamians in this poll."
Schultz's column comes not long after Moore again garnered controversy regarding his views on Muslims serving in Congress; in 2006 he had said they should not be allowed to serve.
"Of course they can serve," stated Moore last weekend to WHNT. "But they ... understand what they swear the Bible on, they swear to on the Bible, is the God that is not of their faith."
The Christian Post reached out to Moore for a response but did not hear back by press time.