Rep. Steve Scalise Declares You 'Can't Separate Church and State' at National Prayer Breakfast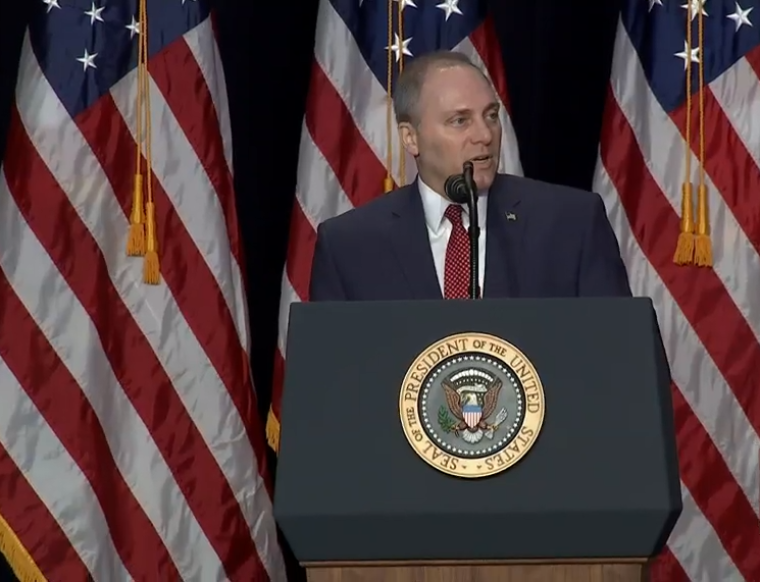 Less than a year after being shot at a Congressional baseball practice in Alexandria, Virginia, which he says could have ended like the mass shooting events at Sandy Hook or Sutherland Springs, House Majority Whip Steve Scalise touted his faith and declared that "you can't separate church and state" at the National Prayer Breakfast in Washington D.C. Thursday.
On June 14, Scalise was among at least six people, who were hospitalized after alleged shooter James Hodgkinson, 66, of Belleville, Illinois, opened fire at the Congressional baseball practice and engaged in a shootout with law enforcement officials. Hodgkinson was injured and later died from his injuries.
Sharing with thousands of religious and political leaders who gathered for the prayer event at the Washington Hilton Hotel Thursday morning, Scalise revealed his faith kept him fighting to live in the earliest moments after he was shot.
"The first shot comes and I was looking in the direction and I saw a tractor. I thought a tractor had backfired. And then all of a sudden the second shot comes and by the third shot I was hit and fell to the ground and my first instinct was to start crawling and try to get away. I was crawling and then eventually my arms gave out," he said.
"And once my body just kinda went into a shutdown mode I still could hear everything that was going on .... I couldn't see anything so the first thing I thought of was to pray. I just started praying and I said I'm gonna put this in God's hands.
"I've always been a man of faith. I don't go around talking about it a lot. I have a conversation with God every night. I talk to God and I don't just talk to him to ask him for things. I try to remember every night to thank God for the good things that happened that day so that if there is something that I want I'm not just asking him, it should be a two way street," he said.
Before sharing those details from his brush with death, Scalise insisted that the expectation that people can separate church from state is an unrealistic ideal, while praising his party's efforts to repeal the Johnson Amendment.
The Johnson Amendment which has been in effect since 1954, is seen by supporters as a way to separate church and state in modern American life. It forces religious leaders to give up their 501(c)3 tax-exempt status if they choose to give sermons endorsing specific candidates ahead of elections. It also prohibits churches, synagogues, mosques and other nonprofit institutions from raising money for political candidates.
"This is a nation that was not founded in agnostic views. This was a nation founded with a deep belief in God. Our founding fathers talked about it when they were preparing to draft the Constitution. In fact, Thomas Jefferson was the author of the Constitution. If you go to the Jefferson memorial right now, go read this inscription from Thomas Jefferson: 'God who gave us life, gave us liberty. Can the liberties of a nation be secure when we have removed a conviction that these liberties are the gift of God?' You can't separate church from state," Scalise said to applause.
"I'm a Catholic, we have people of all faiths. This idea that you can just check your faith at the door, people would say. When you're voting on issues how do you separate your faith from the way you vote? Faith is part of who you are. It's part of who I am, it's part of what establishes the values that I bring to this job and I would hope that everybody brings a set of values rooted in faith when they're making consequential decisions that don't just affect our country but affect the entire world," he continued.
Scalise praised President Donald Trump for his work in defending religious freedom while noting that this is the first right guaranteed by the Constitution.
"One of the unique things about the United States is that we were founded with a deep belief in God and as President Trump just said, the rights that we have were not given to us by men. They were given to us through men from God. The first actual right that we have in the Constitution through the Bill of Rights is the right to express our faith and I appreciate what the president has done to fight for religious freedom, when he challenged us last year to repeal the Johnson Amendment," he said.
"I'm proud to say that the House was able to successfully pass a repeal of the Johnson Amendment last year so that people of faith aren't threatened in their own workplace if you're trying to express your own views. You shouldn't be fearing intimidation by your own government that you can't express your faith freely. This all comes to us as part of the founding of this great nation," he further added.
In a Wednesday op-ed for The Washington Post, David Saperstein, director emeritus of the Religious Action Center of Reform Judaism, and Amanda Tyler, executive director of the Baptist Joint Committee for Religious Liberty, disagreed with efforts to repeal the Johnson Amendment.
"We, along with thousands of other religious leaders and more than 100 religious denominations and organizations, vehemently disagree. Considering the Pew Research Center tells us that roughly three-fourths of the world's population lives in nations with serious restrictions on religious freedom, we are confident the president can find far more effective ways to enhance our nation's religious-freedom efforts," the experts wrote.