Chicago Priest Says Rapper Chief Keef's Violent Music Is Contributing In the Murder and Carnage Plaguing the City
Chicago Priest Says Rapper Chief Keef's Violent Music Is Contributing In the Murder and Carnage Plaguing the City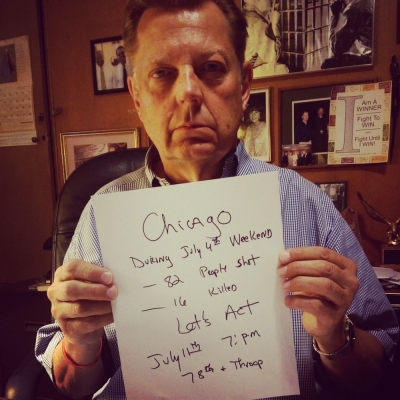 An outspoken Chicago priest known for his social activism has said rapper Chief Keef's music is a contributing factor in the murder and violence plaguing the city, and even criticized a benefit concert the rapper planned to raise money for a friend who was murdered earlier this month.
"Chief Keef has announced that he will hold a benefit concert to raise funds for his friend and the baby who were killed this past weekend. … Really[?]" wrote Pfleger on Facebook last Monday. Chief Keef is one of the reasons we have all this violence. … He has been one of the encourager's of the violence. … Instead of having a concert, why doesn't he man up and acknowledge it's time to stop the violence."
While the priest took aim at Keef and his concert on social media, he did tell The Christian Post on Friday that the rapper's music is not the sole reason for the violence in Chicago.
"The violence that is plaguing Chicago, and the nation as a whole, has its roots in a poor education system, lack of employment opportunities, and the glorification of violence (sometimes through music), just to name a few ingredients," said Pfleger to The Christian Post. "So while I did say that the music that Chief Keef makes is a contributing factor in the violence, by no means is it the sole factor."
Keef, born Keith Cozart, had planned to hold the benefit concert on Saturday and use a hologram of himself for his performance since he was unable to return to Chicago due to an outstanding warrant for his arrest for unpaid child support.
The planned concert was for Keef's friend and fellow rapper Marvin Carr who was gunned down in a drive-by shooting on July 4. The two men involved in the murder also hit a stroller with a 14-month-old boy while fleeing the scene and killed the toddler, according to authorities.
One of Keef's showrunners defended the rapper and commended him for his efforts to turn his life around after a series of arrests and being dropped from his $6 million record deal from Interscope.
Exclusive Op-eds from the Presidential Campaigns
Speaking out agianst Pfelger's comments, Aiki David, whose HologramUSA company provided the entertainment for the concert, said "That is indeed no real Christian message. Anybody who can make any change in what is going on with violence in Chicago is a personality like Keef. Rather than criticize him, no matter how you feel about him, you should get behind this."
Keef has enjoyed success in mainstream hip-hop music with his 2012 breakout hit "I Don't Like." The song hit No. 20 on the Billboard Rap Songs chart and was catapulted by a viral YouTube music video.
The song even attracted the attention of fellow Chicago native Kanye West who remixed the record. Keef also went on to collaborate with rapper/mogul 50 Cent who attempted to mentor the younger artist. But their relationship soured after Keef stood him up at a music video shoot in 2012.
"Chief Keef didn't show up to his own video. I never saw anything like this on the first song," said 50 Cent on Twitter in November 2012. "It's not funny. ChiefKeef didn't sell any records yet, they will pull the plug on him."
Keef made attempts to turn his life around in 2013 while serving a 60-day sentence in a juvenile detention center for violating parole for firing a gun in a video.
A Chicago pastor who announced he would baptize Keef after his release also claimed that "Keef responded to the Gospel."
"I think people forget he is 17 years old. He is not a bad kid," said New Beginnings Church pastor Corey Brooks to The Tribune in 2013. "(He) has had a chance to think. He is an entertainer — that is how he sees himself. But at the same time, he has a God-consciousness. He is not some terror who is wreaking havoc."