Revelation Road: Are Christians Living in the Last Days?
Author Comments on End Times, Mayan Calendar and Harold Camping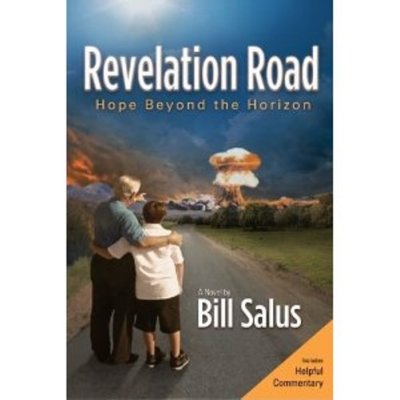 Bill Salus, an author, researcher and lecturer who focuses on the prophetic relevance of current Middle East and world events, claims that the Rapture will occur soon – and that Christians today might even be living in the last days.
Among the plethora of end times views that have emerged, there are many different beliefs on when the Rapture will happen, when Jesus will return, and how the prophecies written in the Book of Revelation might unfold.
The Rapture, the event that some claim is prophesied in the Book of Revelation, is a belief that believers will be taken into heaven, leaving unrepentant sinners behind on Earth to experience His judgment. 
Some observers, like the Rev. Gerald Haug, an author and theologian, claim that the Rapture will not be about Jesus taking believers into heaven, as commonly believed. Haug also insists that the world will not end at least for another 100 years.
Salus, however, who is a bestselling author and has been featured on World Net Daily, various magazines, and extensively over the Internet, claims that the Middle East events, such as the occurance of Arab revolutions and threats against Israel, might very well be signs of the end times foretold in the Bible.
His latest book, Revelation Road, Hope Beyond the Horizon, is a unique reading experience because it fuses a fictional story with the real life-events going on in the world today. It also provides direct commentary that exposes how these events are linked with events referenced in the Bible. The fictional Thompson family, the main protagonists in the story, watch as the Arab Spring uprisings and Middle East wars unfold, leading to clues about the Rapture.
In an interview with The Christian Post, Salus explains the inspiration and mission behind his book – and although he stops short of predicting where and when the Rapture might occur, he says that his book could very well give readers valuable insight. He also comments on other end of the world predictions, and offers advice on how believers might want to prepare for the coming events.
CP: What inspired you to combine a fictional story with real-world events, such as the situation in the Middle East, as opposed to a straight-forward commentary on the end times talk in the Bible?
Salus: In some respects, Revelation Road, Hope Beyond the Horizon is a straight-forward commentary. However, this book invites a unique one-of-a-kind reading experience that combines a compelling novel with a corresponding non-fiction biblical commentary. It richly rewards the reader by merging two writing styles into one. The widely read recent World Net Daily review describes it this way,
Revelation Road is a truly unique novel, presenting a gripping story with an actual commentary, explaining terms and concepts that might be unfamiliar to many. This is one of the chief assets of Revelation Road since I've long thought that Bible prophecy teachers fail to explain those terms and concepts that are now archaic to modern audiences.
This distinctive format was purposely selected to bless the broadest possible audience with not only timely truths, but important prophetic insights. A plethora of Christian apocalyptic literature is geared toward the scholar rather than the layman. In some instances this is advisable, like when a unique Scripture interpretation may require scrutiny. However in general, prophecy is intended to equip every interested man, woman, and child with invaluable information. Revelation Road sums it up this way,
Prophecy is invaluable predictive information given to us by a loving God, with 100 percent accuracy. In addition to equipping us for the days in which we live, prophecy authenticates God's sovereignty, spares human lives, and ultimately saves lost souls. The primary goal of prophecy is to inform us, rather than impress us. God is not someone with too much time on His hands; He is the one who holds all time in His hands. This enables Him to share and declare the end from the beginning. His plan is to pronounce hope, rather than announce harm. However, He won't denounce truth when He foreknows it's about to overtake the world. How God knows what He knows, only He knows. But, we can be thankful that He does, and that He is willing to share His knowledge with us. God so loves us that he wants us to know what's headed our way. And, in turn, our natural response should be to worship him for caring.
CP: Does the book suggest that we might see the Rapture in our lifetime?
Salus: It's interesting that you ask this timely question. Recently, a young Christian named Adam asked me how soon until I thought the Rapture might occur. Adam has been studying prophecy for about seven months now. I drew his attention to Scriptures written by the apostle Paul that clearly pointed out he was on the lookout for the Rapture in his lifetime. I then asked Adam, if Paul thought it was near then, how much nearer must it be now almost 2,000 years later? I concluded by suggesting it could occur at any "twinkling of an eye" moment.
The answer to your question is, I can't tell you what the story-line says about the Rapture, because I don't want to take away from the full enjoyment of the reading experience with too much advanced information. But, I will tell you this: the last chapter of the novel is entitled, "Left Behind, The Heavenly Love Letter." Most who have read this chapter have not done so without shedding several tears along the way.
CP: How do you view other end times predictions, such as those associated with the Mayan Calendar, or Harold Camping's failed prophecies from last year?
Salus: Prophecies associated with the Mayan Calendar are extra-biblical, and the Rapture timing predictions of Harold Camping are unbiblical. There are over 2,300 references to Israel in the Bible, but I have yet to find even one concerning the Mayans. Therefore, prophecies concerning Israel attract my attention; whereas, Mayan predictions I consider biblically unfounded.
This is important to note because Isaiah 46:9-10 declares that only the God of the Bible knows the end from the beginning. This means there is no wiggle room to insert the Mayan long count calendar ending on Dec. 21, 2012. As far as I'm concerned, the Mayans may have run out of parchment, got writer's cramp, or determined some other reason to stop dating their calendars beyond [that date].
Regarding Harold Camping, he and his followers woke up on May 22, 2011, to the same annoying alarm clock sound they did the day before. To their chagrin, as they reached to hit the snooze button they suddenly realized that they still had to get dressed, comb their hair, and go to work just like any other day. Although the Bible issues numerous time-sensitive prophecies, the Rapture is not one of them. I wish people like Camping would do us all a favor and keep their timing predictions about the Rapture to themselves.
CP: Does the book suggest how people might want to prepare, both spiritually and otherwise, for Rapture events?
Salus: The book equips people with an understanding that they or their grandchildren have quite possibly been birthed in the final generation, and points out the abundant signs evidencing this. Since the Rapture is still pending and we are living in the last days, it is an end times event. Yes, the book prepares people to understand and brace for the apocalyptic end times' predicted in the Bible. Revelation Road sounds a sobering alarm that resonates with a Rapture-readiness message throughout.
The world has been plunged into a perilous period. Troublesome times are headed for humanities horizon, and the sooner Christians realize this, the better they will be able to effectively evangelize their family, friends, neighbors, and fellow-man. The inherent message of Revelation Road is GET RIGHT, GET READY, and GET RAPTURED before the apocalypse GETS GOING!!!