'2012: Prophecy or Panic' Director Warns Dec. 21 Could Bring Deception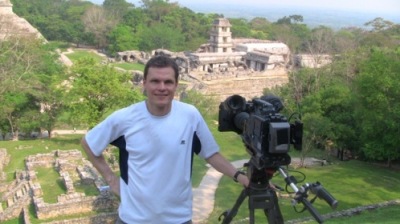 Theories abound about what, if anything, will happen on Dec. 21, 2012. One documentary seeks to examine not only the natural cataclysms that threaten the planet, but also what the Bible has to say about the end times – as the oft-cited Mayan date could potentially be used to deceive Christians.
Dec. 21, 2012, marks the end of the Mayan calendar, and has stirred much discussion and debate about what that might signify. Some fear the end of the calendar might mark the time of the end of all life; others predict it will be the dawn of a new era. However, André van Heerden, the writer and director of "2012: PROPHECY OR PANIC?" believes it is wise for Christians to be prepared for anything regardless of what actually may happen on that day.
Van Heerden, who is also an executive producer at Cloud Ten Pictures, the production company behind the movie, has worked on a number of Christian-themed films in the past, such as "Left Behind" (2000) and "Revelation" (1999).
"2012: PROPHECY OR PANIC?" brings together historians, researchers, authors, astronomers and theologians in a discussion over the meaning of the enigmatic date (Dec. 21, 2012). Van Heerden shared in an interview with The Christian Post that the film is trying to show how the changes going on in the world might align with biblical prophecies, such as the Rapture.
"The Mayan prophecies are based on this big round calendar [which says that] the world is supposed to end on December 21 of this year. Along with that, there are many people who say that a weakening magnetic pull, increased solar activity, the elliptical alignment of the universe, as well as planet Nibiru, also known as 'Planet X,' might affect our planet."
Others, beside Van Heerden, have referenced planet "Nibiru." However, NASA scientists insist that no such planet exists.
"Nibiru is ridiculous because it doesn't exist – it never existed as anything other than a figment of the imagination by pseudo-scientists who don't seem bothered by a complete lack of evidence," Don Yeomans, manager of NASA's Near-Earth Object program office at the Jet Propulsion Laboratory in Pasadena, Calif.,  told SPACE.com.
Van Heerden insists that the culminating apocalyptic theories involve more than just looking at the Mayan prophecy alone.
"All these theories seem to come to a climax on December 2012, so there is this pseudo-science that goes on with the Mayan predictions. We look at each of those and talk to experts regarding their field and see what their opinions are on those sort of things," Van Heerden said of the 2012 documentary.
He elaborated that the overall theme throughout "2012: PROPHECY OR PANIC?" is that there are many theories about the end of the world circulating in the public, some of which sound compelling. Despite opinions about which theories may actually be considered credible, people should nonetheless be aware of what is going on, the director said.
"The world is changing, and one of those changes could be the return of Christ," Van Heerden insisted.
He continued with a warning to believers: "There is so much focus on December 21, 2012 that we believe there is going to be some sort of deception happening on that date. We are warning Christians not to get caught up in all the media hype and all the speculation."
And if "something" does actually happen, Van Heerden said, Christians should not go "Oh, they are right, and my Bible is wrong."
"They need to look at it objectively, through the lens of the Bible, and realize that the Rapture may happen through events that are set up this year. We are encouraging Christians to be ready and aware of the world that we live in," he said. 
On the subject of possible preparations some people may be making amid apocalyptic fears, Van Heerden revealed: "I have heard of some people paying up to $100,000 for underground shelters being built in preparation of different things that can happen in 2012, and looking at the big budget Hollywood movie, '2012,' and those sorts of natural disasters that can happen.
"I personally think it is foolish to spend so much money for something like that – the best way to prepare for the future is to read the Bible and see what it has to say about our current world and current events that are coming up, (and seeing how they align) with biblical prophecies."
He added, "The Bible has been 100 percent accurate (in terms of predictions) – be it with returning the Jews to Jerusalem, the problems in the Middle East, all those sorts of things – we really do believe that the Rapture is coming. In terms of building shelters – I think it is people putting their faith in themselves and man-made things rather than in an eternal God."
"2012: PROPHECY OR PANIC?" is available on DVD on Cloud Ten Pictures' website. A trailer for the film can be seen below: