Revoice Speakers 'Lament' Treatment of Gay Christians in Church, Share Stories of Rejection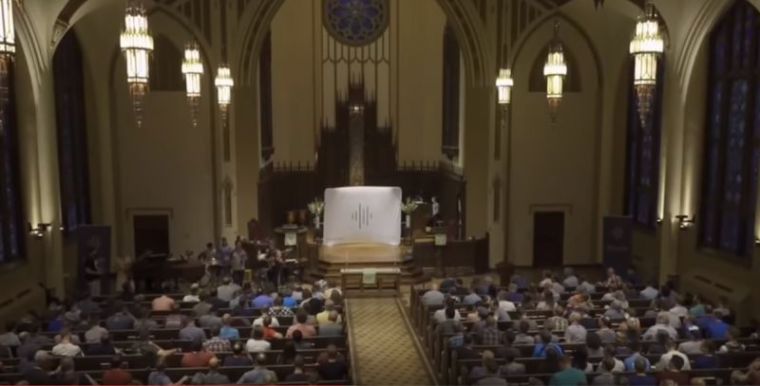 Speakers at the first-ever Revoice Conference denounced the mistreatment of LGBT individuals within the church, including those who adhere to the belief that homosexuality is a sin.
Held last week at Memorial Presbyterian Church in St. Louis, Missouri, Revoice was focused on the issue of LGBT Christians in the church, with one evening focusing on the theme of lament.
Ray Low, a New York City-based pastor who identifies as gay, was one of the speakers for that evening, telling the hundreds gathered about his experiences in the church.
Low talked about how, even though he accepts that homosexuality is a sin and marriage should only be between a man and a woman, he still experienced much rejection when looking for a position as a pastor.
Low noted that when asked by prospective churches to explain his walk of faith, he would talk about how his faith influenced how he dealt with his sexual orientation.
"Every time I shared, I could see the gears turning in their heads. I could feel their opinion changing of me as I went from being a young energetic and outgoing candidate to becoming a danger in their eyes," explained Low.
"I had one interview with a church that lasted no longer than 15 minutes before I was told that I was not a good fit, which is the most diplomatic way the church likes to put it. And I had somebody tell me in another church that, on paper, I was the perfect candidate, but my sexuality made it difficult for them to hire me."
Low finally got a position as a youth pastor at a church, only to be eventually driven to resign after a couple of weeks when it became widely known that he had same-sex attraction.
"The parents began texting each other and gossiping about me and, instantly, I became a 'pedophile,' a 'sex offender,' a 'rapist,'" Low continued, adding that he did "everything I could to change their minds."
"I pleaded with the parents to sit down with me, to get to know me, to hear my story. Nobody took me up on that offer. Not a single person."
Nate Collins, founder of Revoice, gave a speech after Low, explaining how being LGBT in the church can be an "exhausting" experience.
"It's exhausting to live in the darkness of rejection. It's exhausting to constantly be defined by others by the ways you feel broken or by the ways you don't measure up or by a warped understanding of how and who you love," said Collins.
"It's exhausting to feel like you have no option but to run away from love. Is it no wonder then, that for many of us the main reason we're here tonight is because we're just tired? I'll just say it: I'm tired."
Revoice has weathered its share of controversy, with some arguing that the conference involves pushing pro-LGBT ideology into conservative churches.
Michael Brown, host of the nationally syndicated Line of Fire radio program, who was not in attendance for the conference, wrote in a column published Monday by The Christian Post about his concerns.
While commending organizers for affirming traditional Christian teaching on homosexuality, Brown noted that at certain times "the terminology used by Revoice speakers and presenters affirms LGBTQ+ talking points in unhelpful and even dangerous ways."
Brown cited one of the workshops being titled "Redeeming Queer Culture: An Adventure," arguing that a Christian should never self-identify as "queer." 
"Even the concept of LGBTQ+ individuals as being part of a 'sexual minority' raises all kinds of red flags, as if sinful temptations and disordered desires grant someone a 'minority' status," he added. 
For their part, Revoice participants and organizers have complained that their critics are misunderstanding and misrepresenting their views. 
Wesley Hill, associate professor of New Testament at the Trinity School for Ministry based in Ambridge, Pennsylvania, and a keynote speaker at Revoice, defended the event, telling CP in a recent interview that the conference filled a gap created by recent events for LGBT individuals who profess biblical views on sexuality can come together.
"Since the closing of Exodus International and the marginalizing of more conservative voices at events like the former Gay Christian Network conference, there's been a lack of spaces where LGBT folks with traditional Christian views of marriage and sexual ethics can gather for fellowship and encouragement," said Hill. 
"Whatever disagreements other conservatives may have with us, surely that should be celebrated as a striking instance of radical discipleship."