Rick Perry Defends Ad, Not Knowing Supreme Court Justices
Presidential candidate Rick Perry admitted Sunday that he does not know who the Supreme Court justices are. Perry also defended his statement that President Obama is waging a "war on religion."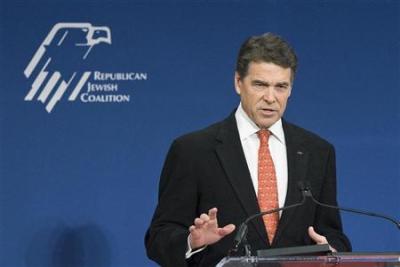 "The fact is I can't tell ya, I don't have memorized all of the Supreme Court judges," the Texas Governor said on "Fox News Sunday."
The admission came after Perry was asked about an earlier flub in which he said that there were eight Supreme Court justices (there are nine) and he could not remember Justice Sonia Sotomayor's name.
"Here's what I do know," Perry continued. "When I put an individual on the Supreme Court, just like I'd done in Texas, we got nine Supreme Court justices in Texas, they will be strict constructionists. They won't be activist judges.
"That's what Americans care about. They're not looking for a robot that can spit out the name of every Supreme Court justice, or someone that's going to be perfect in every way."
Perry has also been criticized recently for a campaign ad in which he accuses President Obama of waging a "war on religion," and implies that gays should not be able to serve openly in the military. He defended the ad, saying, "When you look at [Obama's] attorney general and his Justice Department going all the way to the Supreme Court to change the way that churches are allowed to hire or fire their ministers or their staff, if that's not a war on religion then I don't know what is."
Perry was referring to arguments before the Supreme Court in October in which the Justice Department took the position that religious groups should not be exempt from most laws against job discrimination, even for jobs that have a religious purpose.
Rick Perry's Ignorance of Supreme Court Judges
Perry then brought up a second example, adding, "When you look at the Catholic charities that aren't allowed to have money because they made a decision that they are not going to allow abortions in their facilities. So, this administration is keeping money away from them on programs that help people who are sexually trafficked."
A Catholic organization that provides relief for the victims of human trafficking was recently denied a grant, not because it does not provide abortions as Perry stated, but because it refuses to provide referrals for abortions.
Perry also said he "would support a constitutional amendment that allows our children to pray in school any time that they'd like. Right now, those activist judges, like Sotomayor and [Elena] Kagen that [Obama] put on the Supreme Court, they would continue to say that is a decision the Supreme Court would make.
"I happen to believe that would be a local decision. That's not the Supreme Court's business to be telling Americans when and how they should pray."
Perry was referring to a 1962 Supreme Court decision, Engel v. Vitale. The ruling did not ban students from praying in school. Rather, it banned public school-sponsored prayer, arguing that requiring students to pray violated the Establishment Clause. "Congress shall make no law respecting an establishment of religion."