Rick Santorum Calls Gov't 'Timid' on Terror; Says He's 'Open' to Presidential Run in 2016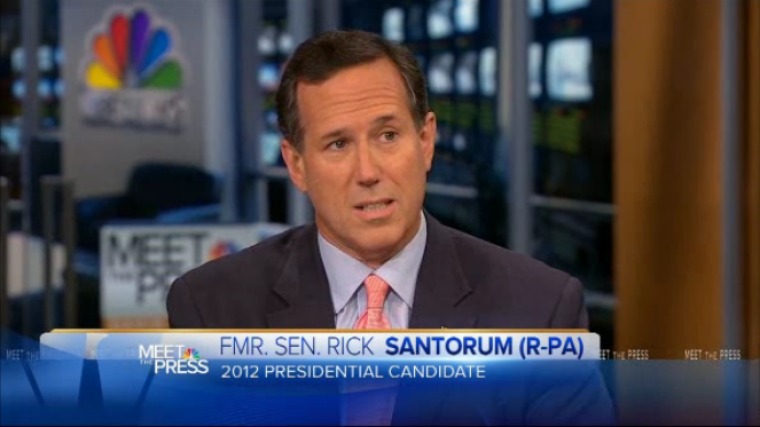 Former U.S. Senator and 2012 GOP presidential candidate Rick Santorum called the Obama administration "timid" in the war on terror and says he is open to making another presidential run in 2016.
In a segment of NBC's Meet The Press on Sunday, Santorum knocked the Obama administration for being "timid" and for "pulling back" in the war on terror.
MSNBC's Joe Scarborough, who was also involved in the debate, challenged the assertion, however, by highlighting President Barack Obama's drone policy.
"Even the president's critics inside the CIA have been surprised at his drone policy, surprised that he's adopted a lot of Dick Cheney and George W. Bush's approach in the war on terror," noted Scarborough.
Santorum shot right back in the discussion, pointing out that President Obama's drone program isn't an offensive policy.
"The drone policy is one policy. What we've seen is an administration that has refused to confront radical Islam, that embraced the Muslim Brotherhood in Egypt and now you see the consequences of that," noted Santorum. "They have withdrawn politically from the engagement and fight. Yeah, sure, they're going after bad guys with drone programs, but that is not a comprehensive policy."
Scarborough, however, did not back down, pointing out that even among conservatives, President Obama's success in using drones to break up Al Qaeda couldn't be denied.
"I am not in the business of defending Barack Obama but if you talk to people in the intelligence community, they will tell you that al Qaeda is busted, it's broken, it's splintered," said Scarborough.
"Al Qaeda is not any stronger today than it was when Barack Obama came into office and most people, conservatives in the intelligence community, will tell you that in fact, it's weaker today than it was because the president surprised a lot of people…he's adopted the policies of Dick Cheney and George W. Bush in many, many instances."
In another clip from his appearance on the show, Santorum said he was open to running for president again in 2016.
"I'm open to looking at a presidential race in 2016," said Santorum. "But we got a little ways, we got elections in 2014."
The Huffington Post reported that while Santorum is mulling a run in 2016, his diagnosis for success in 2016 doesn't look very bright. Early polling shows him trailing in the fractured field of potential GOP nominees behind names like Rand Paul, Jeb Bush and Marco Rubio.