Rick Santorum's Christian Film Company to Release Movies to Churches Not Theaters
Former Senator Rick Santorum's (R-PA) Christian film company announced on Monday that it would be distributing its movies not through the traditional box office but through churches.
EchoLight Studios, which released last year's adaptation of Max Lucado's The Christmas Candle, told Deadline that the studio made the decision as a strategic attempt to draw the masses into churches.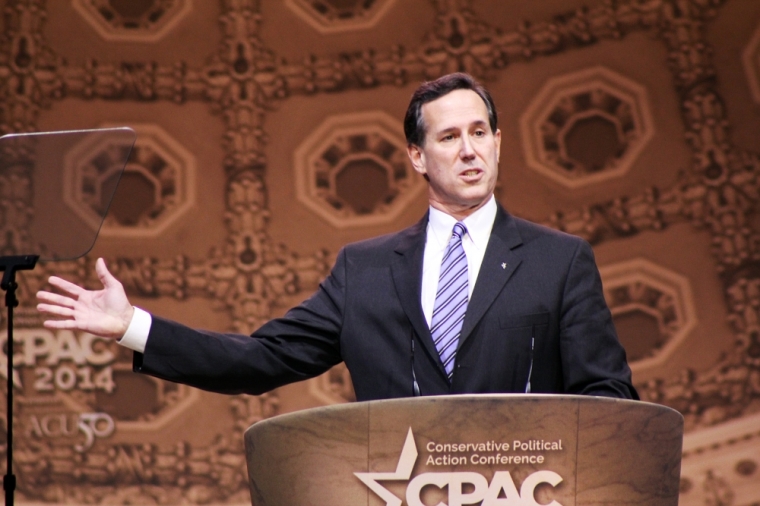 "We want to be a part of empowering the church to elevate its role as a cultural change agent," EchoLight President Studios Jeff Sheets said in a statement. "Our vision is not to create sermons wrapped in a movie but to create content that inspires, fascinates and incorporates a strong Christian worldview."
The Franklin, TN-based studio, which intends to release four films a year, wants both the film's message and financial profits to support churches. Consequently, EchoLight hopes to create movies which can also have a "strong ministry value as tools for the Church to use in their in-reach and outreach ministries," whose proceeds will partially "fuel the missional needs of the hosting local church."
In addition to providing a built-in audience for their movies, EchoLight also recognizes that many churches also have the infrastructure to professionally show the films.
"EchoLight wants to empower the church to bring in people to see films," EchoLight Studios spokeswoman Kristin Cole told Deadline. "They want good family content, and this ensures that. A lot of these churches are already equipped with the HD cameras."
Tickets for the studio's first film, One Generation Away, will go on sale on June 1. The studio will also re-release The Christmas Candle, which grossed $2 million over seven weeks last winter. Later this year, EchoLight will also release Hoovey, directed by Sean McNamara, who was also behind the camera in Soul Surfer.
Hoovey, whose cast includes Disney Channel alums Cody Linley and Alyson Stoner, is based on the true story of a high school basketball player Eric Hoover Elliott diagnosed with a massive brain tumor.
Three faith-related films are currently in theaters with a fourth — Heaven Is for Real — set to open on Wednesday. Thus far Darren Aronofsky's Noah has taken in over $80 million domestically, the low-budget God's Not Dead over $40 million and Son of God nearly $60 million.
Box Office Mojo suggested that the same faith-based constituencies that helped "drive the success of Son of God and God's Not Dead" could boost the movie and that "while there could be some fatigue setting in, this movie's story should be inspirational enough to generate solid business," suggesting that "Soul Surfer's $43.9 million is reachable."