Rick Warren Condemns Uganda Anti-Gay Bill After Faith, LGBT Groups Call for Response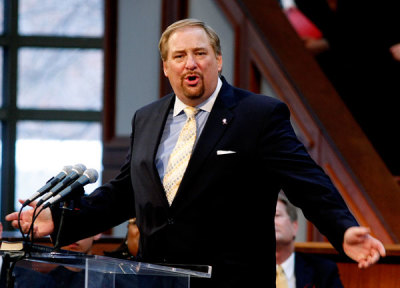 A number of organizations are raising international awareness on the debate concerning Uganda's proposed death penalty for homosexuals, and have called on Saddleback Church pastor Rick Warren to once again speak out on the issue – which he did on Friday via Twitter.
Conflicting accounts stemming from Uganda have reported on where the African nation stands in its review of an anti-homosexuality bill that has been condemned by many Western countries.
Uganda is one of the only places in the world where engaging in homosexual activity is considered a crime, punishable by fines and jail time, with some government members pushing to make same-sex acts a capital punishment offense.
Some reports stated that Speaker of Parliament Rebecca Kadaga had announced that the capital punishment proposal would be dropped as a "Christmas gift" to gay rights advocates, but others have said that it still remains unclear what the Uganda government will actually decide.
Pastor Rick Warren, whose work fighting AIDS has taken him around the continent and has given him the opportunity to visit and work in Uganda many times, posted on Friday a Twitter message reading: "An unjust law in Uganda is back in the news. I opposed it 3 yrs ago and I still do," which was also shared with The Christian Post by Kristin Cole, a spokesperson for Warren.
In his statement three years ago, Warren stated that it was not his role to interfere with the politics of other countries, but that he still has a duty to speak out on moral issues. He said the bill was "unjust, extreme and un-Christian toward homosexuals."
As to why he hadn't made the statement when the bill first started making rounds in Uganda's parliament, he said that "some erroneously concluded that I supported this terrible bill, and some even claimed I was a sponsor of the bill. He added, "I oppose the criminalization of homosexuality."
Before Warren's Twitter response, a number of groups had called on him to address the issue before his followers. His book, The Purpose Driven Life, is one of the most popular Christian books ever written with millions of copies sold worldwide. Saddleback Church hosts over 20,000 people for services on a weekly basis, and Warren's Twitter has over 800,000 followers.
Faithful America, an online community of citizens motivated by various faiths who speak up on social and political issues, shared with The Christian Post that over 13,000 people have signed an online petition calling for Pastor Warren to take a more prominent stand against the proposed death penalty provision tied to Uganda's anti-gay bill.
"Rick Warren, it's time for you to again speak out against the Ugandan legislation that would make homosexuality punishable by life in prison or even the death penalty," the petition urges. "Your history of associating with anti-gay extremists in Uganda means you have a moral obligation to work tirelessly to prevent this bill from becoming law."
GLAAD (Gay & Lesbian Alliance Against Defamation) also shared a blog post where it addressed the danger of the anti-gay bill passing in Uganda, and although the organization acknowledged that Warren spoke out against it in 2009, it asked that he and other evangelical Christian leaders talk to their followers about the issue once more.
"Why have Rick Warren and other evangelical leaders remained silent? As the bill awaits an imminent parliamentary vote, there is no time for contemplation; direct and decided speech against this bill is the only option as the international community looks to safeguard the LGBT community in Uganda," GLAAD wrote.
Uganda is expected to make a final decision on the anti-gay bill and the proposed death penalty by the end of the year, although no firm date has been set as of yet.
The Uganda government did not respond to emails sent by The Christian Post to clarify where the bill currently stands.
Watch Rick Warren's "Letter to the Pastors of Uganda" (2009):