Rick Warren criticized for hosting Rwanda president at Saddleback Church
Rick Warren criticized for hosting Rwanda president at Saddleback Church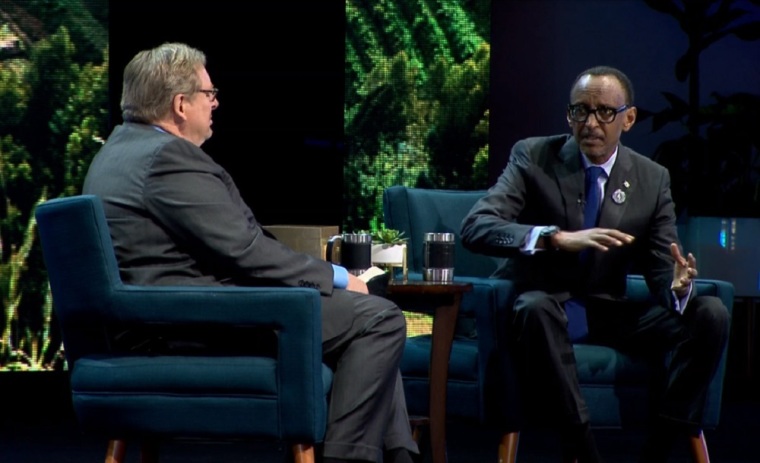 California megachurch pastor and author Rick Warren is facing criticism for his decision to invite Rwanda President Paul Kagame to speak at Saddleback Church about the transformation of the Central African nation since the genocide against the Tutsi in 1994.  
Warren, who has been friends with Kagame for over 15 years and has traveled to Rwanda a number of times, interviewed the 61-year-old Kagame during a Sunday service in which he preached how to overcome trauma.
With April marking the 25th anniversary of the three-month span in which at least 800,000 Tutsis and moderate Hutus were killed by Rwandan security forces and Hutu extremists, Saddleback Church honored the victims during its April 13 and 14 services.
The services also celebrated Saddleback's 14-year partnership with Rwandan churches that are using Saddleback's missionary and reconciliation strategy, The PEACE Plan. 
"The PEACE Plan started in Rwanda, was birthed in Rwanda at the invitation of the president, and it's now all over the world," Warren told the church on Sunday.
Kagame was asked to talk about how the nation has overcome the trauma of genocide to unite around the purpose of building a better future.
The Kagame government has stressed the importance of reconciliation and forgiveness within Rwandan communities as being keys to Rwanda's future.
"If you look at our history, the country was divided, ideology and politics played out so that a section of our population was made to believe the other is not only different but they should hate each other," Kagame, who took office in 2000, said. "We found a way of saying we are a family with different individuals but at the same time, we have a lot in common and a lot of common aspirations."
Considering that neighbors killed neighbors during the genocide, Kagame said that his government didn't expect all Rwandans to be able to put their hurt aside to forgive those who killed their family members.  
However, there are many stories throughout Rwanda of neighbors forgiving their genocide perpetrators. In some cases, victims and perpetrators have worked together to rebuild their broken communities.
"Forgiveness may come out of realizing that first, we have to live [for] the future," Kagame said. "We have to have a better life coming for us. How do we get there? You don't forget that you have lost so much. You keep that in mind. But the people in Rwanda have found it possible to forgive so that they create a better future so that we can stop losing the little we are left with."
Warren chimed in: "Are you hearing what he is saying? We don't forgive for the other people's sake. We forgive for our own sake because we don't want to hold on to the pain. And second, we are going to need forgiveness ourselves. And third, we want a better future."
Although much of Warren's talk with Kagame was focused on the positives of Rwanda's transformation in the last 25 years, critics are not happy with Warren's decision to invite Kagame.
It was also not the first time that Kagame had been invited to Saddleback Church. Kagame spoke at the church in 2014 to mark the 20th anniversary of the genocide against the Tutsi.
Although the Kagame government has been praised as the driver of economic growth that has led many Rwandans out of poverty, Kagame has also been accused of being a dictator whose RPF-led government has done all it can to silence political dissent and maintain its stronghold on the Rwandan political system.
In 2017, Kagame was elected to a third term in office in 2017 after parliament enacted a constitutional amendment to allow Kagame to serve more than two terms. Thanks to changes enacted by parliament, it is possible for Kagame to remain in power until 2034.
Additionally, the Rwandan government is suspected of being behind the mysterious killings or disappearances of Kagame's political dissidents. The Rwandan government has been accused of running hit squads to assassinate political opponents.
Aristide Rwigara, the younger brother of women's rights activist Diane Rwigara, who ran against Kagame for president in 2017, told the Los Angeles Times that he's shocked Warren would host Kagame at his church.
Diane Rwigara was imprisoned for over a year along with her mother.
"This cannot go unchallenged," Rwigara, who works in Los Angeles as a translator, said. "Warren is a global figure, and if you want to wear the mantle of spiritual leadership, why would you do this? I used to think he was the real deal, and then I found out that he backed the government — a government that stifles all manner of opposition, that has no humanity."
Rwigara also criticized Kagame's government for forcing thousands of churches to close last year. Last year, the Rwandan government passed a law regulating churches and requiring pastors to receive theology degrees.
"Why would [Warren] give attention to someone who has closed thousands of churches and who has consistently denied human rights to his own people?" Rwigara said.
The Christian Post reached out for a response to the criticisms of Kagame's visit from Saddleback Church. A response to the criticisms was not provided. CP was pointed in the direction of a press release stating that Saddleback is standing in solidarity with Rwanda so that the genocide will never be forgotten.
Warren's invitation to Kagame was also criticized by David Himbara, a professor of international development and solar energy at Centennial College in Toronto and a former economic adviser to Kagame.
"Pastor Rick Warren is fully aware that Christians remain one of the most persecuted religious groups in the world," Himbara wrote in an op-ed. "Warren ought to know that while Christian persecution takes many forms, it is defined as any hostility experienced by Christians. For Warren to host a strongman who closed 8,000 churches and imprisoned 6 church leaders, including a Bishop, Warren is on the side of the persecutors of Christians. Shame."
Although Rwanda's church law was criticized by many, some have praised the law.
Ananias Sentozi, an integrated programs manager for World Vision Rwanda whose organization receives funding from the Rwandan government, told reporters in February that the Rwandan government does not interfere with faith work in the country. Sentozi believes many people have gotten the wrong idea about the church regulation.
"I know there has been kind of misinterpretation of what happened early last year ... when the government decided to close a number of churches that were not fulfilling their requirements," Sentozi explained. "Some of those [churches] were in the households of people. Some of those were just gathering under tents. Some didn't have wash facilities. There was no car parking. There was no sound management systems. There was no water. There were not any minimum requirement of bringing people together."
Sentozi, who has worked for the evangelical humanitarian group for 19 years, said that many churches did not have the adequate facilities to accommodate children. In some cases, the churches would be housed in a tent with a loudspeaker. In the end, Sentozi said, there is cause to celebrate the new law.
"Because now in church, you find it looks nice and they manage their sounds and have basic facilities like wash, water, a toilet," he explained. "You could imagine if you go to one of our churches, the highest population are the children and the shortest service here will take two to three hours. You can imagine gathering children for three hours in a place that doesn't have water with no toilet. What could be the effect? I think there have been good improvement and we appreciate the decision of the government."