Rick Warren: Here Is the Secret to a Stronger Relationship With God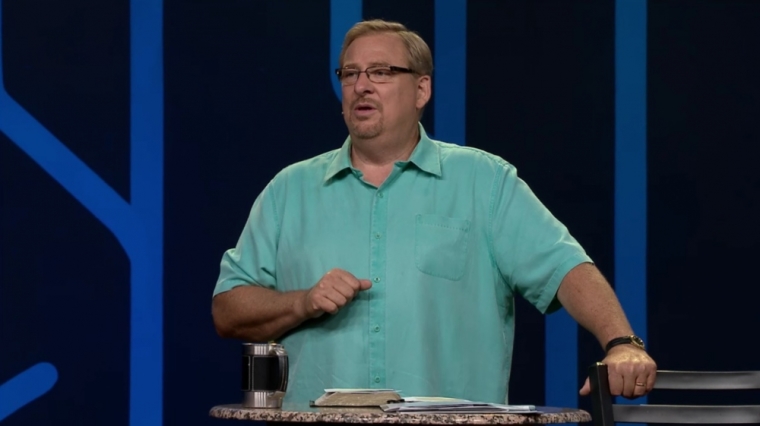 Just like any deep and important friendship, your relationship with God requires attention and focus, pastor Rick Warren says.
Warren, who heads Saddleback Church in Orange County, California, one of the largest churches in the nation, said in a recent blog post that growing in your relationship with God requires you to slow down from your daily life and focus on Him.
"If you want to build a deep relationship with God, you have to slow down and be quiet," Warren explains.
"Friendship with God is like any other friendship — you have to make time for it. If you don't make time for your human friends, they're not your friends. You make time for your friends. And if God is going to be your best friend, you've got to give your best time to him," the pastor continues.
Warren points to two Bible passages to illustrate this point, including Psalm 46:10a NIV and Psalm 25:14, with both of them relating to forming a close friendship with God.
"Be still, and know that I am God," Psalm 46:10a reads.
As Psalm 25:14 says, a relationship with God exists between Him and those who revere Him.
Warren says this reverence is achieved by slowing down and investing time in your relationship with Him.
"Friendships need attention. You will never know God intimately if all you do is just come to church services. You've got to read God's Word and ask him, 'God, is there anything you want to say to me?' You don't have to use any fancy phrases or words. Just talk to him authentically. And then listen!" he encourages.
The evangelical leader concludes his message by referencing Matthew 6:5-6, which urges Christians to humbly and quietly come before God, avoiding a situation that may tempt them to act out theatrically or role-play as they converse with Him.
Dan Delzell, pastor of Wellspring Lutheran Church in Papillion, Nebraska, wrote in a column for The Christian Post that it is indeed possible to form a natural-feeling, close friendship with God, but first you must fully believe in Him and be willing to live according to His will.
Delzell points to Proverbs 17:17, which reads, "A friend loves at all times."
This verse is especially pertinent to our friendship with God, as He has unconditional love for us. In fact, His love for His children is so immense that He sent His only son to die on the cross for our sins, Delzell adds.
"The love of God is constant. But in order to benefit from it, you will need to reach out and touch the hand of the Master. That is, reach out in faith and receive Christ as your Lord and Savior," Delzell writes. "Trust Jesus. Know that He loves you. And then begin to bask in that love. You will never be the same after entering this eternal friendship with your Savior."