Rick Warren Praises Catholic Pastoral Letter as 'New Standard' for Mental Health Ministries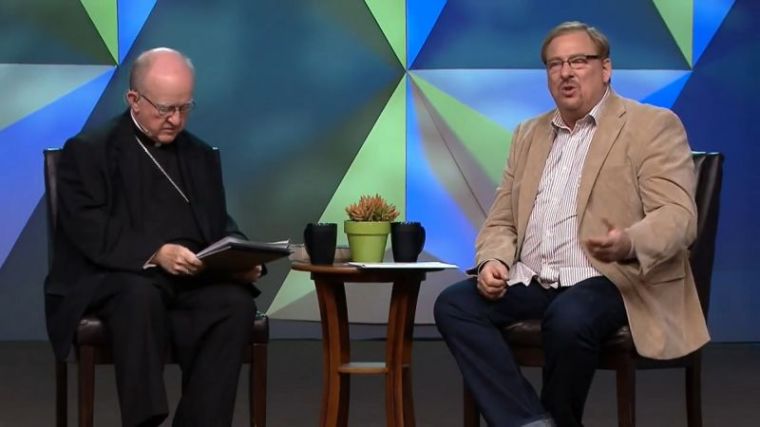 Saddleback Church pastor Rick Warren has praised as a "watershed moment" the release of a new pastoral letter by Catholic bishops who are calling on the wider community to care for those who are mentally ill and help end the stigma around them.
Warren told Crux in an interview this week that the "Hope and Healing" letter can serve as a "new standard for mental health ministries around the world."
The letter comes after years of collaboration between Warren and Bishop Kevin Vann of Orange, California, on the issue of mental health. The two began working closely together after Warren's son, Matthew, committed suicide in 2013 following a lifelong struggle with mental illness.
The letter, posted in full earlier this week on the California Catholic Conference website, says that America's pastors and bishops are "deeply concerned with the heartbreaking prevalence of mental illness in our society and are taking action to address this tragic form of misery and sorrow." 
It warns that mental health "strikes deep within the human soul, impacting and influencing a person's thoughts, emotions and behaviors; thereby affecting all aspects of a person's life — work and rest, family life and relationships, prayer and one's relationship with God." 
The bishops declare that "mental illness is neither a moral failure nor a character defect."
"To suffer from a psychiatric disorder is not a sign of insufficient faith or weakness of will. Christian faith and religious practice do not immunize a person against mental illness. ...  As Evangelical Pastor Rick Warren of Saddleback Church, who lost a family member to suicide, said: 'your chemistry is not your character' and 'your illness is not your identity.'"  
It is crucial that Christians get to know, befriend, and listen to people suffering from mental health issues, which could include depression, addictions, psychological trauma, or loneliness, the letter stresses. 
"This is not because we have all the answers to their problems or can cure all of their afflictions, but simply because these encounters — these small acts of love and compassion, understanding, and friendship — are precisely what people need most."
The letter reminds the faithful that those who have lost ones ones to suicide also need care and attention.
"They have not only lost someone dear to them and are deeply grieving, their intense grief is often complicated by feelings of shame, confusion' anger or guilt," it states.
"Furthermore, they often feel alone and misunderstood, as though they cannot discuss this with anyone." 
Warren explained that the new document will be used "not simply by Catholics and Christians in California, but also by nonbelievers."
In their joint efforts, Warren and Vann have worked on getting Christians to lead the charge on improving metal health outreach.
Vann said in September 2017 that he and Warren have discussed "how could the Diocese of Orange and Saddleback church work and minister together to address the challenges that families and ministry staff have in dealing with mental illness."
"Out of these discussions about working together, the Diocese of Orange and Saddleback church decided to partner in sponsoring two gatherings, or symposia, on what should be the Church's response to mental illness," he said, referring to joint events in the past.
"We wanted this to be both a reflection of the Lord's great love for those who struggle with mental illness, and we also wanted it to stress the importance of the Church's role in mental health," the bishop stated.
Warren told Crux that one of the main messages he and the bishops want to convey in these efforts is that "it's not a sin to be sick."
"If your liver stops working, and you take a pill, there's no stigma. If your heart stops working, and you take a pill, there's no stigma. Why is it that if your brain stops working, and you take a pill, then there's a stigma?" the pastor posed. 
Backing Warren's statements on the need for medical intervention in some cases, the Catholic bishops are urging the faith community to work with the medical community.
"It is time now to build bridges between science and religion, health care and pastoral care. Clergy and health care professionals, families and mental health advocates should work together to encourage a 'both-and,' rather than 'either-or' approach to psychological and spiritual healing," they state. "We welcome and encourage advances in science and medicine.
"Some Christians harbor suspicions about psychiatry or clinical psychology and question their compatibility with the Catholic faith. Discernment is necessary since not all psychological approaches claiming to be 'scientific' are in fact supported by sound evidence. However, good science that recognizes the life and dignity of people and the Catholic faith are never at odds. Medical science has discovered many useful treatments to help those with mental illness, and Catholics should welcome and make use of these—including medications, psychotherapy and other medical interventions."
Still, the bishops acknowledge that science and medicine alone cannot solve everything and encourage pastoral care.
"Indeed, science cannot answer our deepest and most perplexing human questions: Why am I here? What is the purpose of my life? Why have I suffered this loss? Why is God allowing this terrible illness? These are ultimately religious questions that cannot be ignored or stifled," the stated. "Christian faith offers sure hope that speaks to our deepest longings—that our sins can be forgiven, that we can be reconciled to God and to one another, and that even in this life, with all its adversity and pain, we can still find some measure of joy and peace."