Rick Warren's Saddleback Church Tops '50 Megachurches in America' List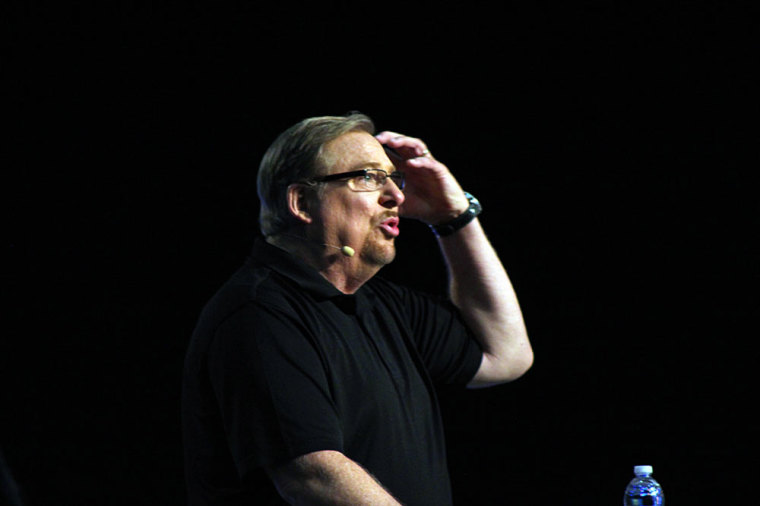 Rick Warren's Saddleback Church, T.D. Jakes' Potter's House and Joel Osteen's Lakewood Church have topped Newsmax's list of "Top 50 Megachurches in America."
The list, released Wednesday, was compiled by The Christian Post's contributing editor Johnnie Moore, who wrote that the rankings were not based on church size but rather on the notoriety of the church's leaders, the ratings of their television and radio programs, and the reach of their books, public opinion and overall influence.
"Megachurches are the spiritual phenomenon of the 21st century; there are more churches with 5,000 people attending weekly services than at any other time in history," Moore, a former senior vice president at Liberty University, wrote. "So much for those who claim ad nauseam that faith is declining in our country."
Topping the list is Saddleback Church in Lake Forest, California, pastored by Warren. Moore wrote that if you ask 10 pastors, eight of them would likely name Warren as "the most well-known pastor in America." Moore added that Warren's societal influence has expanded way beyond the walls of his congregation.
"His book, Purpose Driven Life, is second only to the Bible in non-fiction best-sellers; he was recently the subject of a major motion picture; he's trained hundreds of thousands of church leaders in every nation in the world; and he's on the speed dial of presidents, prime ministers, rock stars, and celebrities," Moore wrote. "For years, insiders have joked that Warren is the 'Evangelical pope.' No one was joking any longer when Pope Francis came to America for the World Meeting of Families in September and invited the Evangelical Pastor Warren to deliver the keynote address."
Coming in second place is Potter's House Church in Dallas, Texas, led by Bishop Jakes, a best-selling author, producer, talk show host, and the personal pastor of Oprah. The non-denominational church is attended by 30,000 people weekly and services are broadcasted to millions of people all over the world.
"Its 200,000 square-foot Dallas sanctuary cost the congregation $45 million, and it only took four years to pay off," Moore explained. "Oh, and one time they had a single service in a stadium that was attended by 140,000 people."
Lakewood Church in Houston, Texas, ranked third. The church is pastored by Joel Osteen, one of America's most well-known televangelists and Christian authors, and his wife, Victoria. Due to the popularity of Lakewood's television programs, the church was given an entire Sirius XM radio station when it decided to create a radio program.
Hillsong Church's campuses in Los Angeles and New York ranks sixth on the list, while Chicago's Willow Community Church ranked fourth and Oklahoma City's Life Church, which is attended by over 100,000 people every week, ranked fifth.
"Hillsong Church's headquarters might be in Sydney, Australia, but it has truly become a global movement," Moore wrote. "Hillsong now boasts churches in a dozen global cities with more than 100,000 people in combined weekly attendance."
Thomas Road Baptist Church in Lynchburg, Virginia, is listed at No. 12 in the rankings. The church, which sits at the far end of Liberty University, is led by Jonathan Falwell, the son of Jerry Falwell. Moore writes that the church remains one of the most influential in America.
"While Jonathan Falwell uses his political legacy selectively, when he speaks, people notice," Moore wrote.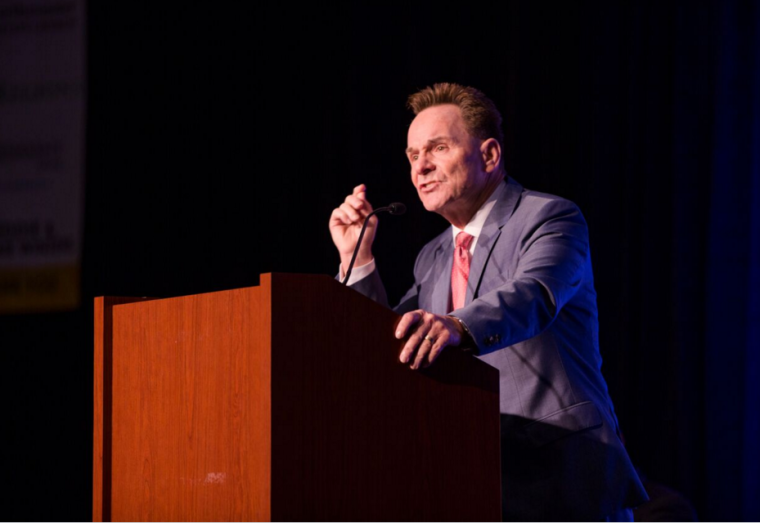 Cross Church in Arkansas led by Pastor Ronnie Floyd, the president of the Southern Baptist Convention, ranks at No. 17.
"Cross Church is a highly respected institution with a leader known for his spiritual leadership, as well as his prophetic speaking, writing, and teaching," Moore stated.
Harvest Christian Fellowship in Riverside, California, led by Pastor Greg Laurie, is listed at No. 23, while First Baptist Dallas, led by Fox News contributor Pastor Robert Jeffress, is No. 28 in the rankings.
"This church, which operates out of a $130 million building, is led by the outspoken firebrand Robert Jeffress, who openly cherishes his role as a prophet to culture," Moore wrote.
Skyline Community Church, a Wesleyan congregation in the San Diego suburbs led by Pastor Jim Garlow, ranked at No. 30. Garlow is notable for spearheading a referendum to overturn California's same-sex marriage legalization in 2008.
The Village Church in Dallas, led by popular podcast Pastor Matt Chandler, was listed at No. 42 on the rankings.
"His podcast is incomprehensibly popular, and his church is large, young, and takes the Bible seriously," Moore wrote.
To read the complete list of "Top 50 Megachurches in America" click here.