Rick Warren Tells 'Oprah's Lifeclass' to Listen to God, Read the Bible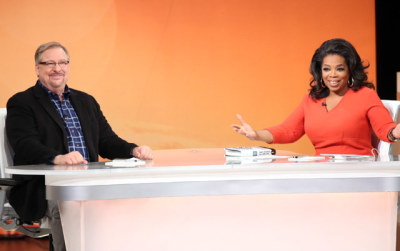 Saddleback Church Senior Pastor Rick Warren, making an appearance on the OWN network's "Oprah's Lifeclass," assigned a "homework assignment" to the audience by telling them to open up the Bible and start reading the Book of John.
"You are a product of your past, but you are not a prisoner of your past. It has influence over you, but it's just one of the cards," Warren said on the episode that was aired on Jan. 13, adding that reading the Book of John can help people come to that realization.
While promoting the 10th anniversary of his best-selling non-fiction book, The Purpose Driven Life, Warren created an analogy between life and the card game of poker.
"The cards we are dealt are the things we don't have control over. I didn't choose where I was born, when I was born, I didn't choose my gender, my parents, my race, my natural abilities, my natural weaknesses, but a wise player can even play what seems to be a weak hand, and win the game. There are ways to take what you are given and make the most out of it," Warren continued.
Winfrey noted that many people spend their time complaining why they weren't given a different hand in life, and Warren added that people need to accept the life they are given because each and every person is unique.
Going deeper into the poker analogy, Warren identified the first card as the bodies people are given and the chemistry that makes up their physicality.
In a later "Oprah's Lifeclass" segment, a woman from the audience, Portia, asked Warren how she can learn to love herself despite her physical flaws.
The evangelical Christian pastor responded by using as an example a pair of blue jeans he bought recently on which he found a tagline that read: "These jeans are intentionally flawed to make them unique" – which Warren said can be used to apply to people as well, in terms of God's grand design.
"The issue here is the myth that 'being beautiful will make me happy.' I live in Southern California. There are many pretty people there who are miserable. So it is not 'beauty equals happiness.' Happiness is a choice. Sometimes you have to realize that your own self-rejection is turning people away," he suggested.
Addressing Portia directly, Warren added amid a chorus of applause from the audience: "You don't want friends who only like you for your looks. And you don't want a husband that only loves you for your looks." He also reminded viewers that "our looks aren't going to stay."
The other two cards in life's game of poker were then identified as connections with others, and circumstances in life. When it came to the fourth card, consciousness, Warren explained:
"Your consciousness is the story you tell yourself," The pastor then pointed to the Bible verse Proverbs 23:7 that reads: "As a man thinks in his heart, so he is."
"All of us have things we want to change in our lives. If you want to change the way you act, your start back with your thoughts. If I'm acting depressed, it's because I feel depressed. You can't change a feeling – but you can change a thought," Warren continued.
The Saddleback pastor then shared some advice for dealing with negative thinking and bad habits, saying that the key is not to resist temptation, but to replace it. "Not to resist, but to refocus. You have to renew your consciousness. If you want to break a focus, you need to refocus."
Warren concluded that people have a choice to listen to God, or to the world.
"The world tells you all kinds of stuff. It says that you're not competent, you're ugly, you don't matter, you're worthless – don't listen to it. God says you're valuable, you're capable, you're forgivable, you're usable. You listen to the right thing, not the wrong thing."
After the final card was revealed as the choices people make in life, Winfrey surmised: "My hope for myself, my friends and all of you is that we become more conscious, more aware of our meaning and purpose on this Earth, and aware that transformation doesn't happen unless you are willing. It is a choice – that's the fifth card, and only you have the power to change direction of your life."