'Risen': Witness Jesus' Resurrection Through the Eyes of a Non-Believer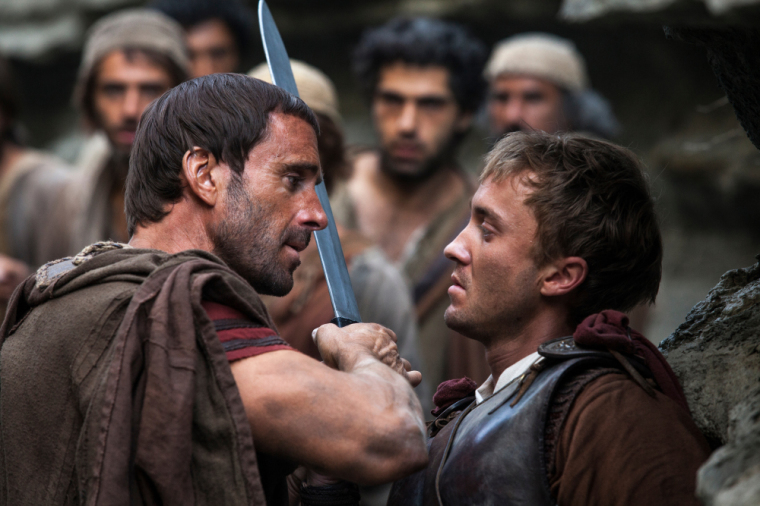 ARLINGTON, Va. — "Risen" flips the script on the traditional telling of the resurrection of Christ, focusing on the story through the lens of a non-believer, a Roman military Tribune tasked with finding Christ's missing body in order to quash hopes among the Jews of a risen Savior.
Directed by Kevin Reynolds, the Sony/AffirmFilms faith-based movie stars lead actor Joseph Fiennes, 44, ("Shakespeare in Love" and "Luther") who delivers a credible portrayal of the fictional Roman Tribune, Clavius. Ordered by Pontius Pilate (Peter Firth) to find Yeshua's body and prove the empty tomb of "The Nazarene" to be no more than a hoax to "keep a crusade alive," Clavius will stop at nothing to that end.
With the help of his aide, Lucius, played by Tom Felton, Fiennes' character scouts out clues that he believes will lead to Christ's missing body, much like a detective would a criminal case, giving "Risen" a mystery-like quality that will appeal to believers and non-believers alike. It's what attracted Fiennes to the film.
"I love the detective element," says Fiennes to The Christian Post and other reporters gathered at a screening of the film.
Clavius is up against a ticking clock to solve Christ's disappearance before he and Pontius Pilate face the wrath of Emperor Tiberius. Pilate commands the soldier to "find the corpse before it rots."
As a non-believer, it is both ironic and symbolic that Clavius is searching for Christ — interrogating Jews, and scouring Yeshua's empty tomb in search of clues that might help his cause. What appears to be the controversial Shroud of Turin even makes an appearance in the movie, giving the film modern references to which moviegoers can relate.
The film's "Roman mindset" was also fascinating, Fiennes says. "The philosophy, the bared sense of religion and gods and warfare." Clavius often prays to Mars, the god of war, for help in locating Christ's body.
Fiennes believes that viewers will be engaged by the scope of the movie. "There are few films, and I can't think of any, that deal with the crucifixion, resurrection and ascension all in one. "
These significant events are well placed throughout the film and help the one hour and forty-seven minute movie to maintain a steady pace as do skirmishes between the Romans and the Jews, raids on Jewish villages, and interrogations of Jesus' disciples like Bartolomew, a happy-go-lucky personality played by actor Stephen Hagan.
Actor Cliff Curtis' portrayal of Jesus offers audiences a more accessible and literally "down to Earth" version of the Savior than depictions in previous films. The miracles that Jesus performs, including the healing of a man with Leprosy, and filling Simon and the disciples' net with fish after they had fished all night with no success, are understated, adding to their impact.
The overall film feels like a fresh, easy-to-follow version of an age-old story. Crafting the film, however, was not an easy process.
There were challenges in retelling the story while maintaining a delicate balance between Scripture, other content that had to be preserved, and the process of adaptation and fictionalization, Fiennes explains.
There was another, more physical, challenge in creating the film — the heat while on location in Malta. Soaring temps became problematic while shooting scenes in full armor.
"I was on a horse and in full leather … and it was over 100 degrees — and that was in the shade," Fiennes tells CP. The actor, however, used the heat to his benefit.
"It's important for an actor to kind of get as close to what it [conditions] might have been like. From what I read, no Roman [soldier] ever wanted to be posted in Judea. It [the heat] was brutal. And so having that kind of brutality on filming, you soak it up, you kind of use it."
When it comes to his character, Clavius, Fiennes was as equally intrigued by his journey as audiences will likely be. "We follow this protagonist and we want to see when he hits that moment of truth how it's going to work out. ... I thought the component of the non-believer, who is sort of a Tribune/detective, ramped up the tension. "
"Risen" hits theaters nationwide on Friday, Feb. 19.