Rob Bell Grows Frustrated Amid Questions on 'Sinfulness' of Homosexuality
Former Mars Hill Bible Church Pastor Debates UK Christian Minister Andrew Wilson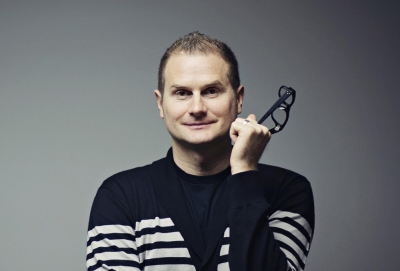 Former megachurch pastor Rob Bell appeared in a recent radio discussion with Christian British minister Andrew Wilson to discuss his new book, What We Talk About When We Talk About God, and grew frustrated when pressed by Wilson to explain his theological reasons for affirming homosexuality and same-sex relationships.
Bell and Wilson appeared on the U.K. faith debate program "Unbelievable?" hosted by Justin Brierley on Premier Christian Radio. Wilson is a published theologian and elder at Kings Church in Eastbourne, East Sussex. The men, moderated by Brierley, started the discussion by debating various issues during the hour-plus program, but it was during their discussion on homosexuality that Bell appeared to grow visibly upset.
"Do you believe that this is an area where actually God is ahead of the church, that affirming same-sex partnerships is actually a God thing and that we will eventually all get to see that in the course of time?" Brierley asked Bell of comments he made in March.
The former Mars Hill Bible Church pastor revealed in March his acceptance of gay marriage, having said, "I believe God [is] pulling us ahead into greater and greater affirmation and acceptance of our gay brothers and sisters and pastors and friends and neighbors and coworkers." Previously, Bell had also stated that he was "for marriage ... for fidelity ... for love" whether it was with homosexual or heterosexual relationships.
"I think the ship has sailed and I think that the church needs to just … this is the world that we are living in and we need to affirm people wherever they are," Bell said in March.
He reiterated his position on homosexuality during his interview on Premier Christian Radio last week.
"I think it's time for the church to acknowledge that we have brothers and sisters who are gay and want to share their life with someone. This is a part of life in the modern world and that's how it is. And that cultural consciousness has shifted, and this is how the world is and that what's happening for a lot of people, is that they want nothing to do with God and Jesus because they can't see beyond that particular issue," he said in response to Brierley's question.
"What I don't know is the grounding for that statement ...," said Wilson. He asked Bell if he would say that two men having sex is not sinful.
"I would begin with, I am for monogamy, I am for fidelity, I am for commitment. I think the world needs more of that. I think that promiscuity is dangerous and promiscuity is destructive," said Bell. "Some people are gay and want to share their life with someone and they should be able to. That's how the world is and we should affirm that. We should affirm monogamy, fidelity and commitment – both gay and straight." He went on to add that he does not see same-sex relationships as "destructive or evil."
Wilson asked Bell if his remark was a positive or negative response to his initial question on homosexual acts being sinful.
"What I'm trying to get my head around is, do you think it's sinful but we need to lump it because the world's changed? Or do you think it's not sinful and if so, do you think the Bible doesn't think it's sinful and that Jesus didn't think it was sinful?" said Wilson.
"I'm not aware that Jesus mentions it. I think you have about five verses that can be read a number of different ways. And there is a large Christian tradition that sees this as there are Scriptures that speak to this but I don't think you make it an overwhelmingly (sic) case against it," responded Bell.
Wilson then asked Bell if his position is that homosexual acts are "not a problem for God" and that if he would say that if Paul and Jesus are understood properly, people would find that "they genuinely didn't have a problem with guys having sex with guys."
"I think Paul had his answer to that question tied up in worship of all sorts of other deities. I think it was all one giant hairball in Paul's day. And that, for him, that was the temple and there was the temple of other gods who were opposed to the God of Israel and that went on in there. So I think when Paul was talking about this issue, for him it's tied up in all sorts of idolatry, it's all sorts of rejection of God. So I don't want to pull the various issues apart. I don't think they had a cultural conception ...," said Bell before being cut off by Wilson, who then gave a scenario of the apostle Paul having to deal with homosexuality at the church in Corinth.
"There's two gay men at the church in Corinth, they're having sex together, they're not worshipping idols. Paul's gonna say, 'That's great guys, go for it, we need more of that ...' Is that what you believe is true of Paul?" Wilson asked.
"I think Paul didn't have that cultural framework or conception operating around him. I think he had men and boys. I think he had temples. I did not think he was talking about what we're talking about in 2013 which is two committed people in a same-sex relationship. So I would start there," said Bell.
While the discussion eventually ended amicably, the repeated questions from Wilson about Bell's theological support for embracing homosexuality eventually led the former megachurch pastor to express frustration with what he felt was a challenge to his commitment to Christ.
The full exchange can be viewed in the video below from Premier Christian Radio:
Bell, who toured the U.K. last month to promote What We Talk About When We Talk About God, surprised the evangelical Christian community in March when he expressed support for same-sex marriage, although he had previously affirmed gay Christians. The married father of three's controversial position is considered unorthodox by many in the Christian community who believe the Bible rejects sexual relationships outside the confines of traditional marriage.
The Mars Hill Bible Church founder and his family left the Michigan congregation he founded in 1999 to move to California last year, where he has been developing a faith-inspired television program with "Lost" series creator Carlton Cuse. Bell's best-selling book Love Wins: A Book About Heaven, Hell, and the Fate of Every Person Who Ever Lived, was also considered controversial by some who believe it challenges traditional teachings on a literal, eternal hell and belief in Jesus Christ being necessary for heaven.