Rob Bell Affirmed Gay Christians in 2012 as 'Passionate Disciples of Jesus'
While some Christians have expressed disappointment over Rob Bell's recent announcement that he supports same-sex marriage, the former Mars Hill Bible Church pastor had made comments in the past that were indicative of a gay-affirming view.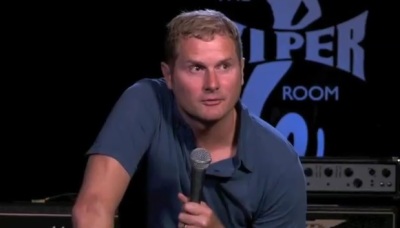 During a Q&A session at The Viper Room in Los Angeles last July, Bell told the audience, "Some people are gay, and you're our brothers, and you're our sisters, and we love you."
"It's really, really, really important that we're clear," Bell continued, as he described a past gay friend as "holy, loving, and generous.
"At an early age, I was like 'some people are gay. God loves them just like God loves me. They're passionate disciples of Jesus just like I'm trying to be.' "So let's all get together and try to do something about the truly big problems in our world, that I believe Jesus would have us ban together and tackle together."
Although Bell's 2012 comments were affirming of the gay Christian community, he has received more attention recently for voicing his support for same-sex marriage during a stop in San Francisco, Calif., to promote his new book, What We Talk About When We Talk About God on Sunday.
When asked by the Very Rev. Dr. Jane Shaw, dean of Grace Cathedral in San Francisco, if he supports same-sex marriage, Bell replied:
"Yes, I am for marriage. I am for fidelity. I am for love, whether it's a man and a woman, a woman and a woman, a man and a man. I think the ship has sailed and I think that the church needs to just … this is the world that we are living in and we need to affirm people wherever they are."
Bell made these comments at The Forum at Grace Cathedral, a self-described "inclusive congregation," on Sunday.
The former megachurch pastor has received mixed reactions regarding his recent support for same-sex marriage.
Brian McLaren, a well-known pastor specializing in post-evangelical thought and a friend of Bell's, came out in support of Bell's recent comments.
"I think this is further evidence that we are reaching a tipping point in our culture where marriage equality will be seen in much of the way as the struggle for women's equality and for civil rights now are seen as we look back in our history," McLaren, who has been identified as part of the controversial emergent church, said in a video posted on Odyssey Networks.
"It takes courage to make these kinds of statements when you're an author and speaker as Rob and I are, but it's especially painful for pastors and priests to work this out in the midst of pastoral ministry."
"I hope that people on all sides of this issue will respect one another's honesty, whether it's the honesty of holding one's position or the honesty of changing it. I commend Rob for his recent decision," McLaren, who previously led a commitment ceremony for his gay son and his partner, added.
Others have argued that Bell is attempting to fuse Scriptural teachings with the cultural direction of society in support of same-sex marriage.
"The universal church simply cannot follow Bell where he is going. The church has to be clear, and her leaders ought to be clear about the Bible's teachings," wrote Brad Williams, an Alabama-based Baptist pastor, for Patheos.
"If Christians want to make an argument against homosexual marriage, they are going to have to do a better job of presenting arguments that demonstrate why this is a bad thing from a general stand point, not just from a 'Biblical' standpoint if they are going to persuade their fellow Americans."
"But one thing the Christian cannot do is ask Scripture to take a back seat to cultural whims. That is what Bell is asking of us," Williams added.
Bell has joined other prominent leaders in backing gay marriage in recent months.
On Monday, former secretary of state Hillary Clinton officially asserted her approval for same-sex marriage, saying "LGBT Americans are our colleagues, our teachers, our soldiers, our friends and our loved ones, and they are full and equal citizens and deserve the rights of citizenship. That includes marriage."
Additionally, last week Senator Rob Portman (R-Ohio) reversed his position on same-sex marriage, two years after his son told him he was gay.
Bell was formerly the pastor of Mars Hill Bible Church in Grandville, Mich., which he and his wife left in late 2011 to pursue a new spiritual calling in Los Angeles, Calif.
The author, who has written the New York Times Best Seller Love Wins: A Book About Heaven, Hell, and the Fate of Every Person Who Ever Lived, as well as other books, is now working on a faith-inflected talk show with Hollywood producer Carlton Cuse of "Lost" fame.
Rob Bell Affirms homosexuality