Rob Bell on Gay Marriage Support: God Pulling Us Ahead to Affirm Gay Brothers, Sisters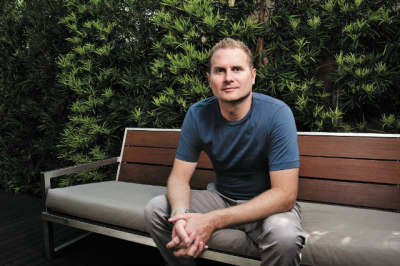 "I believe God [is] pulling us ahead into greater and greater affirmation and acceptance of our gay brothers and sisters and pastors and friends and neighbors and coworkers," former megachurch pastor and best-selling author Rob Bell explained just days after surprising the evangelical Christian community with his expressed support for same-sex marriage.
The former Mars Hill Bible Church founder and controversial Love Wins author told Odyssey Networks in an interview published Wednesday that many people are "realizing that God makes some of us one way and some of us another, and it can be a beautiful thing."
The video interview, titled "Why Rob Bell Supports Gay Marriage," comes just days after the Michigan church founder visited San Francisco's Grace Cathedral (the Episcopal Cathedral of the Diocese of California) in a promotional book tour to discuss his purpose for writing What We Talk About When We Talk About God, his views on evangelical Christianity and future projects he has lined up.
During that event, Bell was asked about his stance on same-sex marriage and he explained that he was "for marriage."
"I am for fidelity. I am for love, whether it's a man and a woman, a woman and a woman, a man and a man. I think the ship has sailed and I think that the church needs to just … this is the world that we are living in and we need to affirm people wherever they are," he responded.
Some observers expressed disappointment with Bell's unorthodox view and found his remarks surprising, although the popular Christian author has expressed similar views in the past, previously calling gays and lesbians who identify as Christians "passionate disciples of Jesus."
Brad Williams, an Alabama-based Baptist pastor, denounced Bell's comments, calling it "disconcerting for a Christian leader to say that the church should simply get in line with whatever the culture says."
"... one thing the Christian cannot do is ask Scripture to take a back seat to cultural whims. That is what Bell is asking of us," Williams wrote for Patheos.
"The universal church simply cannot follow Bell where he is going. The church has to be clear, and her leaders ought to be clear about the Bible's teachings."
Amid the criticism Bell has received, Brian McLaren, a friend of Bell's and a well-known pastor specializing in post-evangelical thought who is also gay-affirming, has commended him for his "courageous" remarks.
"I think this is further evidence that we are reaching a tipping point in our culture where marriage equality will be seen in much of the way as the struggle for women's equality and for civil rights now are seen as we look back in our history," McLaren, who has been identified as part of the controversial emergent church, said in a video interview also with Odyssey Networks. "It takes courage to make these kinds of statements when you're an author and speaker as Rob and I are, but it's especially painful for pastors and priests to work this out in the midst of pastoral ministry."
In his new book, What We Talk About When We Talk About God, Bell shares his take on how some theological ideas present in mainstream Christianity are outdated and irrelevant to the changing times – and that God is in many ways steps ahead of these old ideas and is pulling people forward.
"A lot of people when they say, 'By God ahead do you mean by same-sex marriage?' – Yes," Bell said in his March 20 interview.
"We live in a world where we have friends, neighbors, brothers, sisters, aunts, uncles, people we journey with for years who are gay. And we need to love, affirm and all of us together work on the real problems that we have in the world. And I think that's one of the things you're seeing now, is you're seeing God pull us all forward into a greater realization that we need more love, we need more fidelity, we need more monogamy, we need more people who are committed to each other."
"So this is a huge moment when I think lots of us are realizing that the old way of seeing things doesn't work," he added. "It causes so much pain and heartache and God's inviting us to see things in new ways and we need to say 'yes' and then we need to step into the future together."
Bell also shared that he believes technology has played a major part in the shifting of many long-held views, saying that the Internet in particular has shown that people cannot live in their own "tribal bubbles" or "cocooned off" from the real world.
He added, "What happens when you are all suddenly exposed to thousands of different viewpoints is it can call your own into question and it can have this refining fire dimension to it when you realize that 'wow, I've been living with a bunch of views and perspectives that don't actually work and don't actually bring life. So I need to be honest about that.' And that can be painful, but it's also liberating and that's where the life is."
Bell, who left the Michigan congregation he founded in 1999 to move to California last year, is currently on a promotional tour for What We Talk About When We Talk About God. The former pastor, whose best-selling Love Wins book challenged traditional teachings on a literal, eternal hell and belief in Jesus Christ as a prerequisite for heaven, has also shared that he is developing a faith-inspired television show with "Lost" series creator Carlton Cuse.
Rob Bell Affirms homosexuality