Rob Bell's 'Love Wins: For Teens' to Help Youth Find Meaning in Life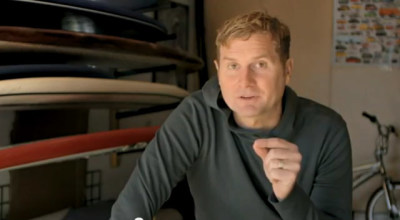 Rob Bell, former pastor of Mars Hill Bible Church in Grandville, Mich., has created a version of his controversial and 2011 bestseller Love Wins for young adults, in which he "tackles the tough questions about heaven, hell, and the consequences of the choices teens make every day," according to the publisher.
Striking an inclusive tone, the book cover asks young readers, "If God threw a party, would everyone be invited? Would you?"
"For a lot of people when you mention God, the first thing they think of is 'yeah, God's the one who shuts the party down,'" says Bell in a promotional video for Love Wins: For Teens.
"But what's really interesting, is that when Jesus talked about faith, when Jesus talked about God, one of the dominant images that he uses again and again is that of a party."
The former megachurch pastor adds, "The stories about people who thought they'd figured out who's in, who's out — and Jesus comes in and just blows all their labels to pieces.
"It's not about having all the answers. It's about asking the right questions. It's not about long lists of regulations and things you can't' do. It's about saying a giant 'yes' to the world. So what you believe God is like really, really matters. It shapes you and it forms you in a thousand different ways."
"I believe God is the one throwing the party and everybody's invited and that includes you," Bell concludes in the promo video.
Love Wins: For Teens, listed by HarperCollins Publishers as suitable for readers 13 and older, is also geared toward parents who want to help their teens figure out "what it means to lead a good, meaningful life."
This teen version of the New York Times bestseller Love Wins: A Book About Heaven, Hell, and the Fate of Every Person Who Ever Lived also sees the former pastor arguing "that the church's traditional understanding of heaven and hell is actually not taught by the Bible," according to the publisher — a theme that elicited numerous responses from evangelical Christians concerned that Bell's book challenged traditional Christian views on a literal, eteral hell. The fallout over Love Wins also saw 3,000 members leave Mars Hill Bible Church, and Bell resign from the Michigan church he founded in 1999.
Pre-sales for Love Wins: For Teens has already propelled the title among the top five Religion and Spirituality books for teens on Amazon. The book will be available March 12, 2013, which is the same day another of Bell's books, What We Talk About When We Talk About God, will go on sale. That title involves Bell's efforts to tackle misconceptions about God.
Bell's other books include Velvet Elvis, Sex God, Jesus Wants to Save Christians, and Drops Like Stars. The former pastor, described by HarperCollins as having a style that's a "combination of Billy Graham and Conan O'Brien," lives in California with his wife and their three children.