Robert Jeffress: Anti-Semitism Coming From 'Evil Haters' Enraged at Trump's Solidarity With Israel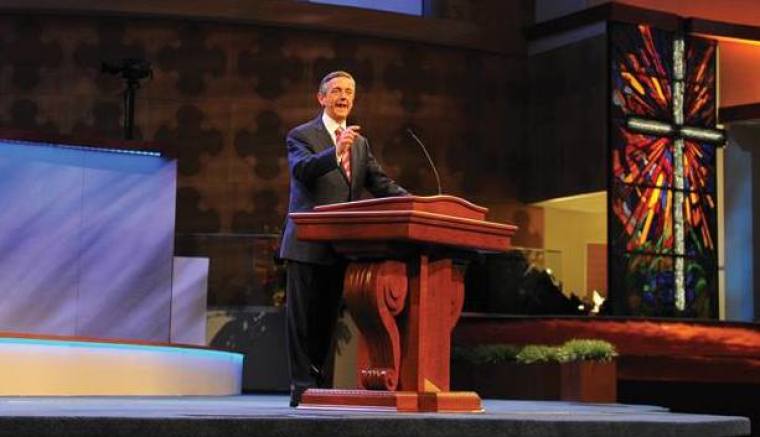 Pastor Robert Jeffress of First Baptist Church in Dallas, Texas, says the reported rise of anti-Semitism in America is coming from "evil haters" who are "enraged" that President Donald Trump is showing solidarity with Israel.
"The Trump administration is the most pro-Israel, pro-Jewish administration we have had in decades," Jeffress said in a Fox Bossiness interview. "You have seen that illustrated in President Trump's appointment of David Friedman, the ambassador to Israel, by his support of [Israeli Prime Minister Benjamin] Netanyahu, [and] by his commitment to protecting Israel against her enemies."
"I believe that if there is a rise in anti-Semitic behavior in our country, it's because these evil haters of the Jewish people are enraged by the solidarity they see between Donald Trump, the Jewish people, and the nation of Israel."
As CNBC reported, there has been a wave of threats to Jewish community centers in the U.S. Federal authorities are investigating threats made to 10 facilities last week, though NBC said those calls appear to be hoaxes.
Jewish cemeteries have also been vandalized, with more than 100 headstones toppled in St. Louis, Missouri, and Philadelphia.
Trump has repeatedly denied that he is anti-Semitic, though he has been criticized by some in the media for not speaking out enough about the subject.
"I will tell you that anti-Semitism is horrible, and it's going to stop and it has to stop," the president later said in an MSNBC interview, affirming that he denounces prejudice "wherever I can."
Following his Feb. 21 tour of the National Museum of African American History and Culture in Washington, he stated:
"The anti-Semitic threats targeting our Jewish community and community centers are horrible and are painful and a very sad reminder of the work that still must be done to root out hate and prejudice and evil."
Trump has also backed Israel in its strife with the United Nations and has threatened to pull the U.S. out of the organization's Human Rights Council over the perceived bias against Israel. The HRC has for years been highly critical of Israel and accused it of human rights atrocities in its conflict with Palestine.
Former Israeli ambassador to the U.S. and current deputy minister for the Kulanu party Michael Oren believes that America pulling out would be a good move.
"U.S. decision to quit the insanely anti-Israel UN Human Rights Council would send a moral message to the world," Oren tweeted.
Jeffress has backed Trump on a number of issues, including the president's suggestion that Chistian refugees coming to America should be given priority over others.
"He understands that Christianity is the most persecuted religion in the world," the pastor said earlier in February.
"100 Years ago, the primary engine for the persecution against Christians was Communism. Today, it's Islam. Nine out of the top 10 nations persecuting Christians are Muslim majority nations, which is why President Trump is absolutely correct in giving preference to Syrian refugees who are Christians," he stated.