Robert Jeffress at Prayer Service: Donald Trump Like Bible's Nehemiah, Who Built Wall to Keep Out Enemies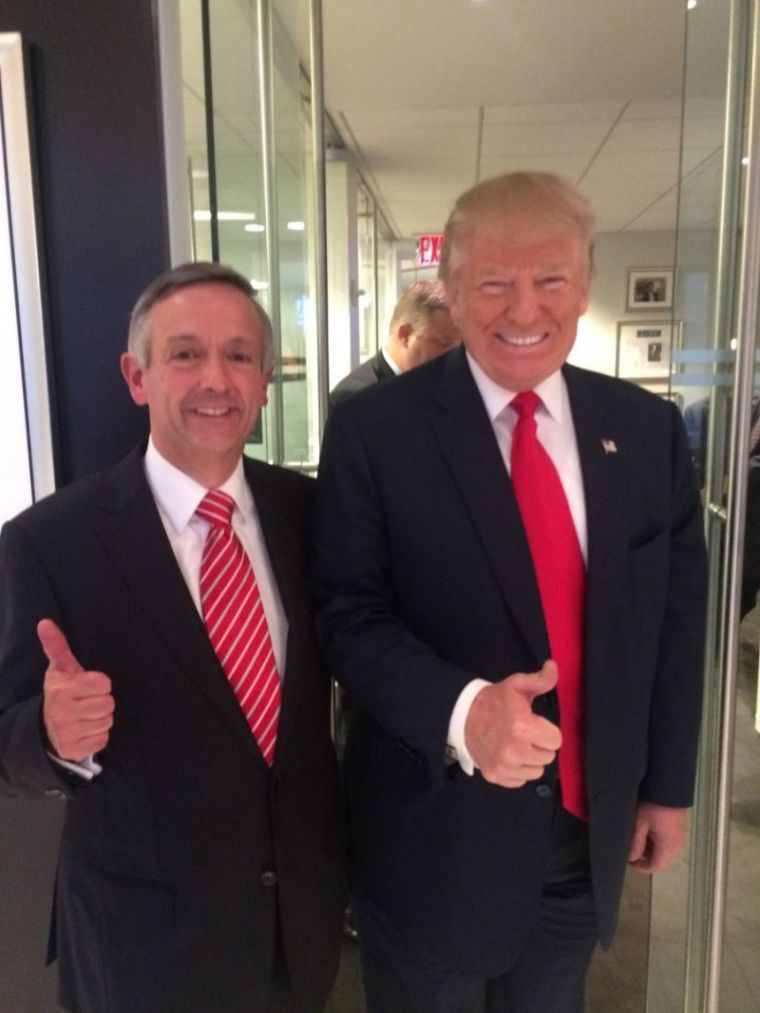 Megachurch pastor Robert Jeffress of First Baptist Dallas in Texas compared new American president Donald Trump to the biblical figure Nehemiah, and also said that Trump's Christian faith is both "very important" but also "very personal" to him.
Jeffress revealed in an interview with Fox News' Bill O'Reilly that on Friday morning he would be participating in a private prayer service for Trump, only hours before the inauguration ceremony, and that he would compare the Republican to Nehemiah, who helped rebuilt Jerusalem around 445 B.C.
"I am going to compare him (Trump) to another great leader God chose 2,500 years ago to restore the nation of Israel. God chose a builder named Nehemiah, and interestingly he told Nehemiah to build a giant wall around Jerusalem to protect the citizens," the pastor pointed out, noting that God called for a strong border to keep out the city's various enemies.
"I'm going to use Nehemiah's story as an example of why God blesses leaders. I want to be a tremendous encouragement to our great new president and vice-president," he added.
Jeffress claimed that Nehemiah was also "heckled by critics who spread rumors about him," which he compared to the "mainstream media of today" and their criticism of Trump. The pastor argued that the Republican "is not going to stop for these critics," however.
The First Baptist Dallas leader insisted that his main hope for the prayer service is to encourage Trump, and criticized other pastors in the past who he said have "lectured" presidents, though he did not give names.
"I want to encourage him. I can't stand these pastors who use their minutes before a president to give a lecture and to chastise them," he continued, repeating that Trump is his "friend."
When asked by O'Reilly whether he would prefer Trump to be more "overtly religious," Jeffress argued that the billionaire businessman has a different approach to faith, but that is fine.
"Donald Trump and I have had many discussions about faith," he noted. "Mr. Trump's faith is very important for him, but it is also very personal with him."
Plenty of other Christian voices, however, including Michael Farris, chancellor of Patrick Henry College and chairman of the Home School Legal Defense Association, have slammed Trump's partnership with evangelical leaders.
Farris criticized in a June 2016 op-ed for The Christian Post the meeting between Trump and an estimated 1,000 evangelical leaders at Trump Tower in New York, by calling it "the end of the Christian right."
"They are saying we are Republicans no matter what the candidate believes and no matter how vile and unrepentant his character," he wrote at the time.
"They are not a phalanx of God's prophets confronting a wicked leader, this is a parade of elephants."
Farris added: "In 1980 I believed that Christians could dramatically influence politics. Today, we see politics fully influencing a thousand Christian leaders."
Jeffress has insisted on a number of occasions that Trump's administration will be good news for conservative Christians, who he claimed were "demonized" under President Barack Obama.
"The good news is, the vilification of conservative Christians by the president of the United States is coming to an end this Friday, with the inauguration of Donald J. Trump," the pastor declared earlier this week.