Robert Jeffress Agrees With Trump That Gay Marriage Is Settled Law, 'Had to Argue Against Some Hard-Right Evangelicals'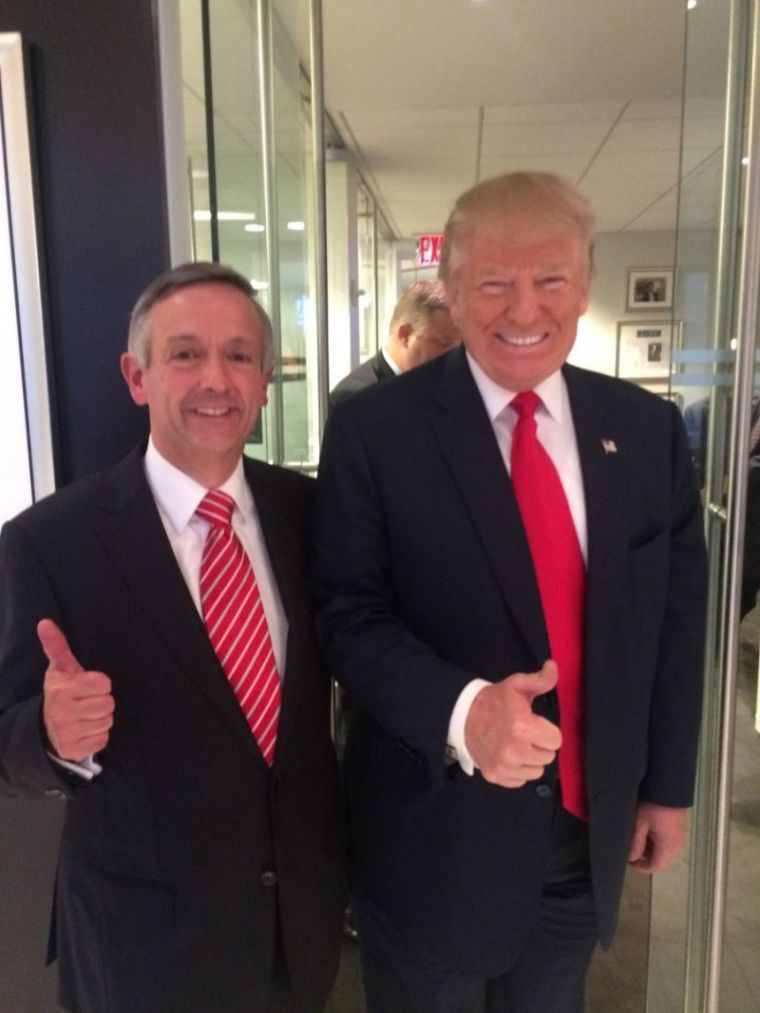 Robert Jeffress, senior pastor of First Baptist Church in Dallas, Texas, revealed that he had to argue against what he called some "hard-right" Catholics and evangelicals in order to defend President-elect Donald Trump's decision not to challenge the legislation of gay marriage in America.
"This is not going to be re-litigated by the Supreme Court. That is the law of the land. I wish it were different, but it's not different. And actually I had to argue against some hard-right Catholics and evangelicals who wanted to make that a campaign issue. I said 'guys, forget it. It's over. We need to go on to other things, like protecting the unborn,'" the pastor said in an interview on Good Morning Texas posted on Thursday.
Jeffress, who backed Trump during the elections, has maintained his support for traditional marriage, and has been opposed to the Supreme Court's decision to legalize the practice nationwide back in 2015.
Trump also spoke about overturning the decision when he was campaigning. 
But in an interview with CBS' "60 Minutes" program earlier in November after his victory, Trump said that he was not interested in seeking to overturn the decision.
"It's irrelevant because it was already settled. It's law. It was settled in the Supreme Court. I mean it's done," Trump said at the time.
"It's done. ... These cases have gone to the Supreme Court. They've been settled. And, I'm fine with that," he added.
As for his views on abortion, the President-elect noted that he plans to appoint Supreme Court justices who oppose the practice.
"So look, here's what's going to happen ... I'm pro-life. The judges will be pro-life," he said. "But having to do with abortion if it ever were overturned, it would go back to the states."
Jeffress congratulated Trump following his victory over Democratic rival Hillary Clinton on November 8 for the presidency, and encouraged people who did not vote for Trump to not be afraid about what is to come.
"No matter how you feel about the outcome of this election, I hope you will join me in praying for my friend, President-elect Donald Trump. For those who did not choose to vote for President-elect Trump, and may carry a measure of uncertainty about the future, there is no need to fear. And no reason to be discouraged," the First Baptist Church leader stated at the time.
Jeffress was also asked about his more controversial views in his Good Morning Texas interview, such as comments in the past that have suggested that the Roman Catholic Church is untrustworthy.
Still, Jeffress insisted that many Catholics are going to make it to heaven.
"Look, I believe there are going to be millions of Catholics in heaven, because they trusted in Christ as their savior."
On the topic of Islam, which he has claimed is a faith "inspired by Satan," he argued that "any false religion ultimately is a deception of Satan, to try and keep people from the only way to heaven, which is through faith in Jesus Christ."
Jeffress did not attempt to estimate what percentage of the population of earth will end up in heaven, and how many will be going to hell, but he argued that "there are very few who are going to heaven," given Jesus' warnings about following the narrow path.