Robert P. George Describes What He Admires About Evangelicals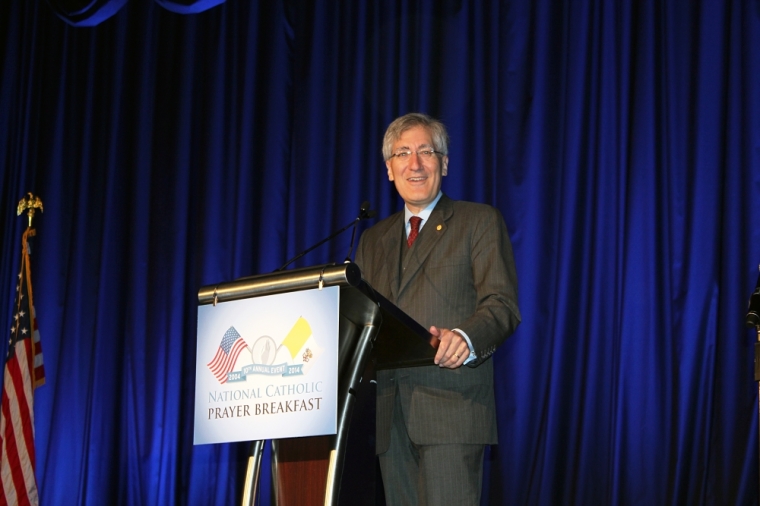 WASHINGTON — Robert P. George, a Catholic, spoke Tuesday about his admiration for Evangelicals and the hymn, "Old Rugged Cross," at the National Catholic Prayer Breakfast.
George, McCormick professor of jurisprudence at Princeton University and chair of the U.S. Commission on International Religious Freedom, recalled growing up Catholic in a mostly Protestant culture in West Virginia. Those Protestants would today be known as Evangelicals, he explained.
"Growing up," he said, "I admired the strength of their faith and their willingness to openly profess it, which is something we Catholics didn't do very much."
George also mentioned his love for Evangelical hymns. One of those hymns, "Old Rugged Cross," contains a "vital message" for Catholics today, "when the days of comfortable Catholicism, of acceptable Christianity are over," he said. George quoted two of the chorus and two verses.
George then said, "you probably don't here it quoted often at Catholic prayer breakfasts," as the audience laughed.
The main theme of George's speech, which was covered by The Christian Post here, was that with the days of acceptable, comfortable Christianity now over, Christians must not be ashamed of the Gospel. Instead, Christ's disciples must remain a faithful witness to the Gospel and "cling to the old rugged cross."
George also mentioned the modern alliance between Catholics and Evangelicals that has replaced the previous animus between the two groups.
"We now know that evangelical Protestants are truly our brothers and sisters in Christ, separated from us in certain ways, to be sure, but bound together with us, nevertheless, in spiritual fellowship. They know that too," he said.
You can watch that part of his speech below: