Robin Thicke opens up about new song 'Testify,' shares 'reconnection to God' after father's death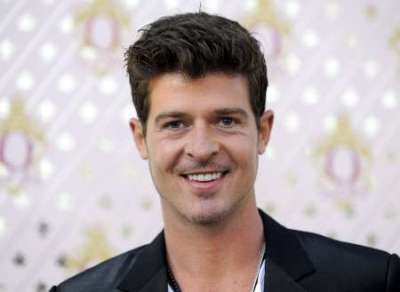 Singer Robin Thicke, known for his oversexualized lyrics and playboy image, is changing his tune with his new single release "Testify" where he shares a revelation he received after his father's death.
"Well, it's funny — my father passed away a couple of years ago and I thought I had an album and these songs that I wanted to put out. Then when that happened, it was something I wasn't expecting and it just rattled my soul," Thick told People in a recent interview. "So I took some time to re-think the album and then these songs started pouring out that had more meaning and more weight to them."
Thicke's famous father, "Growing Pains" star Alan Thicke, died at age 69 in 2016. The sitcom actor first began experiencing chest pains while at Pickwick Ice, a skating rink he frequently went to with his 19-year-old son, Carter, who was with him at the time for a pickup hockey game. He became nauseous and then vomited.
Thicke's new single "Testify" reveals how he truly felt after the death of his dad and the impact it had on his life and family. He said the grief helped lead him back to faith, which helped him get through.
"It's cathartic just to be able to say it and then let it live, as opposed to in the middle of a conversation or a quote," the singer told the popular magazine. "Once you put it into song form, then it can live forever. And so the message in the song is really about the hope and the light at the end of that tunnel when you feel that you lost or you feel that you don't know what to do next."
"You know, that reconnection to God or spirituality or something deeper than the surface is what brings you back home to who you really are and who you want to be," Thicke continued.
Last week, a California federal judge ruled that Thicke and his collaboration partner, Pharrell Williams, have to pay almost $5 million to Marvin Gaye's family for copying his 1977 single, "Got to Give It Up" with their provocative 2013 hit "Blurred Lines."
In his new song "Testify," of which the artwork features prayer hands, Thicke sings that after his father's passing, he couldn't keep his family together, his "reckless ways" caught up with him and he lost a baby with his girlfriend. However, all the devastation brought him back to that "connection" with God.
"I testify, I pledge allegiance to you/ This love inside, it makes me come back to you/ I testify, I pledge allegiance to you/ Live or die, I always come back to you," the 41-year-old sings.
"Broken free from the chains that binded me/Like an angel with brand new wings/I can be anything I wanna be/I can love myself again."
Thicke has never publicly mentioned his faith in God until now but since the birth of his new daughter and the recent loss of his home in California to the wildfires, the musician has been frequently encouraging people to pray and acknowledging his blessings on social media.