Romney: Obama's 'Mistakes' Have Allowed ISIS to Grow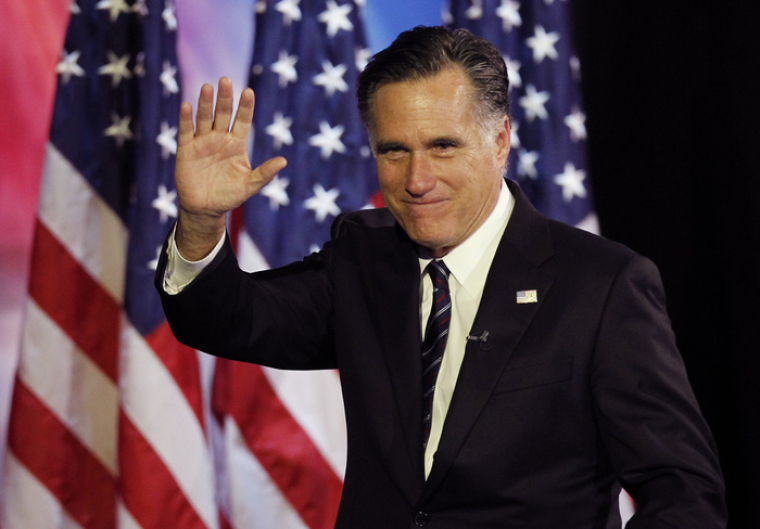 Former Massachusetts governor and 2012 Republican presidential nominee Mitt Romney slammed President Barack Obama on Sunday for not taking any action after receiving intelligence regarding the rise ISIS in Syria over a year ago.
Romney told John Catsimatidis on his radio show on WNYM in New York, called The Cats Roundtable, that had Obama acted upon intelligence reports that highlighted a strong presence of varying jihadist rebel terrorist groups' efforts in Syria, it could have prevented groups like ISIS from seizing cities in Iraq, a country the United States fought to liberate for over a decade.
"Those mistakes were made and now we have ISIS. Almost a year ago, American intelligence sources told the president that there was a group forming called ISIS … and there was significant chance that they would go into Iraq and invade a city there," Romney said. "The president failed to take action. He watched. We saw ISIS roll into Iraq. Instead of attacking them immediately and not knocking them in their convoy, when it would have been easy to knock down, the president again watched. Now we are in a position where ISIS has run throughout major portions of Iraq. There have been horrific human rights abuses, tragedies including those upon American journalists. Now we are in a difficult position."
Fox News confirmed on Tuesday through an anonymous former Pentagon official that Obama was given a detailed intelligence about the rise of the Islamic State in presidential daily briefings last year before the jihadist group seized large amounts of territory.
Romney, who has adamantly said he is not running for president in 2016 but is still believed to be considering that option, pointed out that if America had voted him into office in the 2012 election he would have taken much more direct action to combat the territorial spread of ISIS, starting from when they were making headway in Syria, to help moderate revolutionaries' revolt against the government led by president Bashar al-Assad.
"I laid out what I thought was a pretty good course for us to see stability in Syria. Had we followed that course, there is a good chance that we would not see an ISIS today," Romney said. "That course was to bring together the moderate revolutionaries that were in Syria to make sure they were well armed. To assure the Alawites that there would be a future in Syria post Assad. These kind of actions would have stabilized Syria, at least I believe so. It would have prevented the growth of a group like ISIS."
Romney also said that it is "unacceptable" to see such a major geographical and economical area like Iraq being controlled by groups of radical jihadists. But in the last year, ISIS has grown from a regional terror threat to a global one.
ISIS has unleashed a social media campaign that has allowed radicals from all over the world to join in their cause. There have been British, French, German and American radicals that have joined the Islamic State. The United Kingdom has recently raised its level for a chance of terror attack to "severe." Romney said it is in the best interest for the safety of American citizens and U.S. allies to combat the terrorist group immediately.
"In my view it is unacceptable for America and for the world to see an establishment of a major territorial, and population and energy area that is controlled by radical violent jihadists," Romney said. "From which, they would clearly launch attacks against our friends and allies throughout the world, but also against us. We must take action including the airstrikes that you are seeing, as much as necessary to prevent ISIS from geographic and economic player."
Dutch Ruppersberger, the top Democrat on the House Intelligence Committee, defended Obama's lack of action on CNN's "State of the Union" by saying that "It's extremely urgent, but you just don't rush in because the media's talking about it. We will do what we have to do to protect us from ISIS."
In another foreign policy critique of the Obama administration, Romney told the radio show that Obama's lack of action to prevent Vladimir Putin and Russia from invading Ukraine gives the U.S. very little options in how to deal with Russia. He said Obama's appeasement of Russia with a symbolic "reset" did nothing to stop Putin. Romney said Obama should have made it clear before Russia invaded Ukraine of the consequential sanctions they would have faced.
"Hillary Clinton and her boss Barack Obama we're extraordinarily naive and misguided in describing a reset with Russia," Romney said. "Her smiling ear to ear with a big red button that says 'reset' on it giving it to the Russian Foreign Minister. They had to be laughing as they watched the United States bend over backwards to try and appease the Russians."