Islamic Terrorists Could Attack US, Europe Within Months, Saudi King Warns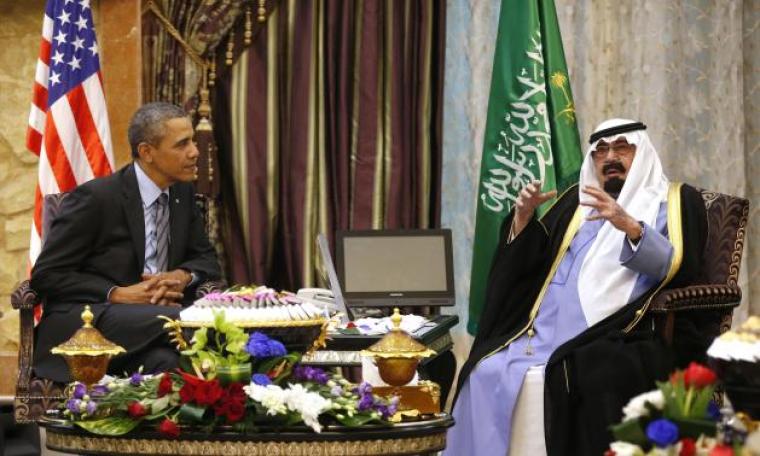 Saudi Arabia's King Abdullah warned that the United States and Europe could be targets of Islamic terrorists within months if world leaders fail to deal with the growing terrorist threat. He appeared to be alluding to the Sunni terror group ISIS in Syria and Iraq.
"If neglected, I am certain that after a month they will reach Europe and, after another month, America," Abdullah said at a reception for foreign ambassadors Friday, according to Fox News.
"These terrorists do not know the name of humanity and you have witnessed them severing heads and giving them to children to walk with in the street," added the king of Saudi Arabia, a major U.S. ally in the region.
ISIS, or the Islamic State of Iraq and Syria, an al-Qaeda offshoot which is among the major terrorist groups that are fighting government forces in Syria, has made significant military gains in Iraq in recent months.
Saudi Grand Mufti Sheikh Abdul Aziz al-Sheikh issued a statement this month condemning ISIS.
"Extremist and militant ideas and terrorism which spread decay on earth, destroying human civilization are not in any way part of Islam, but are enemy number one of Islam, and Muslims are their first victims," al-Sheikh said in the statement released by the Saudi Press Agency.
A U.S.-based watchdog group, Judicial Watch, also said Friday that ISIS operatives are just across the border from Texas, and are planning to attack the United States with car bomb.
ISIS is confirmed to now be operating in Juarez, which is situated across from El Paso, Texas, it said. Violent crimes are so rampant in Juarez that the U.S. Intelligence officials have picked up radio talk and chatter indicating that the terrorist groups are going to carry out an attack on the border, it explained, saying it is coming "very soon."
"An attack is so imminent that the commanding general at Ft. Bliss, the U.S. Army post in El Paso, is being briefed, another source confirms. The Department of Homeland Security did not respond to multiple inquiries from Judicial Watch, both telephonic and in writing, about this information," JW added.
Texas Governor Rick Perry also raised the concern recently.
"We have seen historic high levels of individuals from countries with terrorist ties over the course of the last few months," Perry said at the Heritage Foundations' panel on border security. "Because of the condition of the border from the standpoint of it not being secured and us not knowing who is penetrating across, individuals from ISIS or other terrorist states. And, I think it is a very real possibility that they have already used that."
Christians have also been targeted by ISIS, which had long been aiming at forming an Islamic emirate in the Levant, a region also known as the Eastern Mediterranean, through "jihad." The militant outfit has asked minorities in areas captured by it to flee, convert to Islam, or be killed.
The terror group initially raised money through rich people in the Arab Gulf States of Kuwait, Qatar and even Saudi Arabia, which are all U.S. allies, Daily Beast journalist Josh Rogin recently wrote.
The U.S. government is tracking at least 300 Americans suspected to be fighting for the terror outfit. About 500 British nationals are also said to be fighting for ISIS, and a further 1,500 from other parts of Europe, according to the former Archbishop of Canterbury Lord Carey.
In a video posted online earlier this month, an ISIS terrorist was shown beheading American journalist James Foley.