Ronda Rousey Uses Pope Francis to Weigh Into Manny Pacquiao LGBT Backlash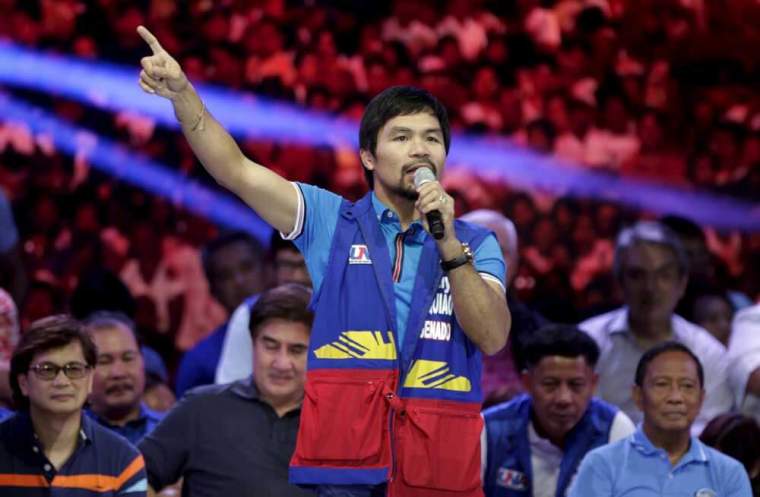 Mixed martial artist Ronda Rousey is the latest to speak out against her fellow fighter Manny Pacquiao's comments that upset the LGBT community earlier this month, telling the boxer to follow Pope Francis' lead.
"I understand that a lot of people use religion as a reason to be against gay people, but there was no 'Thou shall not be gay,' you know? God never said that," she said in a TMZ report. "I really think that our Pope right now now is boss."
Rousey's comments came one week after Pacquiao made international headlines for sharing his views about gay people.
"It's common sense. Do you see animals mating with the same sex? Animals are better because they can distinguish male from female," Pacquiao told Filipino television station TV5. "If men mate with men and women mate with women, they are worse than animals."
However, the 29-year-old MMA fighter looked to the Pope's perspective on the matter.
"He was saying something the other day that religion should be all-encompassing and should be about loving everyone," she told TMZ about the Pope's comments on homosexuality. "I think sometimes people take the wrong message."
In a 2013 interview with America Magazine, Pope Francis revealed his feelings about the LGBT community.
"A person once asked me, in a provocative manner, if I approved of homosexuality. I replied with another question: 'Tell me: when God looks at a gay person, does he endorse the existence of this person with love, or reject and condemn this person,'" he said. "We must always consider the person. Here we enter into the mystery of the human being."
While some have said that Pope Francis' interview with America Magazine may signal a change in the Catholic Church's view on homosexuality, the Pontiff has recently urged Catholic-majority Slovenia in December 2015 to vote "no" to legalize gay marriage. Francis had urged Slovenians to "uphold family values," and Catholic voters responded, with more than 63 percent of Slovenians voting agsinst the bill.
Pacquiao, the 37-year-old who is about to retire from boxing in order to be a full-time politician, apologized last week for his comments that linked the LGBT community to animals, but stood firm about his view of homosexuality.
"I'm sorry for hurting people by comparing homosexuals to animals. Please forgive me for those I've hurt," he wrote as a caption to his Instagram apology video. "I still stand on my belief that I'm against same sex marriage because of what the Bible says, but I'm not condemning LGBT. I love you all with the love of the Lord. God Bless you all and I'm praying for you."